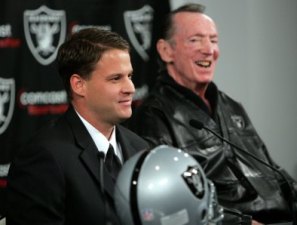 Posted by Josh Katzowitz
Raiders
owner Al Davis is an easy figure to mock.
His organization's obsession with drafting speed --
Exhibit No. 1,240
:
Terrelle Pryor
in the third round of the supplemental draft -- can be laughable. His press conferences, though very infrequent at this point in his life, are fascinating as much for his physical appearance as what he's actually saying. And his decisions on the coaches who will lead his team are … well … questionable at best (Art Shell again? Tom Cable? Lane Kiffin?).
People forget that he was a well-respected Raiders coach in the 1960s, and many of the ideas he brought to the game (or, you know, took from others) were influential into making the NFL what it's become today.
But could anybody make an argument that Davis' time hasn't passed him by?
Kiffin certainly wouldn't, as he makes perfectly clear in this
ESPN
interview when asked whether it was impossible to win in Oakland.
"It is almost impossible," Kiffin said. "I don't know why I didn't listen, [because] so many people told me that. That's why, if you ask [Steve Sarkisian], he didn't go. He had a chance to go. You're just so far behind other clubs. You're waiting for [Davis] to wake up and come to work at 2 o'clock in the afternoon to make decisions that the rest of the league is making at 6 o'clock in the morning. You're still running videotapes over to the hotel so he can watch practice at night."
Kiffin was also asked about Davis' use of an overhead projector at the presser to announce Kiffin's firing and if that was a metaphor for the way Davis runs his team.
"It was sad, really, to see somebody who's accomplished so much in his career and been such a powerful figure in the NFL ... to see that was actually pretty sad to watch," Kiffin said. "But you're exactly right, an overhead projector -- that describes the pace that you're dealing with of the way an organization is being run."
Of course, you have to consider the source, considering Kiffin flaked out at the University of Tennessee before taking the head coaching job at Southern California and then tried to hire a
Titans
coach
behind Jeff Fisher's back
. And though some of what he says comes off as cruel, he's not necessarily wrong.
But remember, when Davis fired Kiffin, he held a news conference in which he basically ripped the hell out of Kiffin and pointed out all his deficiencies, saying, "I think he conned me like he conned all you people."
Kiffin, I'm sure, hasn't forgotten that. And, like I said, Davis is not a hard figure to find if you want to take your shots at him. It's actually pretty sad that Kiffin has decided he wanted to pick on his 82-year-old former boss.
For more NFL news, rumors and analysis, follow

@EyeOnNFL

on Twitter and subscribe to our
RSS Feed
.