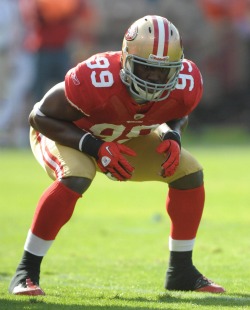 Posted by Josh Katzowitz
The
49ers
have been the biggest surprise team of the NFL this year -- they're already running away with the NFC West, for heaven's sake -- and helping lead the defense is rookie linebacker
Aldon Smith
, perhaps the biggest surprise pick of the 2011 draft.
You'll recall that Smith was supposedly a mid-to-late round draft pick, but San Francisco, instead, took him at the No. 7 spot, and after a pedestrian first few weeks on the job, he's exploded in Weeks 4, 5, 6, accumulating 5 ½ sacks and a forced fumble. Which perhaps is more than we would have expected from him so soon.
Earlier this week, we caught up with Smith, and we talked about the preseason prognosticators who didn't pick the 49ers to win the division, why he loves playing for Jim Harbaugh and what he thinks about his alma mater, Missouri, heading to the SEC.
Previous Five Questions (or more):

Sept. 16:
Actor/former
Patriots
DB Brian White
Sept. 30:
Bills
RB
Fred Jackson
Oct. 7:
Sweetness
author Jeff Pearlman
1. CBSSports.com:
I think a lot of people are surprised with the 49ers. I know I picked the
Rams
to win the division and you could look at Arizona and
Kevin Kolb
before the season and say they have a chance. But you guys have kind of surprised everybody.
Aldon Smith:
First of all, those opinions about us, I'm sorry for them. We've had faith since day one, since we got to camp. We just worked so hard from training camp through preseason to practice, and we knew the results were going to pay off.
CBS:
But everybody works hard. What is it about San Francisco that you guys are playing so well, so early in the season?
Smith:
Everybody has done just a good job, and everybody is doing their job right. Everybody is doing the little things, and it's paying off for us.
2. CBS:
Coming off the handshake game between Jim Schwartz and Jim Harbaugh, and obviously, you can see the kind of passion that Harbaugh has. What it's like playing for a guy like that?
Smith:
That was just him showing his personality. He's a competitor. He's somebody who takes the game seriously. It's a passion of his. It's a reflection of him. He's a fighter, and we want to be fighters just like him.
CBS:
In college or high school, had you ever played for a coach like that, a guy who's so fiery?
Smith:
I've had some great coaches, especially when I was at Missouri and Raytown (High School). But with coach Harbaugh, it's just great playing for him. He's a good guy.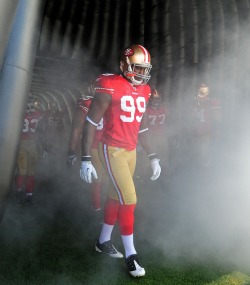 3. CBS:
The 49ers have gone to the Eastern Time Zone three times in the last four weeks, but you guys won all three of those games. Then, you go back to Baltimore on Thanksgiving. How do you have so much success after doing so much traveling?
Smith:
Just take advantage of your opportunity to rest. You try to get some rest on the plane. If you take advantage of your rest, everything will be all right. The whole East Coast to West Coast thing is a myth.
CBS:
Really?
Smith:
I don't know (laughs). I feel good.
CBS:
It really doesn't affect you? I mean, you guys are playing at 10 a.m. body time three out of four weeks.
Smith:
You can feel it a little bit. A little. It's nothing some 5-Hour Energy can't fix or some coffee.
4. CBS:
I think a lot of people were surprised when you were taken seventh in the NFL draft. Many people thought you were more of a mid-to-late round guy, and then when you were taken seventh, it was like, this big surprise. What was your reaction?
Smith:
It was a surprise for me. But man, I'm glad I here. I was happy as hell.
CBS:
Were there higher expectations because you were No. 7 instead of going later in the first round?
Smith:
I just felt the need to come and play football. There are expecatations with anything. I expect to go out and make plays. It was just another blessing.
CBS:
Have you met those expectations?
Smith:
Kind of. I did drop a wide-open pick last week.
CBS:
For all the people who thought
Von Miller
and
Nick Fairley
were going to be the best rookies on defense coming out of the draft, you've really outperformed both of them.
Smith:
Those guys were crazy in college, and they've been good (in the NFL). I'm just getting a little bit more plays.
5. CBS:
What do you think about Missouri going to the SEC?
Smith:
Bring it on.
CBS:
But can Missouri compete in the SEC?
Smith:
Yeah, we can compete in that conference. The SEC thing about them being the best conference in college football is just an opinion thing. I thought the Big 12 conference is the best in football anyway.
For more NFL news, rumors and analysis, follow

@EyeOnNFL

on Twitter and subscribe to our
RSS Feed
.