Posted by Andy Benoit

1.) Cowboys justify the hype

It's disappointing not to have two weeks of Wade Phillips Hot Seat chatter to look forward to. (What can you say? The guy is fun to dump on.) But at least we have reason to believe the Cowboys will be in the thick of the NFC East race now. Even if you're not a fan of America's Team (and Mexico's Team), you have to admit, because their NFL-high five primetime games left (counting Thanksgiving), football is more exciting with the Cowboys being relevant.

Dallas' 13-play, 80-yard touchdown drive in the second quarter against Houston – capped by a Marion Barber one-yard touchdown burst – was the type of drive that turns a season around. It was also a microcosm of Sunday's game. On the drive, Tony Romo completed three different third downs of nine yards or longer. He bought himself time in the pocket and worked deep into his progressions on several throws, hitting four different receivers on the drive, including Roy Williams three times.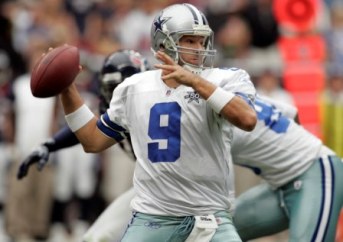 We should probably give Williams a week off from his whipping boy duties. The former Texas Longhorn was tremendous in catching a game-high five passes for 117 yards and two scores. Williams consistently won battles at the line of scrimmage, and he showed commendable fluidity making catches on the move. The key was that Jason Garrett played to Williams' strengths by asking him to run straight-line patterns, as opposed to direction-changing routes.

The Cowboy defense was equally impressive. DeMarcus Ware posted three sacks, and it wasn't simply a case of him feasting on backup left tackle Rashad Butler (Butler actually wasn't bad this game). Ware benefitted from having excellent man coverage behind him.

As glad as we all should be to see the Cowboys avoid the irrelevance that generally awaits an 0-3 team, let's hope Jerry Jones' men don't turn in too many more performances like this. Otherwise, we'll once again get the nonstop reminders that the Super Bowl is in Cowboys Stadium this year, and that Jones REALLY, REALLY, REALLY wants to have the first true home field advantage in the game's history.
2.) Hold your horses, Texans fans

On Houston's side of things, that secondary that gave up over 400 yards passing to both the Colts and Redskins – you know, the secondary we all conveniently overlooked these past two weeks while hastily editing our preseason picks and branding Gary Kubiak's club as the breakout club of 2010? – is officially porous.

Romo, in completing 23 of 30 passes for 284 yards, exposed Houston's flaws at cornerback. First-round rookie Kareem Jackson struggles early in coverage. If it's zone, Jackson's not always sure how long to carry the receiver. If it's man, he doesn't always deliver an effective jam (no rhyme intended). Opposite Jackson, second-year pro Brice McCain had trouble when Cowboy receivers redirected late in their route.

Both young corners have the talent to improve. It'd help if safeties Eugene Wilson and Bernard Pollard – especially Pollard – flashed the same big-play prowess they flashed late last season. And it would also help if superstar Mario Williams (and "superstar" is not an appellation to be used lightly) broke his habit of vanishing every few weeks. Williams was a nonfactor this game despite facing single blocking most of the afternoon.
3.) Saints get marched on

No need for a "What's wrong with the Saints?" piece – it's just one loss. And let's refrain from chalking up the home loss to the absence of Reggie Bush. Heck, we talked in the Week 2 Preview Podcast about how whenever Bush goes down, Lance Moore steps up. Sunday, the unheralded fifth-year veteran caught six balls for 149 yards and two touchdowns. He also set up a first quarter touchdown by returning a punt 72 yards.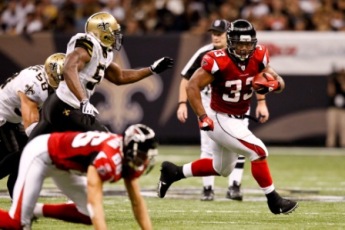 The Saints still lost, of course. Why? The Falcons' rushing attack. Michael Turner, Jason Snelling and lead-blocking fullback Ovie Mughelli confirmed what we already knew: the way to beat the good-but-certainly-not-great New Orleans defensive front seven is to run right at it. Not only does a power run game keep Drew Brees off the field while allowing a team to control tempo and tone, but it also minimizes the creativity and aggressiveness of Gregg Williams' blitzes. This brings to mind that brilliant Mike Tyson axiom (and yes, those last four words really did just show up in that order): everyone has a plan until they get hit in the mouth. The Saints defense is crafty…until it gets hit in the mouth.

The Falcons hit the Saints in the mouth in the form of 50 runs for 202 yards Sunday. Turner, looking every bit like the 244-pound bowling ball he is, ran 30 times for 114 yards. Snelling, a more upright runner with comparable downhill power, had 14 carries for 62 yards. And Mughelli – well, he basically punched his ticket to Hawaii simply because he is a fullback and his name has now been mentioned twice on a mainstream website.

One last note: Falcons head coach Mike Smith went for it three times on fourth down, including twice on fourth-and-two in a first-half series. The Falcons reached the end zone after being successful on both of those fourth-and-two attempts. They later failed on a fourth-and-six inside the final four minutes of regulation, and the Saints promptly capitalized on by matriculating downfield for a game-tying field goal. But credit Smith for sticking to his plan and playing to win.
4.) Killer kickers

Those of us who shrewdly picked the Falcons to be serious contenders in the NFC South this year (and there actually wound up being quite a few of us) can thank Saints kicker Garrett Hartley for those satisfying feelings of smugness we're all enjoying. Hartley badly missed a 29-yard field goal in overtime (actually, no need to say "badly missed" – the only way to miss from 29 yards is "badly"), prompting Sean Payton and the front office to schedule a tryout for kickers on Monday.

A kicker tryout? That's like the Saints and Hartley dating for three years, getting into a fight and the Saints deciding to go home with a stripper the same night. The Saints will regret acting on their anger in the morning.

Hartley is the same kicker who booted three 40-plus-yard field goals in Super Bowl XLIV (by the way, let's lose the Roman Numerals on the Super Bowls now – they're a pain to decipher). He's the same kicker who nailed a 40-yard game-winner in the NFC Championship two weeks before that. Oh, and he's also the same kicker who booted the game winner just last week at San Francisco!

Yes, Hartley is 4/7 on the season. But do three misses in the regular season really trump four huge makes in the postseason? Besides, the only kickers out there who are any good are Dave Rayner and Kris Brown, and they're out there only because, lately, they've gotten quite good at doing what Hartley just did against the Falcons.

Hartley wasn't even the worst kicker in football Sunday. That distinction went to Oakland's $16 million man, Sebastian Janikowski. The Polish Whatever His Nickname Is These Days missed three field goals in the Raiders loss at Arizona, including the would-be game-winner from 32 yards. If Janikowski weren't an Al Davis favorite, the Raiders would be competing with the Saints for bum kickers to bring in. You just hope Janikowski's awful day doesn't stay with him and create a Mike Vanderjagt-like fall from grace.
5.) The lost fumble that's not a turnover

One more note from the Saints-Falcons game, then we'll move on. In the third quarter, the Saints gave the ball to backup running back Chris Ivory on a fourth-and-one play. Ivory fumbled and Atlanta recovered. The play goes in the books as a turnover. But it shouldn't.

Technically, there was no turnover of possession by the fumble because the play yielded the same result as if Ivory had been held short of the first down (which, by the way, he would have been if he'd held onto the ball). The point of the turnover statistic is to reflect sudden changes in possession. This was not a sudden change of possession.

An interception or lost fumble on fourth down or on the final play of a half should not be classified as a turnover. Just like we don't classify red-zone field goals as red-zone scores.
This, coincidentally (or not), is a perfect segue to…
6.) The Denver Broncos

Have we ever seen a team play as well on offense as the Broncos did Sunday and score only 13 points? It's amazing what zero touchdowns on five red zone trips will do to a bottom line. The Broncos racked up 519 yards, including 476 passing from Kyle Orton. Remarkably, Orton did not set a franchise record for single game passing yards. Even more remarkable is that the man who holds that record is not named John Elway. (Jake Plummer has the mark at 499.)

There are two ways to look at the Broncos after Week 3.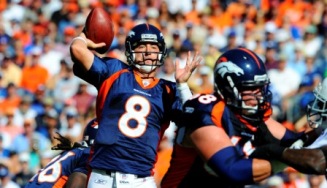 One: Josh McDaniels has an ingenious system and four excellent receivers to execute it (a willowy, speedy, budding star in first-round rookie Demaryius Thomas, a silky smooth role player in Jabar Gaffney, a shifty underneath threat in Eddie Royal and a highlight reel wizard in Brandon Lloyd, who leads the NFL with six catches of 25-plus yards this season). The Broncos showed they can dominate with this system and talent – they just need to do a better job at finishing drives.

Or, two: the Broncos just played a team that doesn't mind letting the Denver skill position players "get theirs" because that team knows it can stop this offense when it counts. Of the two scenarios, the second is most likely. Recall that Indy gladly let Brandon Marshall catch 21 passes for 200 yards against them last season. In that game, they still held the Broncos to 16 points.

The Broncos talk about how they accept the fact that Peyton Manning will move the ball up and down the field, and how if they can just bog down in the red zone, they have a serious chance to win. What they don't realize is that the Colts take the exact same approach to them. The only difference is, the Colts succeed.

Denver does have plenty to be excited about offensively, though. Their front line, despite starting two rookies and untested first-year guard Stanley Daniels, kept the Colts pass-rush in check. (Left tackle Ryan Clady was particularly good against Dwight Freeney.) And Orton's arm looks stronger than it did last season.

But it doesn't matter in this matchup as long as Manning is on the other side. He loves facing the man coverage scheme of the Broncos, mainly because he's willing to let Champ Bailey win against Reggie Wayne in order to exploit mismatches elsewhere. Sunday, Manning found Austin Collie 12 times for 171 yards and two touchdowns.

He also hit practice squad call-up Blair White (most predictable, yet still agreeable, nickname ever: The Blair White Project) for a score.
In case you didn't know, appearance-wise, White lives up to his last name. And, chances are, you already know what the BYU grad Collie looks like. This begs the question: before today, had any quarterback in NFL history ever thrown touchdown passes to two different white wide receivers in the same game?
7.) Drunk driving = superstar status

Is it just me, or did the mainstream media – and especially NBC during the Sunday night telecast – propel Braylon Edwards into superstar status this week? Last I checked, Edwards is a gifted receiver who often runs slipshod routes and, at times, seemingly plays with oven mitts on. That makes him not a superstar but, at best, a solid No. 1.

But you would have thought the man was Jerry Rice 2.0 the way everyone played up the story of his one quarter suspension. Too bad Edwards couldn't have gotten busted during the offseason or in a smaller market. That would have made his DUI more forgivable, right?)

Of course, in the end, Edwards was a difference-maker against the Dolphins (two catches, 87 yards and a touchdown, plus sensational run-blocking). So maybe the hype was worth it. The most damning part about this whole ordeal for the NFL is that the Jets are right when they point out that players that have gotten a DUI on other teams have not been disciplined at all. Edwards' de facto one-quarter suspension was a first.

But why did the Jets announce the one quarter plan before the game? They should have told the players and then kept it quiet. The media would have speculated, sure, but by then, the game would have already been going on. Thus, there would have been no distraction. Instead, the one quarter plan was announced, which is why the Dolphins wisely deferred to the second half after winning the coin toss (they knew that this likely meant one more possession for Edwards to miss).

There has, at least, been some good that has come from this whole mess: Edwards, knowing his image needs serious repair and that the NBC cameras would be all over him, finally shaved his hideous beard.
8.) Who the Hillis?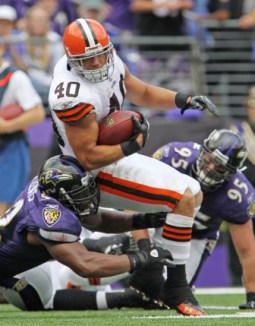 It came in a losing effort, but how about the game Browns running back Peyton Hillis had against the Ravens? The former Broncos fullback who has somehow crept into Cleveland's starting tailback position carried the ball 22 times for 144 yards and a touchdown against the staunch Ravens D. he also added 36 yards receiving.

The Browns front five dominated a Ravens front seven that came out looking like a group that was thinking about the Steelers (next week, CBS, 1:00). Hillis is a mechanical, if not choppy, runner, but he's an absolute battering ram once he establishes downhill momentum.
9.) Okay, let's start learning more of the Chiefs players

The Chiefs are 3-0. Their most recent win was a blowout of a disoriented 49ers club that, on Sunday, showed serious signs of the Tin Man Syndrome. Still, the win legitimized this rising young Kansas City squad enough to warrant a "get to know their names" feature. Disclaimer: this positive attention isn't to suggest that the Chiefs are a playoff contender – it's still very, very early. But it is positive attention nonetheless.

So, who to learn about? You already know Matt Cassel is a caretaker being paid like a superstar. You already know Jamaal Charles is an uncommon home-run threat. You already know Dwayne Bowe is a talented wideout who occasionally lands in Todd Haley's doghouse. You already know Dexter McCluster is Percy Harvin Sans Migraines. You already know Glenn Dorsey is a former first-round pick who could finally be coming to life as a 3-4 defensive end. You already know that the same goes for Derrick Johnson at inside linebacker.
Okay then, here are two more names to add to the file (we'll see how this week goes and, if necessary, add even more names down the road).

Tony Moeaki, tight end. The third-round rookie out of Iowa has the strong yet supple frame that coaches covet in a "big, athletic tight end". He also has long arms and soft hands, which has allowed him to snatch a team-high 12 passes and two touchdowns on the season.

Brandon Flowers, cornerback. The third-year starter is close to being described as the "third-year sensation". Flowers intercepted a pass for a second straight week Sunday (he ran last week's pick back for six points). More impressive has been his shutdown ability, which he started to flash in 2009.
10.) Quick Hits

Unable to decide on a final story to create a nice round 10, I'm going to take the easy way out and drop in here some one-liner observations from all the other games.
***Patriots inside linebacker Jerod Mayo looked extremely fast against the Bills, particularly in closing on the ball. Looks like he's regained his '08 form.
***Charlie Batch's pocket presence was close to flawless against the Bucs.
***Jimmy Clausen looked every bit like the unprepared rookie that he is. This isn't meant as a harsh criticism of the Golden Domer. In just about any other situation, Clausen would still be learning from the bench. But the Panthers realize they have next to no chance with Matt Moore. So, Clausen, fairly or unfairly, is forced to play. He consistently held the ball too long against the Bengals Sunday. That was the crux of his problem. It will be interesting to see how much quicker he can get by next week. (If it's not dramatically quicker, Carolina is in trouble.)
***It's strange to see Redskins defensive lineman Lorenzo Alexander lining up at outside linebacker, though he wasn't too bad in this role against the Rams.
***The Seahawks won because they got two kickoff return touchdowns from Leon Washington. Great comeback story, but this is the exact type of game we shouldn't read too much into. San Diego must get better in special teams coverage; Seattle is dangerous at home. Both true statements. A third true statement: anyone who thinks the Seahawks are better than the Chargers is crazy.
***With Donovan McNabb headed back to Philly in Week 4, I figured you'll be glad for a break from Eagles quarterback stories this week. Thus, I won't acknowledge Michael Vick's magnificent performance in Jacksonville. (Oops.)
***Nnamdi Asomugha won the matchup against Larry Fitzgerald Sunday (two catches, 26 yards), though Asomugha may have gotten some help from Derek Anderson.
***Bears fans, sorry I couldn't irritate you this week, but your team didn't play Sunday.

For more NFL news, rumors and analysis, follow @cbssportsnfl on Twitter and subscribe to our RSS Feed .