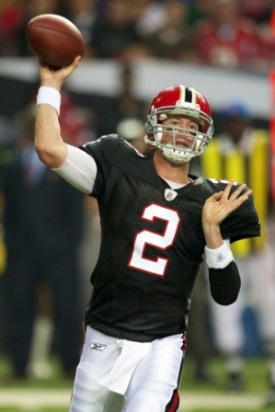 Posted by Josh Katzowitz
This week, seemingly everybody is proclaiming
Patriots
QB
Tom Brady
as the player who should be named MVP – including his former teammate, Troy Brown, who I talked to for this week's Five Questions (or more) segment. After watching Brady dissect the
Jets
on Monday, that's hard to argue.
But we've still got four weeks of regular-season NFL football, so Brady can't be named the Most Valuable Players quite yet (I think that's actually in the rules). That said, there are a number of players who have done quite a bit to help their respective teams this season that also must be in the conversation for MVP. What happens, after all, if Brady throws 10 interceptions in the final four games and the Patriots go 0-4 in that stretch?
Thus, this Top Ten With a Twist pays homage to those who are having hellaciously good years for teams good and bad and could creep into a voter's conscience (assuming he/she doesn't simply write Brady's name in every possible space on the ballot). I'm not saying most of these guys should win; I'm just saying they should be considered.
10.
Julius Peppers
, DE,
Bears
: In his first season in Chicago, the defense, ranked as the third-best in the NFL, is a huge reason why the Bears are 9-3, lead the NFC North and own the second-best record in the conference (tied with the
Saints
). He's recorded seven sacks and a very strong six passes defended and he's forced three fumbles. You could also make a case for
Brian Urlacher
in this spot.
9.
Drew Brees
, QB, Saints: So many other quarterbacks have made big headlines this season – some for good reasons (we'll get into those candidates later) and some for bad reasons (ahem,
Brett Favre
) – and it seems like Brees has been slightly ignored. That's also because he isn't the top quarterback in his division at this point and because the Saints are in danger of not winning the NFC South (more on the
Falcons
below). But the fact is that Brees is statistically the most-accurate quarterback in the league, and the Saints are 9-3 with a chance to return to the Super Bowl. That's not too shabby.
8.
Clay Matthews
, LB,
Packers
: Remember how amazingly fast Matthews started the season, recording six sacks in the first two games? Well, he's slowed considerably since then, and even Miami's
Cameron Wake
has surpassed him for the league lead (Wake has 12 sack to Matthews' 11.5). Matthews only has one sack in the past three games, but he's still got a good shot at defensive player of the year (along with Julius Peppers,
Steelers
LB
James Harrison
,
Eagles
DE
Trent Cole
and
Bills
NT
Kyle Williams
), and he's still having one heck of a year.
7.
Jamaal Charles
, RB,
Chiefs
: Coming off a sophomore season in which he averaged 5.9 yards per rush and finished 2009 with 1,120 yards and seven TDs, Kansas City rewarded him by going out and getting (gulp!) a legitimate RB in
Thomas Jones
. In his first two games of the season, Charles averaged 11 carries and 70.5 yards per contest, leaving some of us to wonder what was going on in Kansas City. But Charles has been awesome for the resurgent 8-4 Chiefs, averaging a ridiculous 6.2 yards per carry while gaining 1,137 yards.
6. James Harrison, LB, Steelers: You'd be forgiven if, the other day when Pittsburgh coach Mike Tomlin was defending Harrison in another laborious discussion about fines, you would have scoffed when Tomlin said Harrison was having an MVP-type season. But look at the plays he's made and the numbers he's produced. Harrison is third among linebackers with 10 sacks, he's defended six passes and produced two interceptions, and he's forced six fumbles, best among LBs. And he does it for a top-five defense which could help the Steelers to a deep postseason run. He's the MVP of NFL fines, but he might be the MVP overall as well.
5.
Aaron Rodgers
, QB, Packers: You've got Matthews on defense, and now you've got Rodgers as the catalyst for an offense ranked in the top-10, despite a dreadful running game. Rodgers has been so impressive (a 65.4 completion percentage, 3,243 yards, 23 TDs and nine INTs) without the benefit of
Ryan Grant
and having to play with very little support in
Brandon Jackson
and
John Kuhn
(they rank 30th and 50th in rushing in the league, respectively). His MVP candidacy obviously will ride on whether he can get Green Bay into the playoffs.
4.
Philip Rivers
, QB,
Chargers
: A week ago, I might have picked Rivers a little bit higher, but he's coming off a bad, bad home loss to the
Raiders
that dropped San Diego two games behind the Chiefs in the AFC West. Not that Rivers played poorly, because he wasn't bad. But it's tough to get excited about a QB leading a 6-6 squad who very well could miss the playoffs, even if he is
the guy
who's led his team to all six of those wins.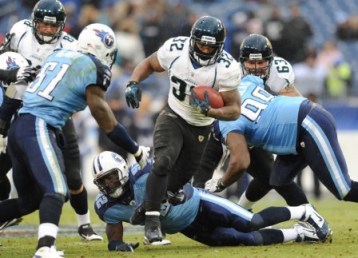 3.
Maurice Jones-Drew
, RB,
Jaguars
: What would you say if I told you that Jones-Drew has rushed for at least 100 yards in his past five games and helped Jacksonville win four of its past five to take over first place in the AFC South? Would you say that man would be an MVP candidate? I would.
2.
Michael Vick
, QB, Eagles: Yes, he's missed three games because of injury, but other than that, Vick is, bar none, one of the best quarterbacks in the league and he's having a career season in a year in which he wasn't supposed to be the starter (you might have forgotten about a guy named
Kevin Kolb
). He could, throughout his career, always change the game's dynamic with his running ability (and he's got 467 rushing yards, a 6.3 average and six scores this season), but he's showcased his arm this year as well (63.8 completion percentage, 2,243 yards, 15 TDs, two INTs). He is absolutely a complete quarterback and absolutely an MVP candidate.
1.
Matt Ryan
, QB, Falcons: The "Matty Ice" moniker has already worn thin – unlike the "Pocket Hercules" nickname for Jones-Drew – but there's no question that it's reflective of his playing ability. Even when he doesn't play altogether well – an example would be last week in Tampa Bay – he still somehow finds a way to lead Atlanta to a win. At this point, the Falcons are the best team in the NFC, and Ryan is the biggest reason for that. If Brady falls off in the last month of the year, my vote at this point would go to Ryan.
For more NFL news, rumors and analysis, follow @cbssportsnfl on Twitter and subscribe to our RSS Feed .