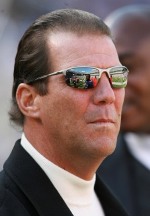 Posted by Josh Katzowitz
In case you thought the owners were just going to forget about a proposed 18-game schedule simply because the players successfully tabled that discussion from the recently-signed CBA, that doesn't mean the issue still isn't on at least one owner's mind (and probably on the mind of every owner and commissioner Roger Goodell).
"I think it became such a flashpoint, that our negotiating team figured that it wasn't worth pushing," said
Ravens
owner Steve Bisciotti, via the
Carroll County Times
. "What we did as a show of faith was to go from what we had as a unilateral opportunity to impose 18 games in the old CBA, we agreed to let it become a negotiating point with the union going forward. Nobody likes things being forced on them, and the fact that the old CBA made it clear that we could impose it on them, I think that it kind of made them angrier that they didn't feel like they were getting heard.
"We felt that it was in our players' best interests to leave it out of this fight and open it up for negotiation a year or two from now and see what the additional revenue would be so that they're making a decision with eyes wide open."
As
CBSSports.com's
Clark Judge pointed out last month, an 18-game schedule could begin by 2013 if the players agreed to it. Even if it seems like hardly anybody, but the NFL, is interested in pursuing it or watching it.
Obviously, this is an issue that has been hovering over the labor negotiations for the past few years, and the players were adamant about not getting a new schedule included in the latest CBA. Here was my interview with
Bengals
T
Andrew Whitworth
way back in
June 2010
about this very subject:
CBSSports.com: Lots of talk today and yesterday about the 18-game schedule. What are your thoughts?

Andrew Whitworth: We want to do anything to make the game better for the fans. If an 18-game schedule will do that, that would be great. But there's also some things player-wise and health-wise that might be an issue. We feel like if we're going to have to do that, there has to be some things that change as far as the offseason and training camp.

CBS: Are you talking about just the offseason stuff, or are you also talking about increased health care?

AW: You have to do one of two things; you have to improve the situation now with improving the OTAs or during the season where there's less contact or you've got to attack the health-care issue and give the guys better health care when they're done. Right now, with most players, even if they play 15 years, they only have -- at the most -- five year of health care. That's kind of ridiculous what guys go through.

CBS: Do you think the 18-game schedule will happen?

AW: I think the owners definitely want it. I know they've prepared for it in their future schedules from what I've seen. It's something they'll go forward with. But there has to be other things that improve for that to happen.
In the new CBA, the owners gave the players health care for life, and they've lessened the offseason workout schedule as well, all in the name of player health. So, it's not like the players can say the owners don't care about the well-being of their employees (they even
changed the kickoff rules
!).
But at some point, it seems inevitable that an 18-game schedule will be part of the NFL season. Remember,
Colts
president Bill Polian called an 18-game season "
fait accompli
." But, like Judge points out, we still can't figure out how the league can claim to care so much about player safety and then add two more games to the schedule. It doesn't make sense.
Unless, we're discussing what the NFL
really
cares about: money. Then, it makes all the sense in the world.
For more NFL news, rumors and analysis, follow

@EyeOnNFL

on Twitter and subscribe to our
RSS Feed
.