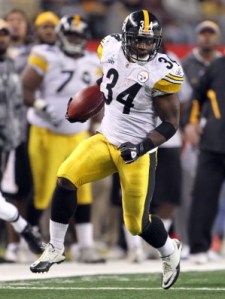 Posted by Josh Katzowitz
You might have seen
Vikings
RB
Adrian Peterson
's comments from Tuesday when he referred to the NFL as
"modern day slavery,"
which then caused a big sigh from just about everybody else in the world when they heard it.
You might feel that a dude who's scheduled to make about $10 million next season is overstating his opinion (just a bit, anyway) with a comment like that.
While some, like
Packers
RB
Ryan Grant
, have taken exception to Peterson's statement – Grant makes the point that there is, you know, still ACTUAL slavery in the world –
Steelers
RB
Rashard Mendenhall
sees Peterson's point.
Writes Mendenhall
on his Twitter page
(this transcript, by the way, is presented unedited and strung together over about 10 different updates): "@AdrianPeterson Anyone with knowledege of the slave trade and the NFL could say that these two parallel eachother. If you look back and disect what I said, I ddnt say that the NFL was slavery, I said that they parallel eachother. Look up the word parallel. This means that they're not the same thing, but they run the same course. These paths will never cross, but they mirror eachother. I could break down how, but that would take an amount of ideology and big words that a lot of you wouldn't understand.
"Learn to LISTEN before you pass judgement. Because speaking without knowledge of subject is truly ignorant. Outside of the dollar amounts you see on tv, you don't know what's going on with the innerworkings of this buisness. I don't know what goes on at your job. But how dumb would I sound if I read about it in the newspaper and tried to tell you what's going on? Its bigger than what you people on the outside see on sundays, see on ESPN, read about in the paper. Just like any job, any business anywhere. Really think about that."
Since Peterson is traveling to Africa, his agent, Ben Dogra, was left cleaning up some of the mess.
"I think anybody that knows Adrian knows that Adrian is a very strong-willed and passionate individual," Dogra told the
Minneapolis Star Tribune.
"The game means an awful lot to him. People should not just take his statements per se word by word. It's a difficult time. He would love to play. I'm sure that everybody would love to see football continue in the NFL and I'm sure at some point it will get resolved. But Adrian, that's what makes him great. He's soft-spoken but if he has something on his mind he'll speak it. But I think nobody should really look at those words and take them out of context."
For more NFL news, rumors and analysis, follow @cbssportsnfl on Twitter and subscribe to our RSS Feed .