Posted by Andy Benoit

While not important in the big scheme of things on the legal and business side, the issue of whether rookies will attend the 2011 Draft at Radio City Music Hall is potentially the most interesting storyline in this current labor fiasco. We're talking about a high profile television event and an issue that all fans understand.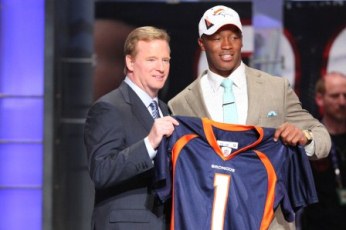 Thus far, the NFLPA has received backlash for reportedly encouraging rookies to boycott the event. Thus, it's no surprise that they clarified their side of the story on Tuesday.

"Let me also correct the record: the NFLPA is not asking anyone to 'boycott' anything. NFL Draft in particular," spokesman George Atallah said. "The NFL Draft is special. Players and their families will be in NYC. It just may be different. We will provide details when we can."
Atallah's comments seem to imply that the union could hold a separate draft party for players. But for right now, the public views this as just another form of boycott.

The NFL loves this backlash. And they'd love nothing more than to see the Radio City Music Hall green room full of first-round draft picks during the April 28 primetime event. Not only would player attendance make for better television, it would also be a nice PR feather in the league's cap. You'd have future members of the NFLPA shaking hands with the commissioner. (Can't you picture NFL executives flashing smug smiles in the direction of union executives while first-round picks embrace Roger Goodell in front of a legion of cameras?)

But the tables could soon turn in this PR battle if Sports Illustrated's Peter King's hunch is correct about what the NFLPA might have in store. King suggests the union event could feature rookies hearing their name called, coming up on stage and being greeted by their new teammates. If the NFLPA could pull that off, the effects could be huge.


King quotes one high profile agent as saying, "What is the first round of the draft for the NFL? It's a TV show, a show that makes the league a lot of money. They're going to be asking young men to shake the hand of a commissioner [Roger Goodell] who is trying to lock them out. They're going to be asking young men to help the league put on this big TV production. And I can tell you this: There're a few quarterbacks who could get picked high in this draft and the NFL will invite to New York. All those quarterbacks would do by attending the draft for the NFL is giving
DeMarcus Ware
more incentive to knock their blocks off the first time they line up across the line of scrimmage from him.''
Think about the dilemma it would give ESPN. They're a television partner of the NFL. Would they be willing to provide live coverage to the NFL's competing event?
Thus, it's no surprise that when LSU cornerback Patrick Peterson' said he'd like to attend the draft, the league featured the story on NFLLabor.com.

"I heard about (the potential boycott)," Peterson said. "No one has contacted me to go to New York or not go to New York. I would like to go if possible. That's what you play football for.

"That's a big moment to go up there and shake the commissioner's hand and get that jersey and hat. It means a lot. I definitely want to go and no one has told me not to go. So, we'll see what happens."

That's something everyone is interested in seeing.