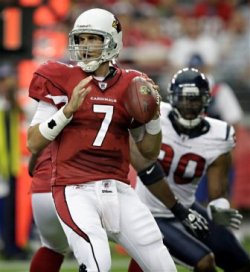 Posted by Josh Katzowitz
As I discussed with Lauren Shehadi this afternoon during
Around the League,
the
Cardinals
have shown some interest in trading
Matt Leinart
. ESPN.com's Adam Schefter reported three teams who had returned the eye-batting were the
Raiders
,
Bills
and
Giants
.
Since then, the Raiders and Bills have
denied their interest,
but we haven't heard anything of the sort from New York.
And there might be a good reason for that. Dealing Leinart to the Giants would make sense for the Cardinals. It would make sense for New York. Maybe Leinart wouldn't like it – since he'd be the backup to
Eli Manning
– but it would make sense for him as well.
Here's why: without backup
Jim Sorgi
, who was placed on IR last week, around, the Giants have nobody to back up Manning in case of injury. They obviously have
somebody
they could throw on the field – in this case, it'd be second-year player
Rhett Bomar
and/or rookie Dominic Rudolph – but these guys have virtually no experience.
And really, the Giants, in good conscience, can't simply hope Manning doesn't go down and keep Bomar and Rudolph in the quarterback room. If they can secure Leinart, that would really ease some minds in the Giants locker room.
It makes sense for the Cardinals, because that coaching staff – not incorrectly, in my opinion – thinks Leinart has no future in that organization. Arizona has given Leinart ample opportunities to take the starting position, but instead, he lost the job to Kurt Warner (nothing to be ashamed about) and now apparently to
Derek Anderson
(absolutely something to be ashamed about).
The Cardinals don't want him, and if they don't want him, they should get rid of him.
And it makes sense for Leinart. As
further evidenced
by
Anquan Boldin
's comments today, it doesn't appear that Leinart and coach Ken Whisenhunt have a great relationship. Sure, Leinart wants to be a starter, but if you can't beat out Anderson for a starting job, you don't deserve to have one in the NFL.
The next best thing? Perhaps it's being Manning's backup.
For more NFL news, rumors and analysis, follow @cbssportsnfl on Twitter and subscribe to our RSS Feed .