Posted by Andy Benoit

You gotta love Dan Patrick. No interviewer is better at getting to the point and asking someone exactly what everyone wants them to be asked. Patrick did this Wednesday on his radio show with guest Adrian Peterson. He asked the Vikings running back if he is a better player than Titans running back Chris Johnson. Peterson's response? Yes.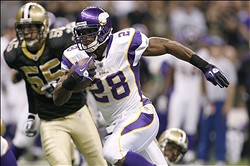 "[He's] not faster, stronger, anything," Peterson said. "You've got to understand…that's just the mentality that I have. I have ultimate respect for the guy and he's a heck of a player. I remember at one point and time me talking on the phone to Chris Johnson. He was telling me, 'I'm just a big fan of yours. I like your style.' Some [of the] advice that I gave him was, 'I play this game to be the best player ever to play the game. That's my mentality.'"

It's worth noting that in July, Johnson told The Sporting News that there's "no way possible there should be a debate about who's the best running back in the NFL."

Since these two can't seem to sort out the argument themselves, we'll do it for them.

It's actually not that complicated. First off, Peterson is NOT faster than Johnson – no running back is. But, obviously, Peterson is indeed stronger. That, however, may be the only distinct advantage he has.

Johnson has the better hands (both in terms of catching passes and not fumbling). Neither player is a very good blocker (though Peterson is less of a weakness than Johnson in this sense). Johnson is quicker, both in his first step and lateral agility. He's more elusive. Johnson is also a smarter, more patient runner, primarily in the way he sets up his blocks and times his burst. Because of this, he's the better inside runner. (If you're crying B.S. at this assertion, you should know that Peterson averaged 4.2 yards per carry up the middle last year, while Johnson averaged 5.8. Inside running is more about vision and patience than power).

To be fair, Johnson runs behind the superior offensive line. But his speed and ability to outrush angles buttresses that offensive line.
Peterson is a great player. He's the most violent runner in the game today (and perhaps in this era). But he's not the best.

For more NFL news, rumors and analysis, follow @cbssportsnfl on Twitter and subscribe to our RSS Feed .