Posted by Andy Benoit

The were some very honest – and revealing – thoughts coming out of San Diego (specifically the secondary). In short, some Charger players were not at all displeased to see cornerback
Antonio Cromartie
get shipped out over the offseason. Safety
Eric Weddle
shared talked about his former teammate with
Kevin Acee of the San Diego Tribune
: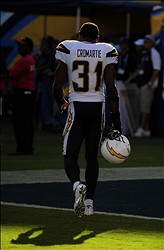 "You don't have the animosity between players, between player and coach," Weddle said. "We come out each day and we're working hard, we're competing and we all want to get better, and we're all listening to our coach. There is no second-guessing. Coach says something, it applies to everyone. We're all at the same level. We're all holding each other to the same level."

There may have been more than one culprit over the years, but there is no question who is running through the scenes in Weddle's head as he says this.

Antonio Cromartie.

"Me and Cro had conflicts," Weddle said. "That's just the way it is."
Weddle made it clear that he isn't interested in creating a rivalry with his ex-teammate. He's not out to censure the guy. He's simply stating some opinions that, frankly, probably surprises few people.
"It's refreshing," Weddle said. "I can't tell you how nice it is to come to work every day and not have that in the room and just knowing everyone is on the same page, everyone is behind each other."
Weddle isn't the only one who thought there was a problem. More from Acee:
Cornerback Quentin Jammer is the go-to Charger for no nonsense.

He considers Cromartie like a younger brother, attempting over the years to help him at Chargers Park and away from it. Jammer's theory is that Cromartie "lashed out" to attempt to force a trade.

But Cromartie's closest friend on the team also cannot lament his departure.

"We all know there were guys in the locker room who didn't like him," Jammer said. "He didn't like them. We don't have to deal with that now."

It was Jammer trying to play peacemaker between Cromartie and coaches, Cromartie and other players.

"It's easier for me now," Jammer said. "... I tried my best to put out fires, tried to keep the room intact, but it was too much."For more NFL news, rumors and analysis, follow

@cbssportsnfl

on Twitter and subscribe to our RSS feed.