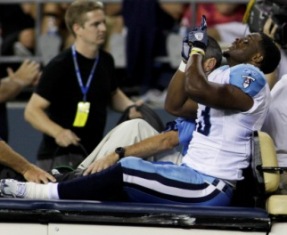 Posted by Josh Katzowitz
Tennessee RB Stafon Johnson has been down this road before. A gruesome injury. The possibility of never playing football again. But he figures, Hey, if I came back once, I can come back again.
He suffered a dislocated ankle and fractured fibula in last Saturday's preseason game against the
Seahawks
, and he underwent surgery the next day. On Tuesday, he talked to the media, and his words were captured by
FoxSportsTennessee.com
.
Last season, you'll recall he crushed his windpipe and larynx in a weightlifting accident that nearly cost him his life. But he made it back. Now, he's out for the season, but he's determined to repeat his comeback performance.
"I've made it this far. Everybody counted me out," Johnson said. "In three weeks or so, it will make a year that I should have been gone, deceased and off this earth."
He also reiterated that he's going to come back next year and try to win a spot on the
Titans
roster.
Why would I quit now?" Johnson said. "Not only am I going to let down myself, but I'd be letting everybody else down, and why would I have that on my heart? … My dreams came true, and even though I've had some down times and some times I didn't know if I was going to make it, I'm here now."
For more NFL news, rumors and analysis, follow @cbssportsnfl on Twitter and subscribe to our RSS Feed .