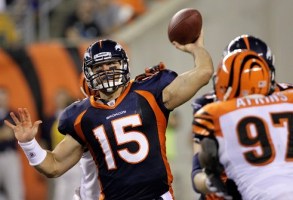 Posted by Josh Katzowitz
For all the talk about
Tim Tebow
's arm delivery and his mechanics and about how subpar they were coming out of Florida, Tebow has made improvements during offseason workouts and training camp.
But when he took the field against the
Bengals
in the
Broncos
first preseason game, he didn't think about any of it.
Writes Lindsay H. Jones of the
Denver Post
:

His mind was on the Cincinnati Bengals' defense, on trying to mentally sift his way through the Broncos' complicated offense and identify the right play. He wasn't thinking about the angle at which he was holding his left arm, how low or high he held the ball or how long or short his windup was.

"That wasn't something that was going through my mind," Tebow said. "It was more reading the defense and trying to get first downs."

It's a good thing, then, that Tebow largely ignores the world of football commentary, and particularly Twitter, which was transformed into a hub for media and fans alike to critique Tebow's mechanics in real time throughout the fourth quarter of Sunday's game. The consensus from the masses seemed to be, based on that quarter of work, that Tebow the NFL player was the same as Tebow the college player at Florida, at least when it came to his throwing motion.


For his part, Tebow says he doesn't care what the outside world thinks about his mechanics. He had a nice 35-yard pass to Matthew Willis that was dropped, and his stats (8 of 13 for 105 yards) were fine. Afterward, coach Josh McDaniel said Tebow had plenty of work left to do to fine-tune his game. But he showed some of the skills that led to his first-round selection, rushing in for a seven-yard TD on the last play of the game and successfully showing his poise while running the 2-minute offense.
He's nowhere near taking over the starting spot from
Kyle Orton
, but Tebow has shown improvement. For now, that's good enough.
For more NFL news, rumors and analysis, follow @cbssportsnfl on Twitter and subscribe to our RSS Feed .