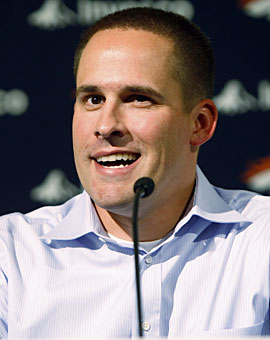 Josh McDaniels' first season and a half as head coach of the Denver
Broncos
has been one of the more spectacularly bloggable things in recent NFL history: whether it's trading his biggest name stars, or starting 6-0, or beating his old boss, or confidence, or drafting
Tim Tebow
in the first round ... the list goes on and on.
Fortunately, we were able to speak with McDaniels about all of these things in a recent interview, thanks to the kind folks at Gatorade, the NFL, and a group of charitable foundations who are partnering in the "Beat the Heat" program, dedicated to raising hydration awareness during training camp.
Read
Part Two of our interview with Josh McDaniels here .
CBS Sports
: Wanna ask you first -- you're working with Gatorade and the NFL on the Beat the Heat program. How big a factor is hydration awareness in your training camp preparation?
Josh McDaniels
: Well, it's huge for us, and you're right -- the NFL and the Broncos have partnered with Gatorade on the Beat the Heat program. We certainly understand the importance of hydration and refueling our athletes in the summer months and really, that's the entire purpose of the program, to really focus on how to prevent heat-related illnesses and fight them. It requires us to constantly remind our athletes to hydrate before, during and after all their activities that we put them through in training camp.
And we have Gatorade all over the building -- in the cafeteria, in our locker rooms, in our meeting rooms, they have it at the hotel they stay in during training camp and we encourage them to drink as much as possible. And for any athlete or parent that wants to learn more about what we're doing with Gatorade, they can go to
NFL.com/trainingcamp
and for every download [of the awareness packet] Gatorade will donate $1 to fight heat-related illnesses.
CBS
: Well, it's a fantastic program -- raises awareness and reminds us that football's on the way ... Speaking of which, you shipped
Brandon Marshall
to South Beach in the offseason and then drafted
Demaryius Thomas
in the first round. Can he step up and replace Brandon as a No. 1 option for you?
JMcD
: Well, we certainly aren't going to necessarily place that burden on one player as we go into this training camp in 2010. Brandon's certainly a special player and he'll do good things for the
Dolphins
. But we have a pretty diverse group of receivers: DeMaryius certainly is going to add speed, length and size to that group and we're really excited about his future here in Denver.
We've also got some football players that were productive for us that are coming back:
[Jabar] Gaffney
,
[Brandon] Stokley
,
[Eddie] Royal
...
Brandon Lloyd
had a great spring,
Kenny McKinley
is a kid that's up and coming,
Matt Willis
and certainly
Eric Decker
who we drafted in the third round too. We've got four or five players now who are over six feet tall, we're probably bigger than any wide receiver corps that I've ever been a part of in the NFL, and we're excited about some of the things we're gonna try to do with those big players.
DeMaryius ... we're gonna coach him hard and give him the opportunity to learn our system and be productive in it, but we've got some players -- along with him, that he'll be competing with -- that we feel also can be productive and hopefully there's a bunch of them that'll make plays for us this year.
CBS:
One more thing on DeMaryius -- he played in Paul Johnson's system at Georgia Tech ... is him adjusting, especially in terms of route-running, because it's more simplistic there, is him adjusting to your system a big concern?
JMcD:
It's certainly something that's gonna take some time for him to adjust to some of the things that we'll ask him to do. But he's a big receiver, and I think anyone would be lying to you if they said big receivers had a route tree that consists of 25 routes. We're not gonna try to do things that don't make sense to do with our bigger receivers and we certainly have some smaller receivers that aren't going to do some of the things that he can do. So, we're gonna try and put him in a position where he can use his strengths to help us, and we're certainly not going to shy away to try and work with him on improving his route-running in different areas, but, you know, we feel like he can be a productive player for us and we'll constantly try and improve every area of his game.
CBS:
Alright, last season was a rollercoaster in terms of the way you guys started ... it was the story of the NFL and then obviously a disappointing finish. How do you manage expectations coming into 2010?
JMcD:
Well, we're just focused on ourselves. We know we've got a lot of practice ahead of us before we enter into the regular season. And we're gonna try and take our football team as far as we can in the month of August and the beginning part of September before we start at Jacksonville. We can't really worry about the past and we can't focus too far into the future -- we're gonna try and take it day-to-day and we feel like we've put a solid nucleus of players in the locker room that will lead us this season and into the future and we're really excited about our opportunity to improve in areas we struggled in last year and we feel like we made some key additions both through free agency and the draft, and we're excited to see how it all unfolds this year.
(Stay tuned for Part Two of our interview with Josh McDaniels later today)
-- Will Brinson
For more NFL news, rumors and analysis, follow @cbssportsnfl on Twitter and subscribe to our RSS Feed .