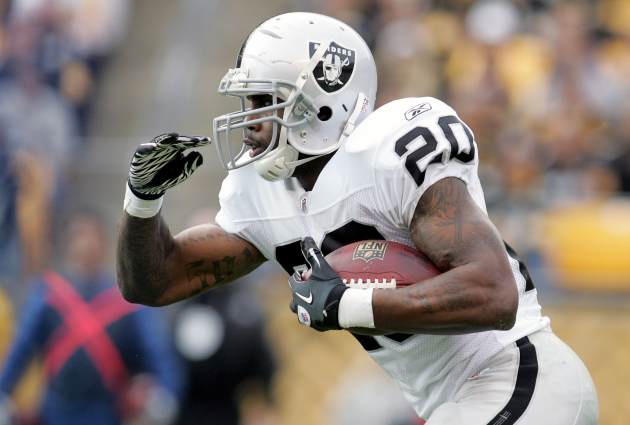 Posted by Josh Katzowitz
You know all the big-name players, even if they're past their prime. Guys who once were great and impactful and who were rated exactly as their athleticism required. Now, though, some of those players have begun their descent into the final phases of their career, but fans, remembering their past exploits, still think of them as high-end performers on the field.
Now, they're making way for players you've probably heard of but can't place. Players who you've seen but can't remember on which team they reside.Players who are overshadowed and under the radar. The players who won't be considered underrated for much longer.
In this week's Top Ten with a Twist, we feature the best players who are not as well known as they should be. You can call them underrated and call them under the radar, but their teams and their teammates know how important they are. They are, in fact, some of the best players in the league who aren't necessarily considered the best players in the league.
10. Sean Lee
: He won't be a name only hardcore fans recognize for much longer. He was just named NFC defensive player of the month after a sensational start to the season (31 tackles, two interceptions, and two fumble recoveries). Lee had knocked long-time starting linebacker
Keith Brooking
out of the lineup, and with the way he's playing, you can certainly see why. He has been scary this year.
9. Hakeem Nicks
: Considering wide receiver is one of the most glamorous positions in the sport, it's tough to find a guy who you could call underrated -- conversely, there's no shortage of players we could consider overrated at this position. But Nicks is one of those guys who doesn't get the national attention (even though he plays in New York!) of a
Calvin Johnson
, an
Andre Johnson
or a
DeSean Jackson
. And while Nicks might not quite be on the same level as those receivers, he's close. His 79 catches, 1,052 yards and 11 touchdowns in 2010 is a testament to that.
8. Ryan Kalil
: You might have been shocked when the
Panthers
gave him a
six-year, $49 million
($28 million guaranteed) deal before this season to make him the highest-paid center in the game, but those around the league know his value. He's versatile in pass protection and run-blocking, and he doesn't get called for holding penalties. Is he the best center in the league? Probably not as long as
Nick Mangold
is playing, but Kalil is still one of the top guys out there.
7. Vince Wilfork
: He gets plenty of attention -- especially when he's picking off passes and strolling his way back up the field -- but when compared to defensive tackles like
Haloti Ngata
,
Ndamukong Suh
or (gasp!)
Albert Haynesworth
, Wilfork doesn't get the admiration he deserves. Despite his size -- he very well could be playing in the 400-pound range -- he's one of the most athletic big men you'll see. He's one of the best run-stoppers around, and he's the anchor of the
Patriots
defense. You know him, but he still hasn't made his way to superstar status.
6. Darren Sproles
: It was thought that the new kickoff rules would hinder Sproles, and that was probably one of the reasons the
Chargers
didn't re-sign him in the offseason. But Sproles has continued to prove his wealth, settling into the
Saints
backfield, where he's shown he can still rush (7.4 yards per carry), catch the ball (21 receptions, second-best among running backs) and score (he's recorded a touchdown in all three games). He's like a
Reggie Bush
who actually is effective for the Saints. Oh, and he can still return kicks (sixth in the league among those who have at least five chances) and return punts (second in the league).
5
. Tramon Williams
: Although he helped the
Packers
to a Super Bowl, Williams isn't mentioned in the same breath as the
Eagles
cornerback trio (
Nnamdi Asomugha
,
Asante Samuel
and
Dominique Rodgers-Cromartie
) or the
Jets
duo (
Darrelle Revis
and
Antonio Cromartie
). Plus, he plays in the shadow of
Charles Woodson
, who is still one of the best cornerbacks in the league after 14 seasons. But Williams has shown why he's a top-10 cornerback. He's not avoided by other team's quarterbacks quite as much as Asomugha and Revis -- that's a byproduct of playing with Woodson -- but he's shown that when his receiver is targeted, Williams is one of the better cover corners in the league.
4. Rob Gronkowski
: Who are the best tight ends in the league?
Antonio Gates
? That's true if he's healthy.
Tony Gonzalez
? That's true if this was five years ago.
Jason Witten
? Yes, he probably is the top tight end out there. But you know who's really close to him? That's Gronkowski -- who, in his second season in the league, is one big reason the Patriots offense has been so dominant this season. He was decent as a rookie last season, but he's exploded for five touchdowns already this year, and with Gronkowski and
Aaron Hernandez
in the lineup in New England, that is a tough, tough matchup for the opposing teams' linebackers.
3. Brandon Pettigrew
: Last Sunday was the perfect example of why Pettigrew can make a
Lions
fan's mouth water. He played through a shoulder injury, yet he managed to catch 11 passes for 112 yards in Detroit's huge comeback victory against the
Vikings
. He's probably not on the same level as Witten or Gronkowski, and yes, he drops the easy passes way too much (even if he also makes the spectacular catches). But in his third season in the league, he shows real potential to be a top-five tight end.
2. Trent Cole
: He's always good for between 55-80 tackles a year. He's always good for between eight and 13 sacks. He's almost always assured to be making life difficult for whichever offensive tackle who is charged with slowing his momentum. Cole might be the best player many NFL fans don't know anything about. But this year, he's off to a hot start in Philadelphia with three sacks. He's a monster, and even if you haven't heard his name very much, you can be sure the league's offensive linemen have.
1. Darren McFadden
: Along with
Adrian Peterson
and
Chris Johnson
, McFadden might be a top-three running back in this league. But since he plays in the black hole of Oakland, he wasn't discussed as much as those who have lesser talent. That's changing this year with the
Raiders
off to a 2-1 start and McFadden performing like the best back in the league. In 2010, McFadden gained 1,664 yards from scrimmage, and through three games this season, he's rushed for 393 yards and three touchdowns while catching 11 passes for 84 yards and another score. If he keeps playing like that, he won't belong on this list next year. Because everybody is going to know about him.
For more NFL news, rumors and analysis, follow

@EyeOnNFL

on Twitter and subscribe to our
RSS Feed
.