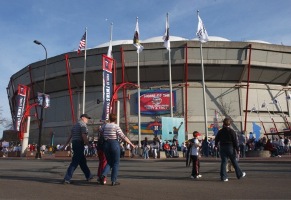 Posted by Josh Katzowitz
Vikings
owner Zygi Wilf knows he has an uphill battle on his hands if he wants public funding to build a new stadium in Minneapolis.
The Brad Childress debacle didn't help his cause, the
Brett Favre
sexting scandal was an embarrassment, and, oh yeah, the fact Minnesota is 4-7 and is out of the playoff race, for some reason, isn't forcing people to open their wallets.
So, what do you do to get people to focus their attention? Only two words are needed.
Los Angeles.
That's (sort of) what Lester Bagley, the Vikings vice president of stadium development and public affairs, mentioned today during an online chat on the Vikings official web site. He just happened to drop the news that multiple groups from L.A. have approached Vikings ownership and shown interest in perhaps bringing the organization to Southern California.
But, as the
Minneapolis St. Paul Business Journal
(H/T to profootballtalk.com for the link) points out, the ownership wants to stay in the Twin Cities, and it's been working hard to get a potential deal done. Hey, Bagley might have been just throwing the L.A. stuff out there. You know, like a lover in whom you're becoming disinterested suddenly throws out the fact he/she has other options and that you're somewhat expendable.
"No conclusions have been reached, and we're working to bring forward a package with a single site as soon as our work is completed and as soon as the new Legislature and the new governor are ready," Bagley said.
The reason this takes on a little bit of immediacy is because the team's lease with the Metrodome ends after the 2011 season. For now, the Vikings are looking to fund a new stadium with lottery games and hospitality-related taxes, and according to the story, gaming revenue could help as well (though the NFL would have to approve that last one).
Also, Bagley points out, construction of a new stadium could add up to 7,500 new jobs and a new stadium overall could generate 13,000 jobs.
From the story:
But Bagley also noted that the Vikings have been approached by the two main groups behind the efforts to bring the NFL to Los Angeles: one led by billionaire Ed Roski and another led by AEG CEO Tim Leiweke.

"Clearly, the Vikings stadium issue is being followed nationally and it's no secret that we're down to the last year on our lease," Bagley said. "We've told those groups that we are focused on resolving the issue in Minnesota. We feel solid momentum and feel we're well-positioned with the new Legislature and governor.

"Instead of spending energy speculating on other markets, let's keep the focus on building a world-class facility for the community and the state of Minnesota."
But, ahem, Los Angeles is still there just in case. If you catch Bagley's drift.
For more NFL news, rumors and analysis, follow @cbssportsnfl on Twitter and subscribe to our RSS Feed .