Josh Katzowitz and Andy Benoit resume their debate, this time taking a look at the top five cornerbacks in the NFL. (To view top five safeties debate, click here).

Josh Katzowitz's top five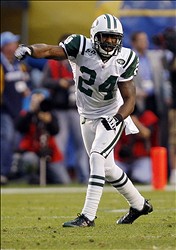 5. Leon Hall / Johnathan Joseph, Bengals

4. Champ Bailey, Broncos

3. Charles Woodson, Packers

2. Nnamdi Asomugha, Raiders

1. Darrelle Revis, Jets

I covered the Bengals last season. As a Bengals beat writer, you know that when the guy who never shuts up finally keeps quiet, he's really worried about what will happen on the next Sunday. Thus, when Chad Ochocinco grows thoughtful, saying nothing but nice things about Revis, you know he greatly respects the man. Of course, that could be because Revis, like a defensive magician, made Ochocinco disappear (he had a combined two catches for 28 yards vs. Revis in back-to-back games last year). That said, Ochocinco also faced Asomugha, Bailey and Woodson last year and had more success on his stat line. Revis is the kind of CB who shuts down his entire half of the field – which is helpful, because he doesn't usually get help from a safety over the top. This, of course, is invaluable.

Asomugha has only recorded three interceptions the past three years – after eight in 2006 – but that's because nobody wants to throw to his side of the field. According to the Dallas Morning News, only 28 passes were tossed his way in 2009. That's less than two a game. Unreal.

Woodson, at the age of 33, had a career-high nine interceptions – also a league high – last year, and oh yeah, he hits pretty hard as well (four forced fumbles attest to that) while playing four different positions for the Packers.

Bailey has been one of the best corners for the past decade. Although he's a step slower than he once was, he still jumps routes with the best of them. He's certainly still feared by offensive coordinators. Yeah, I'm cheating a bit by putting Hall and Joseph into one two-headed monster, but they're so similar and they've been so good together that it's impossible to separate them. They are the best young CB tandem in the league. Might as well keep them together in my list.

Andy Benoit's top five

5. Asante Samuel, Eagles

4. Cortland Finnegan, Titans

3. Nnamdi Asomugha, Raiders

2. Charles Woodson, Packers

1. Darrelle Revis, Jets

First off, totally agree with everything you said about Revis, Woodson and Asomugha. I have Woodson ahead of Asomugha only because Woodson does a larger variety of things for a Green Bay D that has enjoyed far more success than Oakland's. But that's nitpicking. What's especially impressive about the Asomugha stat (28 pass attempts) is that the Raiders operate almost exclusively in man coverage, which taxes the corners.

I'm replacing Bailey with Finnegan. I actually thought Andre Goodman was Denver's best corner last season. (That's not to say I think Bailey is washed up… I'd rank him No. 6 if I could.) Finnegan is a stopper in all phases. He defends on an island downfield incredibly well, he's physical in underneath coverage, he's a playmaker (five interceptions in each of the last two seasons) and he's formidable in run support.

I agree with the rest of the world that Asante Samuel can't tackle to save his life, but he's the best off-coverage corner (i.e. zone defender) in the league. That has to mean something, right?

P.S. I was prepared to solve the Hall/Joseph dilemma for you and pick one guy, but looking back through my film study notes, I too failed to declare one over the other. Hall seems to require less safety help, and in the games I studied, he was targeted less than Joseph. But Joseph is the more physical tackler and one of the NFL's most athletic deep-ball defenders.

Josh's rebuttal

I'm not sure why, but whenever I happen to see Finnegan on TV, he's usually in an opponent's face, taunting or boasting or whatever. It always seemed to me that perhaps his bark was worse than his bite, that the 5-foot-9 Finnegan had some sort of Napoleonic complex. But you're absolutely right. He is a top-notch CB. Regarding Samuel, I think tackling is such an important part of a defensive back's job that it's hard for me to overlook how bad he is after an opponent catches the ball. It's the Deion Sanders "Ole!" method, and for me, it's a deal-breaker. No doubt, his nine interceptions last year were outstanding. But when your head coach is calling you out, albeit very mildly, during the offseason, that's not a particularly good sign.

Andy's final word

You're right about Samuel. I regret putting him on the list. I can live without the tackling – Deion Sanders is the greatest cornerback of all-time, after all – but Andy Reid's gripes about Samuel's freelancing are tough to ignore. Consider Champ Bailey now on my list (No. 5), with Mike Jenkins or Dominique Rodgers-Cromartie on the verge of overtaking him.


--Josh Katzowitz and Andy Benoit

For more NFL news, rumors and analysis, follow @cbssportsnfl on Twitter.