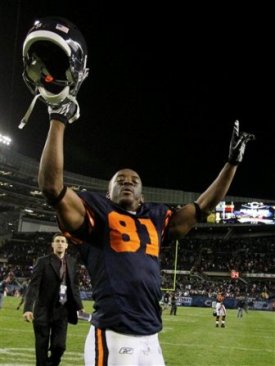 Posted by Josh Katzowitz
Before the season began, I was pretty sure Chicago was overrated. I had never been impressed with the consistency of QB
Jay Cutler
. I didn't think RB
Matt Forte
could be effective. I was weary about offensive coordinator Mike Martz. The defense would be fine – actually, I expected it to be very good – but I didn't think the offense could keep the team in games.
Through three games – all
Bears
victories, including a less-than-impressive win in the season-opener against Detroit – there are still plenty of questions for the offense. But then again, the defense has been very good, and Cutler has done well enough to lead Chicago to the top of the NFC North division.
"It's fun," Cutler told ESPN's Suzy Kolber after the game. "That's all you can ask for. The defense did a great job. We still felt the whole game we were killing ourselves. But we came up big at the end of the night."
OK, let's talk about the real reason Chicago won or – more appropriately – how the
Packers
lost this game.
Green Bay outgained Chicago 379-298, but the Packers blew it for themselves. They tied a club record that had stood since 1945 with 17 penalties for 152 yards. Many of them, especially late in the game, were undisciplined and, frankly, stupid.
Frank Zombo
had a helmet-to-helmet hit on Cutler that wiped out an interception. There was the bad personal foul penalty by
Nick Collins
, and there was a horrendous pass interference by
Morgan Burnett
to give Bears possession deep in Packers territory.
If Burnett's pass interference was horrendous, the play of Green Bay's special teams was atrocious. Bears returner
Devin Hester
ran back a punt return for a touchdown and should have had another (speaking of which, why in the hell are you kicking to him in the first place?). Bears DE
Julius Peppers
blocked a
Mason Crosby
FG attempt. Green Bay got nothing with their return game. And let's not even get into that last-second kickoff return of desperation that featured about 15 forward passes (the flags were gone, and after the officials would finish throwing their hats, they were going to have to start throwing their whistles).
"You can't play football like that," Mike McCarthy said in the postgame presser when asked about the penalties.
That's true, Mike. But let's not let the coaching staff off the hook here. After
James Jones
' fumble with a little more than 2 minutes to play gave the Bears possession near mid-field, for some reason – even though it should have been abundantly clear to whoever was speaking in McCarthy's ear that the call was good – McCarthy threw the challenge flag.
It was pretty obvious after looking at one replay that the fumble recovery was legit. Yet McCarthy challenged and lost a timeout. It helped his squad lose the game (hey, at least the Packers would have had more time after
Robbie Gould
's field goal).
This was a game Green Bay should have won. This was a game the Bears should have lost.
And you know what? I still think Chicago is overrated.
For more NFL news, rumors and analysis, follow @cbssportsnfl on Twitter and subscribe to our RSS Feed .