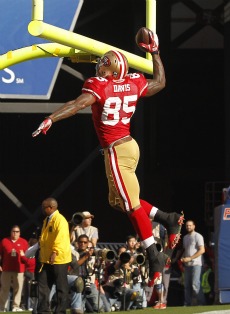 By Josh Katzowitz
Feel free to file this under "made up controversies that make me yawn," but
49ers
tight end
Vernon Davis
has been criticized by some parties because of his plans to, well, party.
As the
New York Daily News
writes, Davis made plans to host a post-NFC championship game party at a popular club in San Francisco. The so-called controversy? As the paper writes, "It's a move that easily could be construed as a sign that Davis and the Niners expect to win."
"We've been getting a little bit of fuss about it and that's not what it is at all," a club spokesman said. "It's not a victory party. It's a party celebrating the 49ers' season for making it so far. The party is going on win or lose. Vernon Davis will be there win or lose."
But now, he won't be hosting anything. According to the
San Jose Mercury News
, Davis has withdrawn his name as a host of the party, which is sponsored by a number of high-end car dealerships.
Which, I suppose, is understandable. But it's not like Davis has morphed into
Giants
cornerback
Antrel Rolle
who said this week, "
We can't be beat
. We're extremely confident and we've given ourselves the reasons to feel that way. We have to continue to give ourselves those reasons, and we will. We have no doubts."
All of this overlooks the role Davis has played this season in San Francisco for quarterback
Alex Smith
. While he's been overshadowed by New England's
Rob Gronkowski
and New Orleans'
Jimmy Graham
, Davis has come a long way from the player former coach Mike Singletary
sent to the locker room
last season after having words with teammate
Michael Crabtree
.
"From that point on, I was…I just kept my head up and just kept going down the straight path because I knew from there, from the talk that we had, I was going the wrong direction," Davis said
earlier this week
. "I changed my life around and I became more of a leader, because in the beginning it was all about me and that's not right. You don't want it to be all about you. I find it that, when it's more about the team and you put the team first, you have more success."
Said Davis, "He said to me, I can't remember what he said word for word, but it touched me. It touched me. But I do remember him saying that, 'Vernon, when you put the team first, then you'll start to take off.' So I did that, I did that. Since then, life has been really good."
For Davis, life has become a party. One that he's not actually hosting.
For more NFL news, rumors and analysis, follow

@EyeOnNFL

on Twitter, Like Us on Facebook, subscribe to our NFL newsletter, and while you're add it, add our
RSS Feed
.