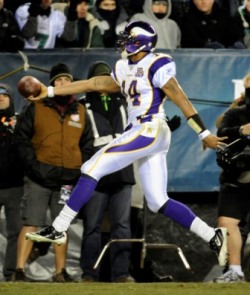 Posted by Josh Katzowitz
We all acknowledge that it's been a strange, strange season for the
Vikings
(can we classify this as a Jerry Garcia-type year, please?).
The
Brett Favre
saga, the Brad Childress saga, the
Randy Moss
experiment and ultimate failure, the Metrodome roof collapsing, and the Tuesday night football game all have made this a (not-so-good) year to remember for Minnesota fans.
And while QB
Joe Webb
's performance won't rank that highly on the chart of weirdness for 2010, his impressive play in the team's 24-14 win against the
Eagles
shouldn't go overlooked.
In case you need a refresher, Webb – whose real first name is Tawhidul (I somehow missed that fact this season) – had a standout career as a QB at Alabama-Birmingham. He wasn't invited to the NFL Combine, and he worked out for scouts as a WR. Essentially, hardly anybody expected Webb to play QB in the NFL.
The fact he was chosen in the sixth round by the Vikings wasn't a great sign either, because sixth round picks have a tough enough time making the team in the first place.
But Webb played well enough in training camp to convince Childress to leave him at QB – he actually beat out
Sage Rosenfels
for the No. 3 QB job – and after backing up Favre and
Tarvaris Jackson
all season, Webb took his first snaps in Week 14 and 15. He looked exactly like a sixth-round pick who wasn't supposed to be a QB.
Yet, on Tuesday, Webb played like a professional, completing 17 of 26 passes for 195 yards while rushing six times for 31 yards and a touchdown to lead Minnesota to the upset.
"I just let my instincts take over," Webb told reporters, via the
St. Paul Pioneer Press.
"I sensed the pressure, but I didn't focus on it. I stayed in the pocket and focused on the throw."
Perhaps none were bigger than his 28-yard pass to WR
Percy Harvin
on a third-and-11 midway through the fourth quarter that kept alive a drive that eventually led to the Vikings sealing the game with a one-yard TD run by
Adrian Peterson
. Considering the Eagles had scored a TD of their own at the beginning of the fourth quarter to cut the Vikings lead to three points, the drive led by Webb was particularly important.
Said coach Leslie Frazier: "That's a huge play under a lot of pressure against a very good defense, for him to step up in the pocket and make that (3rd-and-11) throw. That's a heckuva play, and one you look at and you say, 'This guy has a chance.'"
Also from Frazier - who, by the way, said Favre would start in Week 17 if he was healthy (does this make sense to anybody?): "It'd be hard for me to say that I knew that Joe would play at such a high level so consistently."
Did anybody?
For more NFL news, rumors and analysis, follow @cbssportsnfl on Twitter and subscribe to our RSS Feed .