Posted by Andy Benoit

You didn't think the league's most loquacious inside linebacker could continue to sit this one out, did you? Jets leader – and former Raven – Bart Scott responded Friday to Ray Lewis' comments from Thursday.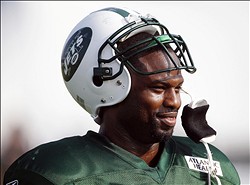 "I don't even know what he said; I just know he said something," Scott told ESPN New York's Rich Cimini. "It's just part of the show. If you listen to all his news conferences, they're pretty much the same thing. It's part of how he builds it up."

Scott added that he "couldn't care less" if Lewis criticized the Jets for talking too much, and that the pregame trash talk would make for a "chippier" game. Rex Ryan admitted that he brought up Lewis' comments with a few of his players.

"I've been around Ray for years and I know how he's going to approach this game," Ryan said. "No question, he's trying to bring his teammates with him. That's the way he's always done it."

Better than all this vague trash talk was Scott's spot-on assessment of the Ray Lewis Old Spice commercial: "That's probably the worst commercial I've ever seen," he said. "It looked like some student shot it."

For more NFL news, rumors and analysis, follow @cbssportsnfl on Twitter and subscribe to our RSS Feed .