Want to see something amazing? Click this link and check out what Nate Newton looks like after losing 133 pounds (i.e. 1/3 of an entire Nate Newton). Newton currently weighs 263 pounds and hopes to get to 235. Oh, and did we mention he has dropped the 133 pounds in roughly three months?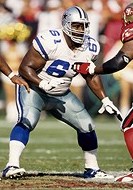 David Moore of Dallas Morning News writes:

After Newton's father passed away several months ago, he worried that he might not be around to watch his 12-year-old son grow up. Newton weighed 396 pounds and suffered from diabetes and high blood pressure.

On April 19 Newton underwent what is called a vertical sleeve gastrectomy, where up to 75 percent of the stomach is removed. Since then he has altered his diet and worked out twice a day, riding his bike and lifting weights.

The Nate Newton that stood on the sidelines Sunday weighed 263 pounds.
He has lost 133 pounds, his diabetes is in remission and he no longer has high blood pressure.

-- Andy Benoit

For more NFL news, rumors and analysis, follow @cbssportsnfl on Twitter and subscribe to our RSS Feed.