Posted by Andy Benoit

Much like we did with Wade Phillips a few weeks ago, the Brad Childress watch is in full effect this Monday (ironically, or maybe not ironically, he's coming off a humiliating loss to the
Packers
just like Phillips was).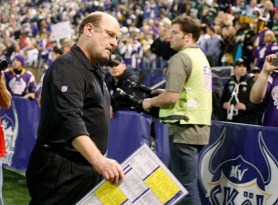 The season in Minnesota has been so disastrous that the man who last year signed a contract extension and coached the
Vikings
to the NFC Championship game is presumably on the brink of getting canned. Until this season, Childress' win total in Minnesota had improved by two games each season (6-10 in '06, 8-8 in '07, 10-6 in '08 and 12-4 in '09).
But for some reason, four years of solid work could get trumped by four months of chaos. Vikings owner Zygi Wilf has grown angrier with the whole situation ever since
Randy Moss
was waived.
Judd Zulgad of the
Star Tribune writes
, "Wilf did not have any interest in talking a few hours later but this time his demeanor had changed dramatically as he departed the Vikings' locker room following a 31-3 loss to the Green Bay Packers. Wilf stormed out of the locker room, walked briskly past reporters and headed for a service elevator as he and his brother, team president Mark Wilf, likely left to contemplate what they could do about a season that has gone sour."
Brad Childress was asked about his future after the game. "I can't really talk about that because that's not my decision going forward," he said. "I'll always do what's best for the Minnesota Vikings to get us ready for the Washington
Redskins
this week and cleaning up this game film with the guys tomorrow. That's really all I have to say of it."
Tick tock, tick tock…
For more NFL news, rumors and analysis, follow @cbssportsnfl on Twitter and subscribe to our RSS Feed .