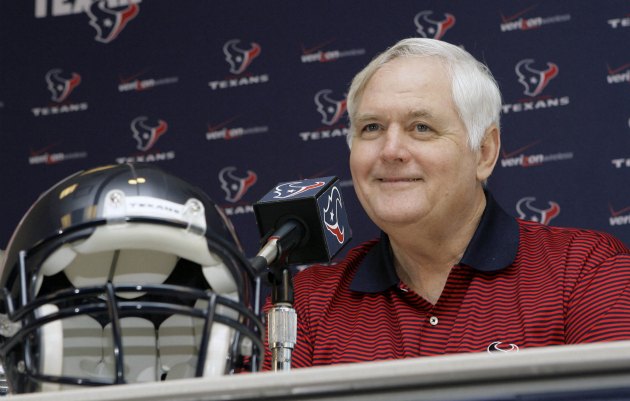 Posted by Josh Katzowitz
Every year, it's easy to predict how some teams and players will perform. For instance, this year it was easy to see that the
Patriots
were going to be awesome, the
Colts
were going to struggle without
Peyton Manning
, and some unheralded running back somewhere would surprise everyone with his fantastic performances (Houston's
Ben Tate
for example, playing in place of last year's unheralded/awesome running back
Arian Foster
).
But, as always, there have been some major surprises through the first two weeks that virtually nobody could see coming. Which is why we follow sports (and the NFL, in particular) in the first place. It'd be boring if we knew everything. But the fact we didn't know just HOW terrible the Colts would be without Manning is what makes watching pro football a good time.
Therefore, this week, we introduce the Top 10 with a Twist list of the players and teams who have surprised us the most in the first two weeks of the season. No
Tom Brady
mentions in here. Instead, we give you
Ryan Fitzpatrick
and
Jimmy Clausen
's replacement.
10. Redskins
: Remember how we all laughed at
Rex Grossman
when he proclaimed he thought that Washington
would win the NFC East
? Well, look at which squad is at the top of that division. That would be the Redskins at 2-0, ahead of the
Eagles
,
Giants
and
Cowboys
. It's because Grossman has played well, running back
Tim Hightower
has had a resurgence and the Redskins rank No. 6 in points allowed (they were No. 21 last season). Hey, maybe, in addition to being a pretty decent quarterback, Grossman is quite the soothsayer.
9. Dunta Robinson
: I have to admit that I was shocked that the NFL fined the
Falcons
cornerback only $40,000 after his egregious case of head-hunting against Eagles receiver
Jeremy Maclin
last Sunday night. You'll recall Robinson was fined $50,000 the first time he was caught head-hunting last season (that figure was reduced to $25,000), and though the NFL will say this case was different and less severe, I don't buy it. We called on the NFL to suspend Robinson, and I didn't think we'd see that. But I didn't think we'd see less of a punishment than the first time he went helmet to helmet. Though we live in a time when Roger Goodell's disciplinary decisions oftentimes don't make sense, this was a shocker.
8. Bills
: It's only been a few years since the Bills started a season 2-0, but could you tell me the last time Buffalo started the season 2-0 and then finished with a winning record? You'd have to go all the way back to 1996, so obviously, the Bills aren't going to start celebrating anything quite yet. But the way quarterback Ryan Fitzpatrick continues to play (which, in itself, is a shocker) and the way running back
Fred Jackson
continues to pile up yards and the way coach Chan Gailey continues to turn around this team, it's well … a little surprising. And it's gotten them into first place in the AFC East (well, they're tied with the
Jets
and the Patriots, but the Bills alphabetically are at the top of the division, so there's that).
7. Kenny Britt
: Yes, we knew Kenny Britt had talent, but we didn't know he'd explode like this after his rather interesting offseason. So far, he's recorded 14 catches for 271 yards and three touchdowns, and considering, in his best season before this one, he totaled 42 receptions and 775 yards, this is looking like a breakout year for him. Now if he only can stop getting arrested in the offseason …
6. Chris Johnson
: You might find this selection strange, considering I placed Johnson in last week's list -- the top-10 candidates for
comeback player of the year
. But after a Week 1 in which he was underused (only nine carries), Johnson ran for 53 yards on 24 chances last week. Which means that for a player whose stated goal is to break the 2,000-yard mark again hasn't even cracked the 100-yard mark for the entire season. Considering he just signed a $54 million contract, his output has been rather disappointing. Maybe we shouldn't have been so surprised. Johnson did, after all, hold out from training camp. But Johnson has been so good in his career, the fact he's been so underwhelming is a little off-putting.
5. Chiefs
: How do you go from winning the AFC West crown to being absolutely horrible the next year? How do you go from being pretty decent last year to being absolutely atrocious now? Some injuries (
Tony Moeaki
,
Jamaal Charles
and
Eric Berry
), some in-fighting between general manager Scott Pioli and coach Todd Haley (supposedly) and some brutal defense. Whatever the cause, Kansas City has been outscored 89-10 combined by the Bills and the
Lions
. Considering the
Packers
, the
Steelers
, the
Chargers
(twice), the Patriots, the
Bears
and the Jets still are on the schedule, the Chiefs might be in for a colonoscopy of a year.
4. Cam Newton
: People were split about how Newton would affect the
Panthers
this season. Some thought he'd be terrible (I'm guilty, as charged). Some thought he would excite the masses in Charlotte with his on-field play and his off-field charisma. But nobody really knew for sure. Remember, about a month ago, we thought Jimmy Clausen might beat out Newton for the starting job (gosh, we were so naïve back then, eh?). But even those who thought he'd be a solid quarterback have to be taken aback by these numbers: a 62.7 completion percentage, 854 passing yards, three scores (we'll ignore the four interceptions so far) and the record for most passing yards in a pro debut
and
most passing yards by a rookie. Sure, the Panthers are 0-2, but Newton has been pretty incredible.
3. Bill Belichick
: Who would have guessed the Patriots coach would ever allow anybody to film his life
for a documentary
? The first episode of
A Football Life: Bill Belichick
on NFL Network was an interesting look at the best coach in the league and what he's like in the meeting room, the locker room and, interestingly enough, on a boat in Nantucket. Belichick comes off like a cold-blooded SOB around the media, but in this documentary -- the second part of which will air Thursday, and supposedly, he really shows his emotions in that episode -- you can see the guy is actually human. And considering Belichick would be the 32nd NFL coach who I ever believed would agree to something like this, it's a pleasant surprise.
2. Faking injuries:
Did anybody think this stuff wasn't happening before? Just because
Deon Grant
might have been faking an injury to slow down the
Rams
' no-huddle, hurry-up offense last Sunday (Grant, by the way,
takes GREAT offense
that you'd even think so), that's not to say this tactic hasn't been used for many, many years. It has; it's usually just not so obvious. In fact, you can read this brief article from the
NY Times
in which the
Bengals
ask the league to look at players faking injuries. That article, by the way, is from 1989.
1. Wade Phillips
: He wasn't the most-respected head coach (I think the second season of
Hard Knocks
with the Cowboys gave the impression he was kind of a bumbling Texan who let people walk all over him), but as a defensive coordinator, he's done a wonderful job in Houston. Since changing Gary Kubiak's defense to a 3-4 and since the team signed
Danieal Manning
and
Johnathan Joseph
in the secondary, Phillips has helped Houston become the top defense in the league, allowing 10 points and 271 yards per game (both rank No. 1 in the NFL). Who would have thought that after last season when the
Texans
secondary was burned in just about every game they played? Phillips, though he might never get another head coaching job, is saving somebody else's job right now. We knew Phillips would be good. We didn't think he'd be this good, this soon.
For more NFL news, rumors and analysis, follow

@EyeOnNFL

on Twitter and subscribe to our
RSS Feed
.