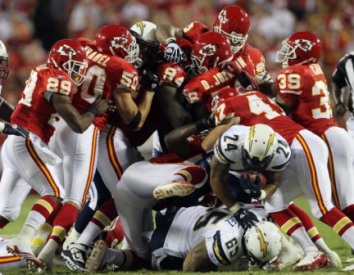 Posted by Josh Katzowitz
Kent Babb has covered the
Chiefs
for the Kansas City Star for the past three seasons. Finally, he's getting to cover a football team that actually is successful.
We talked to Babb this week about why the Chiefs have performed so well, why coach Todd Haley is different this season, how QB
Matt Cassel
responds to criticism and the death of Kenny McKinley.
Previous Five Questions (or more) With …:
Sept. 24:
Texans
WR
Kevin Walter
Sept. 17:
former
Bengals
,
Titans
DT John Thornton
Sept. 11:
Seahawks
RB
Leon Washington
1. CBSSports.com:
I think everybody is surprised to see the Chiefs start 3-0. Is this something that anybody could have expected? How did you think they'd do before the season started?
Kent Babb:
I thought they'd win six or seven games. I thought if they got off to a really great start and upset San Diego, then maybe they'll win eight or possibly nine. Never in 100 years did we think they'd start 3-0. No way in the world. But that's what happened. I don't know why that is. I think a lot of things have gone right. Todd Haley has coached extremely well. Somehow it's just happened. People are crowing about how they saw this coming. I don't think anybody – even the people in the organization – would have thought they'd start this well. There's just no reason. It's insane to think they would start like this.
2. CBS:
So much has been said about Haley and about how last year, he was so demanding of his team. But now he's laughing and making players honorary coaches, and the team is responding. How much of an impact did it have that he's kind of changed his coaching style?
Babb:
Maybe some. Part of it is a response to what he did last year. I was like a lot of people in saying, 'What is this guy doing?' He was screaming at everybody and embarrassing players on the field. Now he makes the point that it was part of his strategy. I think it's a couple things. I think that no person is ready to be an NFL head coach. That extends to Todd Haley. I think part of what he had to do was assert himself, because he didn't take the traditional path to being a coach. Part of it – and he says this was on purpose – was because the team was so lacking in discipline and focus, he had to come and be a jerk for a season. He had to be a complete maniac. Once they understood that, he could take his foot off the gas. That makes sense psychologically. I don't think the players liked him a lot of last year. But now it's gotten to the point where players are understanding a little bit. I read a thing the other day where he's always texting
Brandon Flowers
and saying, 'Darrelle Revis is SO much better than you.' That's part of his mind game. But guys are starting to respond to it, because they think, 'Nobody is this over the top.'
3. CBS:
It's hilarious to read your Twitter feed on Sundays because of how much you rip Matt Cassel. How is this team playing so well when they've got a guy who's 25th in the league in passing? I know they lead the NFL in rushing, but the defense is OK and Cassel is running the show. How are the Chiefs doing it?
Babb:
They did it the first two games just by the skin of their teeth. The last game, they made what could be the biggest adjustment of the year – scaling down their expectations of Matt Cassel. It was right when the second quarter began. They ran these short and intermediate routes instead of throwing the deep ball. They were throwing to (Dexter) McCluster, (Tony) Moeaka and (Jamaal) Charles and letting them do something with it. That's how this team will score points. If you're counting on Matt Cassel to lead you on these heroic drives, it's not going to happen. For every one great ball he throws, there's six or seven ones that aren't. It's what the Chiefs will have to get used to, because he's not a great quarterback. They'll have to rely on other weapons. They did that against San Francisco, and I don't think it's a coincidence they scored 31 points and, by the way, Cassel threw for the most yards of the season.
CBS:
It's easy for a national guy to rip on him, because he or she is not going to be in the locker room the next day. But you're there every day. Assuming he knows what you write about him, how do you and Cassel get along?
Babb:
With Matt Cassel – and this goes back to the New England days – these guys are trained to put on a good face. They never admit they read or see anything. I don't believe that, because I think this team is very sensitive and very aware about what's said about them, maybe more than anyone else. Publicly, they act like they don't hear anything. Only occasionally does Matt Cassel show where he's bothered by it. Before the season in a press conference, you could tell our questions were getting under his skin. It was a very bizarre few minutes. One of the radio guys asked, 'What do you have to do to get the fans back on your side?' You could tell Cassel was starting to hear it. I asked him, 'You're a guy who's come back from some stuff. Do you relish proving people wrong?' He got a little teary-eyed, and he pretty much said he only plays for his family and for the people who believe in him. The next question came but then he kind of walked out of the press conference. That's the most real thing I've even seen out of him."
4. CBS:
Can the Chiefs keep up this run of success? Can they actually contend for the AFC West title?
Babb:
I say yes for three reasons. No. 1, the defense is pretty good. It's for real. The other two reasons are their schedule and the AFC West. Basically, it's set up for the Chiefs to win this year. San Diego has lost two games already, and they're already two games behind the Chiefs in the standings after just three games. The Chiefs will come back to reality the next two weeks when they go to Indy and Houston. We'll see what they're made of. If the defense can keep those two offenses in check – even if they don't win those games – maybe they're sort of for real.

5. CBS:
You used to cover the University of South Carolina before going to Kansas City. When were you there?
Babb:
For three years – in 2005, 06 and 07.
CBS:
So, you must have gotten to know Kenny McKinley pretty well. I went to his funeral service on Monday and I've talked to other people, and everybody talked about how happy he always was. How he always had a smile on his face. What are your memories of him?
Babb:
Mainly, like everybody else, I never would have thought anything like that would ever happen. All the stories are true. Anytime you ever saw him, he was in a good mood and telling funny stories. Even if the Gamecocks got beat pretty badly, he was the guy who saw the sunshine. This goes to show you never know what's going on. Whatever you see, it's not necessarily representative of what's going on in their mind. It was a pretty shocking thing for me. If you lined up 100 people who may be a candidate for a thing like this, Kenny would have been the last guy picked. There's just no way you could have predicted it. It's just sad somebody who had so much at a young age can't find a way out of it, that he suffers so much, this is the route he finds.
For more NFL news, rumors and analysis, follow @cbssportsnfl on Twitter and subscribe to our RSS Feed .