Posted by Andy Benoit

Back in the summer, who would have ever imagined that the
Jaguars
-Colts Week 15 matchup would essentially be for the AFC South title? The Jaguars have overachieved in 2010 and the
Colts
have been stricken with injuries. At this critical juncture, both teams still control their own destiny.
The Colts defense, no matter who it puts on the field, will be fast. Colts president Bill Polian has a specific mold of player he looks for when drafting, and that mold begins and ends with speed. (In between is character, versatility within a position and football IQ.) Indy's D excels on the fast Lucas Oil Field surface.
The Jaguars obviously want to pound the ball with
Maurice Jones-Drew
. The 5'7" bo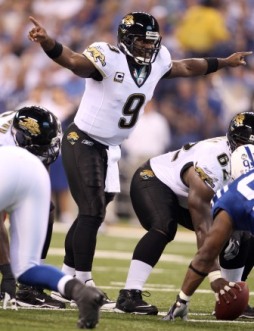 wling ball comes into the game having rushed for over 100 yards in six straight contests. And everyone knows that the way to attack the Colts front seven is to run right at it (especially if the Colts can't rely on strong safety
Bob Sanders
flying into the box).
But this is still the NFL; at some point, the Jaguars will have to throw. The concern is, they'll be relying on
David Garrard
. The ninth-year veteran has a sterling 93.2 quarterback rating this season (20 touchdowns, 12 interceptions), but that is largely a product of orchestrating a conservative passing attack.
Jacksonville's passing attack is conservative by necessity, not choice. Offensive coordinator Dirk Koetter is a creative pass-first coach who has had to reshape his persona. Reason being, Garrard is a good scrambler, but he's not necessarily lethal outside the pocket. He has a mediocre arm that prevents him from making great improvisational plays. Because Garrard lacks ideal instincts, Koetter is forced to call a lot of plays that are similar to what he might call with a first-or second-year quarterback.
Much of Jacksonville's pass game is predicated on play action. This is partly a function of the Jags being a run-first team, but it's more a function of Koetter feeling obligated to simplify Garrard's reads. The very nature of play-action and rollout passes cut the field in half and define the read for a quarterback. If the quarterback's first look isn't there, there's usually a second look and then an option to run. With a star pocket passer, there'd be a second look, followed by a third and fourth look. That's why, at the end of the day, pocket passers put more pressure on a defense.
Indy's defensive speed can make it difficult to run play action. Yes, the faster Colts could take themselves further out of position by biting on a Garrard fake. But they can also get back in position much quicker. And because Jacksonville receivers
Mike Sims-Walker
and
Mike Thomas
don't necessarily have dynamic raw playmaking abilities, many of Jacksonville's big plays are slow developing (drag routes, comeback routes, etc.) Slow developing plays against a speedy defense? Not ideal.
What's more, the Jaguars will likely need to keep an extra tight end in to block, as right tackle
Jordan Black
has little to no chance at containing Colts defensive end
Robert Mathis
one-on-one. That means one less tight end for Garrard to lean on. In the past, when the Jags offensive line has struggled, Koetter has sacrificed tight end
Marcedes Lewis
. But Lewis has become too valuable as a receiver to leave in as a blocker.
In short, we're talking about a Jaguars passing offense that will simply be one step behind the Colts passing defense. Thus, if it's even possible, the Jags will have to rely on Jones-Drew and
Rashad Jennings
even more than usual.
For more NFL news, rumors and analysis, follow

@cbssportsnfl

on Twitter and subscribe to our
RSS Feed
.