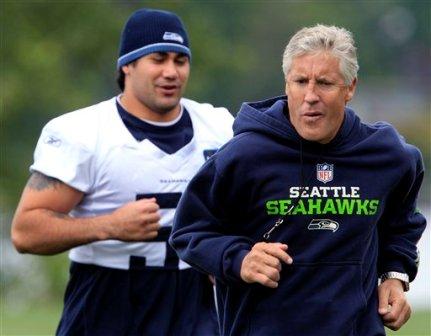 Posted by Will Brinson
The
Seahawks
shocked, well, everyone when the reached up and grabbed
James Carpenter
with the 28th overall pick in the first round of the NFL Draft.
It was an odd pick, though if it works out, all the experts
who called Pete Carroll and John Scheinder's decision "zany"
will look stupid.
Anyway, part of being a football person means that you get to make the picks, but also have to hear about them; Peter King of
Sports Illustrated
writes Monday that many a team will watch either ESPN or NFL Network in their draft room, just to get a feel for the reaction of certain picks.
The Seahawks are no exception, and when the picked Carpenter, instead of listening to the various people on TV actually state what Nick Saban mouthed -- "Carpenter got picked in the
first round
?" -- the found something else to listen to. "So the Seahawks muted both channels and put on Pandora, the personalized Internet radio thing,"
. "And soon had Reggae music filling the draft room."
This was actually King's "Factoid of the Week That May Only Interest Me," but he's not alone on this one, because I find it fascinating, to be perfectly honest.
Not because I'm going to get sold on the pick based on what kind of tunes the 'Hawks front office is blaring in their compound, but because, somehow, this strikes me as absolutely perfect music for Carroll to rock while he's sitting around doing something really important in a chill, hip way.
Like
fake-snake-pranking the guys on his roster
. Or trading for
Charlie Whitehurst
.
For more NFL news, rumors and analysis, follow

@cbssportsnfl

on Twitter and subscribe to our
RSS Feed
.