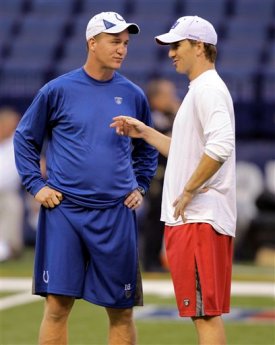 Posted by Josh Katzowitz
If we're going to judge the first half of the Manning Bowl – and really, why
shouldn't
we judge the first half of the Manning Bowl – you'd have to give it to
Peyton Manning
. By unanimous decision. Or by unanimous decision where Eli didn't win a round on anybody's scorecards. Or by knockout. Or by super-duper knockout.
A quick comparison:
Peyton Manning:
He's 13 of 18 for 154 yards and two touchdowns. He hit his first five passes for 52 yards, and his first incompletion was a pass that
Reggie Wayne
simply dropped. But for the
Colts
, it wasn't only about Manning. It was as much – if not more – about the running game.
Joseph Addai
was awesome with 101 yards of total offense, and the offensive line opened huge holes for him and protected Manning quite well. So if Peyton is beating up on Eli, call it a group victory.
Eli Manning:
He's 3 of 8 for 17 yards, an interception, a lost fumble and a delay of game penalty. He's not getting much help from anybody on his team. The defense can't keep the Colts off the field, limiting Eli's snaps, and the
Giants
run game is unimpressive – strange, because of how much success the
Texans
had against the Colts in this department last week. Considering New York is getting shellacked 24-0 at halftime, Eli should get more chances to take some shots down the field.
Still, it's not looking good for Eli Manning or the Giants here. For Peyton, so far, is the master of the Manning Bowl.
For more NFL news, rumors and analysis, follow @cbssportsnfl on Twitter and subscribe to our RSS Feed .