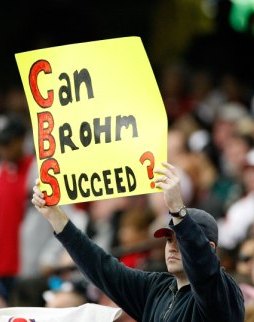 Posted by Josh Katzowitz
When the
Bills
announced
Ryan Fitzpatrick
would take over
the Buffalo starting quarterback duties
away from
Trent Edwards
, I wondered why they hadn't turned to the youngest quarterback on the roster. The one we know the least about. The one who, for all we know, could be the best of the bunch.
I wondered why coach Chan Gailey hasn't given
Brian Brohm
a shot.
We know what Edwards can do – a 60.9 career completion percentage to go with 25 TDs and 27 INTs and a guy who's closer to a .500 record as a starter than you might think (14-18). We also know he's been utterly unreliable this season. In effect, a disaster.
We know what Fitzpatrick can do – a 57.8 career completion percentage to go with 21 TDs and 27 INTs and a guy who's not very close at all to a .500 record as a starter (8-14-1).
Neither has been a great NFL quarterback. Neither gives Buffalo fans much hope. So, I wondered, why not just start Brohm?
I talked with
Bills Rapid Reporter Mark Ludwiczak
about this, and here's what we determined.
Edwards is struggling mentally right now – yep, that's what happens when you lose your first two games by a combined score of 49-17 – and he's not throwing the ball vertically down the field, settling for checkdown after checkdown. Fitzpatrick sees the field better than Edwards, but he's got less arm strength. Still, at this point, Gailey wants at least to try to get the ball to receivers down the field, and Fitzpatrick's athleticism and smarts give him two other checkmarks.
Basically, it's come down to the lesser of two evils. And for now, that's Fitzpatrick.
But what about Brohm? Well, basically, it comes down to this: Brohm hasn't performed well enough to win the coaching staff's confidence. He wasn't consistent enough at training camp – against the second- and third-string defenses, no less – and though we might see Brohm eventually (especially if Fitzpatrick plays like he's played his entire career), he's not ready to take over quite yet.
So for now, Buffalo gets Fitzpatrick. Maybe, we'll see Brohm later in the year. Maybe, Edwards will regain the staff's trust.
Either way, Buffalo will be experimenting in the basement of the AFC East.
For more NFL news, rumors and analysis, follow @cbssportsnfl on Twitter and subscribe to our RSS Feed .