Posted by Andy Benoit
For all of you who hate hearing the Dallas
Cowboys
referred to as "America's Team"…sorry, but Nielsen's numbers seem to back up the epithet. The Cowboys are the most popular team in the United States – by far.
Here's how
Nielsen explains its scores
: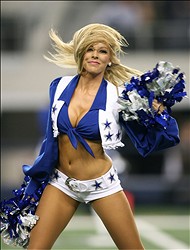 The Nielsen Sports Media Exposure Index measured all 32 NFL teams in four categories during the 2009 regular season: local team ratings, gross national TV audience, online buzz volume, and monthly unique audiences to official team websites. Teams in each category were assigned a score, with the top rank worth 100 points and each subsequent ranking assigned a lower weighted score based its distance from the top. Final team rankings were calculated using the sum of scores across all four categories, and then indexed with the highest total equaling 100.
The Cowboys were the most-followed team on national television and their website was the most-visited. The
Saints
were the most popular team on a local television basis (in other words, percentage-wise, fans in New Orleans watched their home team on TV more than fans in any other NFL market watched their home team.)
The overall top 10 most popular teams in the NFL last season were as follows:
1. Cowboys
2.
Steelers
3.
Giants
4t.
Bears
4t.
Packers
4t.
Vikings
7.
Eagles
8t.
Colts
8t. Saints
10.
Patriots
It shows the power of the NFL that a team from a mid-sized western Pennsylvania market and a team from a tiny Wisconsin market can both rank in the top five in popularity. Also, you may notice that 7 of the top 10 teams last year were from the NFC. Good thing Fox pays more than CBS for broadcast rights (even if that is only a result of the NFC having an overall larger market than the AFC).
For more NFL news, rumors and analysis, follow

@cbssportsnfl

on Twitter

and subscribe to our

RSS Feed

.