Because there was so much commotion over Albert Haynesworth skipping the Redskins' mandatory minicamp in June, people forget that earlier in the offseason, Haynesworth irked Mike Shanahan by choosing to work out on his own, rather than with the team. Part of Haynesworth's reasoning was that he feels he gains more of a competitive edge working with his own trainer. Now, this from Fredericksburg.com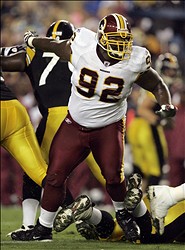 :
Tripp Smith, Haynesworth's personal trainer, said in a phone interview yesterday that Haynesworth has lost 32 pounds since they began their workout regimen on April 5. He said that Haynesworth is committed to getting in top physical shape--albeit away from Redskins Park--for the start of training camp on July 29.
Haynesworth is listed at 350 pounds, but he reportedly weighed 362 in April. Losing weight is great, but likely, the Redskins would rather be monitoring the situation themselves. If Haynesworth is to indeed be the nose tackle in the new 3-4, you don't want him slimming too far down.

--Andy Benoit

For more NFL news, rumors and analysis, follow @cbssportsnfl on Twitter.