Posted by Andy Benoit

Colts @ Eagles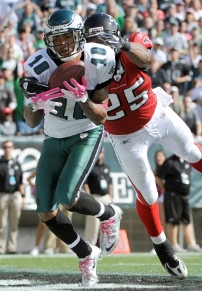 These days, it's almost easier to list which Colts players are NOT injured. Actually, there's only one that needs to be mentioned: Peyton Manning. He's fine, so the Colts are fine.

Though if you MUST know more details, Anthony Gonzalez went on IR with a knee, but Austin Collie (finger) could be back this week, so it's all a wash. Joseph Addai (shoulder) is doubtful; Mike Hart is unavaila nble after not practicing on a bad ankle all week. Cornerbacks Jerraud Powers and Justin Tryon did not practice either, due to foot injuries (or would it be feet injury?). LB Clint Session, who deserves serious Pro Bowl consideration, was hoping he could fight through a dislocated elbow and fractured forearm, but he's out Sunday.

The Eagles have Michael Vick 100 percent healthy now that his rib injury has healed. The hope is that Vick's favorite target, DeSean Jackson, will be able to return from his Week 6 concussion. Jackson practiced and is probable. LT King Dunlap is out with a knee, but fortunately, the man Dunlap was filling in for, Jason Peters, is back from his own knee injury. No Ellis Hobbs (hip) for Philly, which is crucial because he has always killed the Colts as a return man.
Chiefs @ Raiders

Dexter McCluster was limited in practice for the Chiefs with a high ankle sprain. The rookie did not play last week and it would probably behoove the team to be safe and sit him one more game.

Speaking of ankle sprains, Raiders superstar Nnamdi Asomugha has one. He sat out practice all week and is doubtful. It's actually amazing Asomugha's status is even that hopeful; on Monday, speculation was he'd miss about a month. Tight end Zach Miller was on crutches during the week and is doubtful (i.e. 99 percent certain to be out) with a foot injury.

Wideouts Louis Murphy (chest) and Chaz Schilens (knee) remain sidelined. Quarterback Bruce Gradkowski's shoulder is still not 100 percent, which is why Jason Campbell gets the nod. Most people believe the hot-handed Campbell should keep the job anyway. This gives us a chance to pass along this tidbit from Mike Tanier, arguably the funniest football expert in the biz:
"Of course, leave it to Oakland to get stage fright after a two-game winning streak: the team was considering benching Jason Campbell in favor of Bruce Gradkowski, generating a quarterback controversy for its own sake. The Raiders ultimately decided to go with Campbell, but have said Gradkowski will return as the starter when healthy. With decisions like these, they'll be back to punchline status by Thanksgiving."

Cowboys @ Packers

Does anyone care who plays and doesn't play for the Cowboys at this point? (Included in that "anyone" are the 53 Cowboys themselves.) Out of principle, we're going to skip right ahead to the Packers.

For only the second time in a little over six years, the Packers will take the field without wide receiver Donald Driver. The veteran was ineffective the past two games trying to fight through a quad injury. Defensive lineman Ryan Pickett will once again test his injured ankle. RT Mark Tauscher remains questionable with a shoulder injury (first-round rookie Bryan Bulaga has started in place of him the past four weeks). Both starting linemen on the left side, T Chad Clifton (hamstring) and G Daryn Colledge (back), are probable. Despite constantly battling for his job, Colledge actually has a 72-game consecutive starts streak that he's continuing to build on.
Steelers @ Bengals

DE Aaron Smith (out, triceps) is the only Steeler listed on the injury report. The Bengals' injury report reads like the first string of the defensive depth chart. S Roy Williams, CB Johnathan Joseph, DT Tank Johnson, LB Keith Rivers, S Chinedum Ndukwe, DE Jonathan Fanene and DE Frostee Rucker are all banged up. Their status for Monday night has not yet been declared.

For more NFL news, rumors and analysis, follow @cbssportsnfl on Twitter and subscribe to our RSS Feed.