Posted by Andy Benoit

1.) Getting our money's worth

After two weeks of mediocre schedules, we were rewarded with a shimmering slate of games heading into W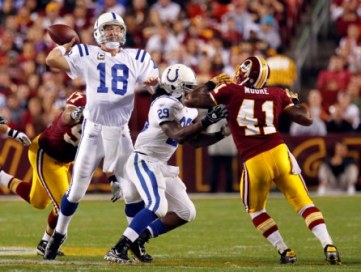 eek 6. Remarkably, the games turned out to be even better than anticipated. In the early window, the Ravens-Patriots went to overtime. So did the Dolphins-Packers. An electrifying Devin Hester punt return made the Bears-Seahawks contest close. The Rams upset of the Chargers was also close in the end. And in perhaps the best finish of all, the Texans scored two touchdowns in the final four minutes to come back from 10 down against the Chiefs (more on this one in a moment).

In the late window, the Cowboys-Vikings was a thrill despite the fact that it was played in the Metrodome (there is something profoundly depressing about watching a day game being played in that dreary indoor venue). The Jets-Broncos went down to the wire. And, not that anyone cared, but the Raiders-49ers contest was close (thanks to the fact that neither quarterback could complete a pass). If the day action wasn't enough (though we all know it was), the Colts-Redskins turned in one of the most entertaining Sunday nighters on the season.

Not to open up a tangential debate, but Sunday's action symbolized yet another reason why the NFL is 10,000 times better than college football. At this high of level, close games are the norm and cupcakes don't exist.
2.) Houston, we have a cliché

Sorry, can't stand the "Houston, we have a problem" line anymore. I refused to utter it. But things are not all swell in H-Town. Yes, the Texans can rejoice after a remarkable come-from-behind victory against the Chiefs. Matt Schaub was poised under pressure. Andre Johnson (eight catches, 138 yards and the game-winning touchdown) proved why he's the best wide receiver in the NFL. And Arian Foster, with a hearty 71 yards and two scores, reiterated that this is indeed one of the league's best rushing attacks.

But notice these are all offensive stories? It's become apparent that, in order to win, the Texans are going to have to keep doing what they did Sunday: outscore opponents. That's fine in a literal sense (hell, you obviously have to outscore an opponent in order to win). But figuratively, outscoring opponents (i.e. winning shootouts) is the same formula that has earned the Texans a boatload of seven, eight or nine-win seasons. If this team is going to take that next step, the defense must get better.

On Sunday, the Texans gave up 31 points to a Chiefs offense that, in the first four games of the season, could barely score more than a Jonas Brother. The secondary allowed three Matt Cassel touchdowns (two to Dwayne Bowe, one of which he celebrated with the always-amusing ball-stuck-to-hands routine). On the season, Houston has allowed a league-worst 14 touchdown passes. Inconsistent technique from the corners and safety Bernard Pollard's propensity to take missteps in coverage has resulted in a pass defense that ranks dead last. The Chiefs would have exploited this pass defense even more if they weren't so busy running down the front seven's throat. That front seven looked alarmingly feeble once DeMeco Ryans blew out his Achilles. Thomas Jones racked up 100 yards on 19 carries; Jamaal Charles gained 93 yards on 16 carries.

Let's not forget, Houston did win this game. But that doesn't mean you should climb aboard when the driver of the bandwagon pulls over and tells you that Gary Kubiak's 4-2 club is the breakout team of 2010. The same old weaknesses are still present…
3.) Mea Culpa

Gotta come clean: I was wrong about the Ravens-Patriots game. Anyone who read my Key Matchup breakdown last Thursday or Friday knows that I didn't think the Patriots defense could stop Ray Rice or Joe Flacco. Obviously, it did.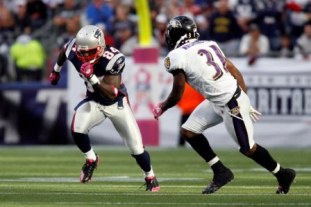 I don't regret my analysis -- the Patriots simply played better than I thought they would. So how was I proven wrong? For starters, the Patriots secondary stepped up. (Rookie corner Devin McCourty's pass breakup against Todd Heap late in the game is a particularly nice play that I find myself still thinking about.) Two rookie linebackers – Brandon Spikes and Jermaine Cunningham – showed good physicality against the run. (Spikes had 16 tackles, which was actually two less than Jerod Mayo.)

More impressive than the defense, however, was the New England offense. Turns out, the key to Deion Branch is having him play in the Eastern Time Zone. Though it was a bit confusing seeing him wear number 84, Branch looked like the same old reliable star. The ninth-year pro led the Patriots with nine catches for 98 yards and a score. About half of those catches came in crucial moments down the stretch.

And how about Danny Woodhead? The former Jet had five catches for 52 yards and 11 carries for 63 yards, filling the invaluable scatback shoes of injured veteran Kevin Faulk. With Woodhead, Wes Welker and Julian Edelman all contributing, the Patriots are the scrappiest (cough…cough…whitest) offense in the NFL. Scrappy works when you have one of the best game-managing quarterbacks and the best game-managing head coach in the league. The Patriots offense is like football's version of the good 'ol boy who got caught up living the fast life in the big city but has now returned to the farm. There's something reassuring about seeing this team win games with a dink-and-dunk offense again.
4.) On the other side…

Let's flip the script and look at what's wrong with the Chargers and Cowboys. If you'd have told me last week that the Chargers would be 2-4 after leaving St. Louis, I would have said, "That just means they won't win the AFC West until at least after Thanksgiving". But if you'd have told me the Chargers would be 2-4 and that Antonio Gates would suffer what appears to be another serious ankle injury? Well, I'd have at least paused for a few seconds.

Fortunately for San Diego, the usual disclaimer about the shabbiness of the AFC West Division still applies. The Raiders are 2-4. And, though on the surface they look like a wild-card contender, the Broncos are 2-4, as well. The Chiefs are 3-2 and in the process of taking that "next step" as a franchise. Part of that process is losing tough games (like the one at Houston).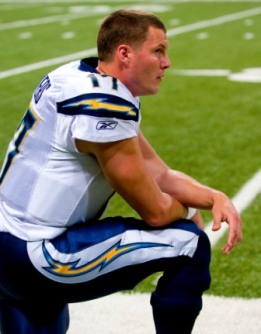 The Chargers are still the favorites in their division. But they're certainly no longer favorites in the entire AFC. Perhaps that makes perfect sense. Instead of looking around and asking what's wrong with San Diego, maybe we should be looking within and asking why we keep thinking this team should be as good as it was a few years ago. Back then it had a Hall of Fame running back (L.T.), a blossoming big-play wide receiver (V-Jax), a first-class pass-rusher (Lights Out), a playmaking star corner (Cro) and, now that I think about it, a bunch of players with cool nicknames. The Chargers have lost a lot of talent the past few years (don't forget about the departure of two-time Pro Bowl nose tackle Jamal Williams and retirement of fullback Lorenzo Neal).

Of course, the Chargers have always been good at replenishing their own talent. And Philip Rivers is a constantly-improving top 10 quarterback. So maybe special teams gaffes, untimely turnovers and a long-held propensity for losing early in the season – especially on the road – are to blame for San Diego's slow start. But with Gates now out of the lineup, don't be surprised if people start questioning the sheer talent of this 2-4 club.

It's possible that the reactionary radio call-in listeners and message board mavens – who, as we all know, understand football better than everyone – won't sing their usual Fire Norv Turner song this week. Reason being, they might be too preoccupied with Wade Phillips.

Unlike Turner's Chargers, there is absolutely no questioning the talent of Phillips' Cowboys. So why 1-4? For starters, penalties have been a major problem. The Cowboys were flagged 11 times for 91 yards at Minnesota. Last week, they were flagged 12 times for 133 yards. Included in the latest collection of penalties was a 15-yard excessive celebration that came just one week after the highly-publicized and costly excessive celebration flag late in the fourth quarter against the Titans. These days, saying the Cowboys lack discipline is not unlike saying the sky is blue, water is wet and Justin Bieber thinks he's black.

But penalties aren't Dallas' only problem. (In fact, defensively, they're not a problem at all. The Cowboys have the least-penalized defense in the NFL. Cornerback Mike Jenkins, who has four P.I.'s in two weeks, is pretty much the only defender who draws flags.) Offensively, the engine seems to sputter at inopportune times. Even though left tackle Doug Free has overachieved in replacing Flozell Adams, the front five as a whole has taken a step back. Kyle Kosier's health problems (he got hurt again Sunday) and Leonard Davis' baffling inconsistency have weakened the interior blocking.

Jason Garrett also deserves skepticism. The Cowboys execute one of the league's simplest offenses, and they still don't have an identity in the run game or a clearly-defined role for Dez Bryant. Factor in Tony Romo's occasional mistakes (the failure to read E.J. Henderson's fake A-gap blitz on his second interception is the latest example) and you have the makings of an inconsistent group.
5.) Time to make pass interference reviewable

The Vikings' victory over the Cowboys was essentially sealed on a pass interference flag against Mike Jenkins. The Texans' final drive was aided by a deplorable pass interference call against Chiefs budding star corner Brandon Flowers. (Flowers is STILL in that official's ear and fighting back tears of frustration.) The Jets' go-ahead score over the Broncos late in the fourth quarter was set up by a Renaldo Hill pass interference against Santonio Holmes. If that flag wasn't thrown, the Broncos would have won the game.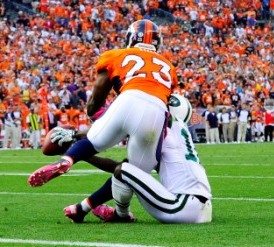 To be clear, that flag on Hill needed to have been thrown. It is illegal to grab an opponent's facemask. It's especially illegal to grab an opponent's facemask while he's trying to catch a ball in the air.

But nevertheless, that call was crucial in deciding the outcome of the game. Why wouldn't the NFL want to give its players, coaches and fans full assurance that it was indeed the right call? Making pass interference reviewable would do that. Oh, and not to mention, reviewing P.I. would give officials a chance to rectify the occasional awful call (like, say, Flowers').

I know, I know – pass interference can't be reviewed because it is a judgment call. But at the end of the day, every call is a judgment call. When a ref is reviewing whether a quarterback's arm is moving forward, he's making a judgment. When he's seeing if feet were in bounds, he's making a judgment. That's what referees do – they judge.

Granted, P.I. is a purer judgment call than most calls. But isn't that all the more reason to make it reviewable? The league doesn't like judgment calls. So, to lessen the impact of judgment calls, the league mandates that they can only be a split-second decision made during live action? That doesn't make sense. If that's how the NFL wants to run its sport, it might as well call itself Major League Baseball. P.I. is too big of a momentum swing to put strictly in the hands of one official.
6.) A despicable but brilliant idea

On a similar note, something very interesting happened late in the Packers-Dolphins game. The Dolphins had first-and-10 on its own 43 with 10 seconds left in regulation. They ran a play from shotgun. Chad Henne's pass to Brian Hartline fell incomplete. But on that play, Charles Woodson was whistled for illegal contact. (By the way, did you know Woodson is the most-penalized player in the league this season?) The Lambeau crowd booed, but announcer Dan Fouts pointed out that Woodson's penalty prevented a completion on the play, and that play still ran seven seconds off the clock. Thus, the Dolphins were forced to sacrifice seven seconds for a measly five yards.

This presents the despicable but brilliant idea: in tight last second situations, teams should instruct their defensive backs to mug the receivers. It's a shrewd clock-draining maneuver. Even if an offense gets the ball on its own 40 with 15 seconds to go, you could commit two very thorough illegal contact penalties and leave the opponent at the 50-yard line with time for just one play.

When the penalty doesn't fit the crime, then commit the crime. Is that good sportsmanship? Who cares? This isn't high school.
7.) Another tough decision in Philly?

Deep down, Andy Reid probably wouldn't mind seeing his team win in spite of its backup quarterback, rather than because of its backup quarterback. A month after Michael Vick played so well in a fill-in role that Reid had to unhitch his wagon from Kevin Kolb, Kolb has maybe forced the head coach to do the same thing only inversed.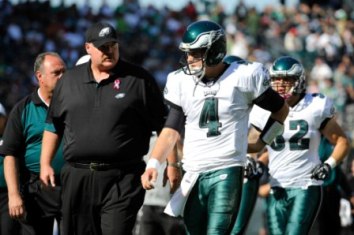 Kolb was borderline spectacular against the Falcons on Sunday. He completed 23 of 29 passes for 326 yards and three touchdowns. Dispelling the notion from smarmy writers who suggested he and Trent Edwards are really the same person, Kolb preyed on a Falcons secondary that, dating back to last season, has struggled to stop big plays through the air. In completing touchdown strikes of 34 and 83 yards to DeSean Jackson and Jeremy Maclin, Kolb showed he can patiently read the field and pull the trigger on anticipatory throws.

After the game, Andy Reid called having two quality quarterbacks "a beautiful thing". Asked who's going to get the ball next week against the Titans, Reid said, "Take Michael Kolb and we go play, baby." Hey, at least Reid's not feigning honesty or decisiveness on this topic anymore.

P.S. Give credit to the Eagles for getting a great win. They defeated the best team in the NFC (record-wise) despite being without their starting quarterback, starting left tackle Jason Peters, and, for the second half, star wideout DeSean Jackson (concussion). The Eagles secondary was phenomenal, particularly against Tony Gonzalez (he had two touchdowns, but just three catches for 19 yards on the day). That's important considering the way this D has struggled to defend tight ends at times.
8.) The other Pennsylvania team

Power polls aren't quite as important in pro football as they are in college (chalk up another point for the pro game) but they're still fun. When they come out this week, expect to see Pittsburgh at the top of everyone's list. Ben Roethlisberger was misty eyed upon receiving a rousing ovation in his return to action. He proceeded to do exactly what he's always done: make plays by extending plays.

Roethlisberger had a few of his usual gunslinger mistakes but he also had more than a few gunslinger plays. (By the way, given Big Ben's record and all the recent Brett Favre drama, is it possible that a risky gun-slinging quarterbacking style somehow translates off the field to a risky – we'll keep it P.G. and say, flirting style – off the field?)

Despite having a quarterback they could lean on, the Steelers did not get away from the ground game. Rashard Mendenhall carried the ball 27 times for 84 yards. Backup Isaac Redman added six runs for 31 yards.

Browns third-round pick Colt McCoy wound up posting decent numbers against the Steelers defense (23/33, 281 yards, a touchdown and, in honor of mentor Jake Delhomme, two interceptions), but in reality, he looked very much like a rookie facing a Super Bowl unit. James Harrison was nastier than usual, sending receivers Joshua Cribbs and Mohammad Massaquoi to the locker room with concussions. (The hit on Cribbs was a clean shot to the ear-hole; the hit on Massaquoi was not dirty, though it should have been a personal foul).
At 4-1, the Steelers sit atop the AFC North, fully loaded on both sides of the ball.
9.) Bucs are for real*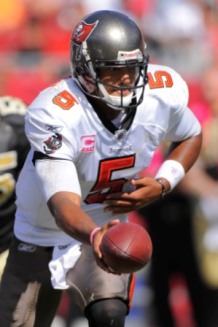 * "Real" meaning "developing and making strides". Bucs fans should be extremely encouraged by quarterback Josh Freeman. Yes, Freeman failed to get his offense into the end zone Sunday. And yes, considering how sharp Drew Brees was (21/32, 263 yards, three touchdowns and just one pick) and how effective Chris Ivory was (15 carries, 158 yards), we probably should be talking about how the defending Super Bowl Champion Saints are on track after all.

But we have all season to talk about the Saints. And, since I happened to make this my feature game in the early window, I feel compelled to put my observations to good use. Freeman shows decent poise in the pocket. When he's decisive – which, unlike last season, is more often than not – he has a rifle for an arm. Freeman has good rapport with rookie wide receiver Mike Williams (who is similar in style to Mike Sims-Walker) and he's willing to take healthy risks with the football. Does he have room to improve? Of course -- if he didn't, the Bucs would be scoring far more than six points in big divisional games. The point is, Freeman has the foundation.

Overall, the Bucs, though 3-2, are probably a 6-10 caliber team. The offense can't run (working behind an inconsistent front line, Cadillac Williams looks OK, but nothing more). Defensively, the front four is a treat to run-block against, the linebackers have zero physicality and the secondary can be exploited deep. But these are normal symptoms of a massive rebuilding project. Bucs fans should know, judging by their team's key components (i.e. Freeman), the front office is telling the truth when it talks about a bright future.
10.) Quick Hits

Cameron Wake should be a lock for AFC Defensive Player of the Week. Against the Packers, Wake recorded three sacks, three tackles for a loss and six hits on the quarterback.
I almost wrote this last week, but figuring no one would know who I was talking about, I refrained. After Sunday night's game, people should know. Here's what I was going to write: Why is punt returner Kenneth Moore even in the NFL, let alone actually touching the ball for the Colts? Not to be mean, but Moore is undersized, slow and really, really slow when starting his run from a standstill. He's also turnover prone.
What in the world was Brandon Meriweather doing hitting Todd Heap with the crown of his helmet like that? Meriweather tried to illegally hit Heap early in the game and missed. He tried again later and connected, earning a 15-yard penalty and sending Heap to the sideline. Never have I seen a player go so far out of his way to deliver an illegal hit on someone. Meriweather is normally an honest, humble and forthright individual. That's why it was disappointing that he a.) Acted like this and b.) Refused to talk about it afterwards. The whole thing just didn't make sense.
Defensive tackle Remi Ayodele is playing extremely well for the Saints. He's a clogger who can also move east and west. Ayodele took advantage of the Bucs playing backup guard Jeremy Zuttah at center in place of the injured Jeff Faine.
Kudos to the Panthers and Bills for coming out of their bye weeks without a loss.
A CBS halftime graphic during the Chiefs-Texans games noted that wideout Dwayne Bowe had three catches, 50 yards, one touchdown and zero drops. Bowe was very stellar against Houston, but you know it hasn't been a great season when you go two quarters without a drop and have it highlighted in a television graphic.
Anthony Fasano had a clever touchdown celebration against the Packers: the fake Lambeau Leap. Think about how much fun it is to pysch someone on a high five. So how much fun must it be to watch 15-20 opposing fans bracing in vain to catch you?
In one week Rams receiver Danario Alexander went from practice squad member to having four catches for 72 yards and a touchdown.
Alex Smith was booed for most of the afternoon in San Francisco. Fans of decent 21st century football had every right to boo throughout that game. (Though I still don't understand how booing your own quarterback helps matters.) Two things really stood out in this game: 1.) Smith is drastically more comfortable in a hurry up offense; 2.) The Raider safeties lack discipline and are major liabilities.
Antonio Cromartie won his personal battle against Brandon Lloyd. Also, the Broncos weren't scared of Darrelle Revis and found out that he's human.
I still can't decide if Pierre Garcon's one-handed catch is the best catch I've ever seen. We all need to let it sink in for a few days before making a proclamation.


For more NFL news, rumors and analysis, follow @cbssportsnfl on Twitter and subscribe to our RSS Feed .