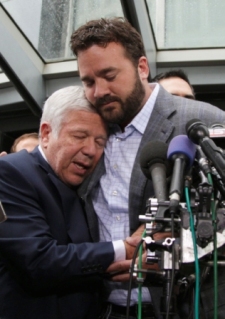 Posted by Josh Katzowitz
After the
Colts
took a 62-7 pounding at the hands of the
Saints
last weekend, everything that could have been said about how disappointing the Indianapolis franchise has been would have been fair game.
If you had said the team was an abomination without
Peyton Manning
, fair game. If you had said the front office was to blame for not coming up with a Plan B in case something like this happened, fair game. If you had said coach Jim Caldwell was in over his head when he didn't have Manning on the field, fair game.
Even if the words are coming from a Colts player's mouth. Even if that Colts players takes it back soon after. All of it should be fair game.
That player is Indianapolis center
Jeff Saturday
, who said on a radio show after the Saints debacle that the Colts
had been out-coached
. And then, Saturday said, um, never mind about that whole out-coached thing. And he said it in a not very nice way and directed it at BigBlueShoe on StampedeBlue.com.
"That was ridiculous," said Saturday, via the
National Football Post
. "You've got a 45-year-old man who lives with his mom, down in his basement, freaking blogging about something that was a direct misquote. It had nothing to do with what I said. At 62-7, there was no redeeming qualities in the way any of us participated. And this is a team thing, 100 percent. I made it perfectly clear.
"Coach Caldwell didn't have on any pads Sunday. We did, and all of us as a team failed to get the job done. I can assure you I don't need the media to clarify what I'm saying. I speak pretty clearly and I was insulted that somebody would do that and try to divide our team and putting things in people's minds that really don't need to be there."
So, what did Saturday say he said?
"I didn't say that,"
Saturday said
. "I said that as a team we were outplayed, we were outcoached and there was nothing that we did better than they did yesterday."
So, the team
was
out-coached, then? What, then, is the problem?
Look, we know Saturday must be frustrated playing for a winless team after having been a key cog for so many division-winning Colts squads. But to take the comment that he admitted he said out on a blogger while insulting that blogger (who, don't forget, is a Colts fan) is, well, slightly ridiculous. And the quote, no matter what Saturday thinks,
is
fair game.
For more NFL news, rumors and analysis, follow

@EyeOnNFL

on Twitter and subscribe to our
RSS Feed
.