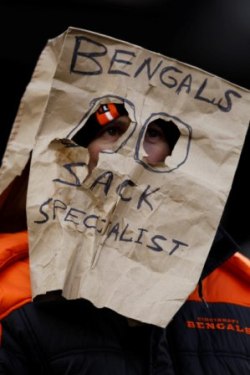 Posted by Josh Katzowitz
Coming off
a disastrous news conference
in which Cincinnati owner Mike Brown announced Marvin Lewis would return as head coach, the
Cincinnati Enquirer
did an informal survey to see how many fans would renew their
Bengals
season tickets.
According to the
Enquirer
, about 2/3 of the 176 who responded will NOT re-up their deals.
It could be that the economy continues to wreak havoc on a fan's entertainment budget, but the Bengals 4-12 record in 2010 – and the impression Brown gave at his presser that he was satisfied with the way his team is doing business – certainly doesn't help.
Three years ago, the Bengals had a waiting list for season tickets. Now, they're not selling out games and likely won't fulfill their quota of season passes.
Wrote fans Dick and Carol Jones, season ticket holders since 1970, in an e-mail to the paper: "Like many others, I suppose that we have been waiting and hoping to see a sign of change. The press conference last week further showed that no change is going to be forthcoming. We do know of one change. We will not be spending any more money to support those who care so little about their fans and what should be their obligations to the City and County which have supported this team."
Even my buddy Mo Egger – who hosts a daily radio show on ESPN 1530 and who's as big a Cincinnati sports fan as anybody in the city – is giving up his tickets.
"The PBS experience has devolved as well," Egger told the paper. "The years of losing have seen the people I've looked forward to seeing in section 306 slowly cancel their tickets, and they've often been replaced by empty green seats. PBS has the character and ambience of my grandfather's old tool shed."
Though the Bengals released a statement to the Enquirer saying, in effect, that the 2011 season would be better, I think fans are simply tired of Brown and the way he runs the team. It's hard to blame them.
For more NFL news, rumors and analysis, follow @cbssportsnfl on Twitter and subscribe to our RSS Feed .