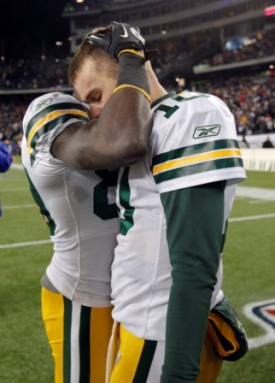 Posted by Josh Katzowitz
You can try to blame
Matt Flynn
for the way the
Patriots
-Packers game ended tonight. And you're right, it did not look, um, professional.
Confusion across the entire offense. Flynn obviously not knowing what to do. The seconds ticking away. Every fiber in a
Packers
fan's body screaming, "Snap the damn ball!" The last-second sack and fumble that ended the Patriots 31-27 victory and dispelled what would have been an outstanding win for Green Bay.
But this was not a failure by Flynn, who was outstanding throughout most of the game in his first career start. Playing against the Super Bowl favorite – though, mind you, also a team that doesn't have a very good defense – Flynn had an impressive performance, completing 24 of 37 passes for 251 yards, three touchdowns and one interception.
And the sack and fumble at the end of the game.
Yet, this was a failure of the coaching staff.
Here's the scenario: the Packers were down by four but driving with less than a minute to play and no timeouts remaining. With 29 seconds to go, Flynn took the third-and-11 snap and fired a 10-yard pass to WR
Donald Driver
. He was tackled with 23 seconds to play.
And from there, nobody had any idea of what was happening. Flynn couldn't get a play-call on the headset inside his helmet, and with only four seconds left, he finally took the snap. He was met by Patriots DL
Tully Banta-Cain
for the game-ending sack.
But here's the thing: how could Packers coach Mike McCarthy not have a play ready for Flynn assuming the third-down play didn't make enough yards? How are two plays not called in the huddle? Especially, knowing that Flynn has almost no NFL experience, how does McCarthy allow that to happen?
Said Driver after the game, via our Rapid Reporter: "We had a second-down play called (for) after the spike, but we were a yard short so we just had to go with it."
But how does that make sense? Why would the Packers need a play called for after they clock the ball? If they stopped the clock, they would have had plenty of time to call a play for second down. No, what they needed was a fourth-down play-call, which they didn't have.
Here's what McCarthy said in his postgame presser:
Q: Mike, what about the two-minute drill, especially the last two plays? Did you think you could get off another play or two, or was it rushed?

MM: First of all, the third down completion, you have to find out if it's first down or fourth down. So, it obviously takes time and the clock was running and I think it was 20 to 21. It got to a point, we were right at the point, if it was a first down that we would have clocked the play and we would have had a set play on second down. You know, it takes the referee time to, you know, make a decision. And it was a clear fourth and one, so you have to get up on the ball and take a shot at the end zone. I think it's a very clear situation and I think Matt operated it properly in a three-man rush and they sacked us. So, the mechanics of it, I thought, was very well done by Matt Flynn.

Q: It looked like he was checking personnel, was there trying to change personnel on that last play?

MM: No, we were in zebra. We didn't change personnel, he was just setting the formation. You know, you have to find out the down and distances first. You're in a clock situation if it's first down and you have to throw the ball in the end zone if it's fourth down. And that was the communication that Matt was giving to the rest of the offense.

Flynn might take the blame for the late-game snafu, but it wasn't his fault.
Yet, with the loss, the Packers, at 8-6, severely hurt their playoff chances. At this point, the
Saints
(10-4) and the
Giants
(9-5) have a hold on the Wild Card berths, and if the
Bears
beat the
Vikings
on Monday night, Green Bay would find itself two games behind Chicago in the NFC North.
That probably would be lethal to the Packers postseason chances.
And yeah, it's unfair as hell that a sub-.500 squad from the NFC West will go to the playoffs ahead of Green Bay. But the Packers had their chances. Their quarterback just didn't have enough experience. And their coach didn't give him the chance to win the game.
For more NFL news, rumors and analysis, follow @cbssportsnfl on Twitter and subscribe to our RSS Feed .