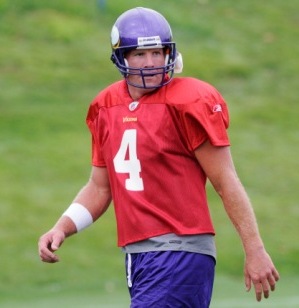 Posted by Josh Katzowitz
The suddenly-unretired Brett Favre was midway through his first rambling answer in his first rambling news conference of the season, and I got confused. He said he visited Dr. James Andrews last Thursday to follow up on the ankle surgery he had earlier this offseason, and they discovered a new bone spur already had surfaced.
It's not as big as the one extracted by Andrews in the surgery, but once again, Favre's ankle might have been trying to tell Favre's head that enough was enough. Favre's heart decided not to listen.
"There is a little pain there with the scar tissue," he said. "The fact is it's something I have to deal with. There's a little bit more range of motion on my ankle since the surgery, but not a lot. Every day walking is no problem. Walking is fine. Playing football, it's probably not the healthiest thing to do for your joints."
Here's what confuses me. All along, I thought Favre claimed the ankle was what was delaying the decision on whether he'd return to the
Vikings
for his 20th year. But now that Favre knows his ankle still isn't right –it's worse than he must have hoped it would be – and he's coming back anyway, why the hell did he put Minnesota through this mess? Just to miss training camp for a few weeks? Just so ESPN's cameras could continue to flash his old videos as everyone in the football-speaking world continued to debate whether he would retire?
Just so he could continue to admire the billboards that sprung up around his hometown urging him to play another season, so three of his most important teammates could miss practice and fly to Mississippi to convince him to return?
If it didn't matter how his ankle felt, what was the point of this entire exercise?
"It was really about the team," said Favre, who practiced today and said he wants to play in Sunday's preseason game. "Believe me, when I left New Orleans (after last year's NFC championship game) a big part of me was … I don't want to say done … but the fact we lost that game ... it's hard to make people understand. I played 19 years. The toll that it takes in that particular game, the mental toll is what's hard to deal with."
Ultimately, losing that game to the
Saints
– and being so close to going to the Super Bowl – is one of the major reasons he returned for one final season. That, and because he loves playing with his teammates.
Why, then, did he wait so damn long to tell them he'd return? Why did he supposedly send text messages to them telling them he was done? Did he really waffle that much, or did he just want the meal to simmer a little bit longer before serving?
"Me coming in brings in a lot of expectations and a lot of hoopla," Favre said. "No one is deserving and worthy of all the attention. Heck, I'm not."
His actions the past few offseasons speak of a man who doesn't reflect that point of view.
Listen, I can appreciate Favre wanting to return – bum ankle or not. He still plays at a high level, and he said last year was the best he'd ever performed. I understand he loves his teammates and his football, and I get that he wants one more chance to win another Super Bowl.
He says he has nothing to prove, and of course, that's true. He'll be a first-ballot Hall of Famer. But why must he make such a spectacle?
Toward the end of the news conference, Favre basically said he would retire after this year.
"Twenty years, and this is the last year of my contract," Favre said. "I'm sure a lot of people are like "Yes," including my family."
If I were his family, I wouldn't hold my breath quite yet. I mean, who knows how his ankle will feel this time next year.
For more NFL news, rumors and analysis, follow @cbssportsnfl on Twitter and subscribe to our RSS Feed .