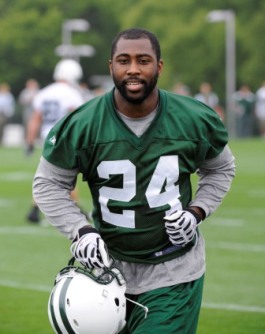 Posted by Josh Katzowitz
Lauren Shehadi and I talked about it today on the CBSSports.com
Around the League video segment
, and it's still a little crazy to think about. Would the New York
Jets
actually allow CB Darrelle Revis to miss the beginning of the season? Would they not give the NFL's best CB a raise on his $1 million salary?
It makes very little sense to me - unless, Revis really thinks he should be the highest-paid CB in the game and should make more than $15 million for this season – but owner Woody Johnson has come out and said he doesn't think Revis will be ready to play by the start of the season.
Today, coach Rex Ryan said people shouldn't feel sorry for the Jets and that they have everybody they need on defense. Here's how he comes to that conclusion. Newly-acquired CB
Antonio Cromartie
can fill in on Revis' side of the defense, and Ryan seems excited about the abilities of first-round draft pick
Kyle Wilson
. Still, Ryan knows the team needs Revis if the Jets are going to have a chance at a Super Bowl title.
"I've been running defenses a long time in this league," Ryan told reporters, including the
NY Daily News
. "I've had to overcome a lot of great players not being in there…. We'll find a way to get it done. I can't do much, but I know one thing, we can call a defense. We'll take what we have - we have a great collection of individual talent - but these guys play great as a team… That's what we'll do."
As for Ryan picking up a phone and speaking with Revis, don't expect that to happen either.
"I don't know what I'd tell him," Ryan said. "I don't know if he'd take my call. He hires people to negotiate. We have guys that obviously do that for us. We could say hello to each other, I guess."
For more NFL news, rumors and analysis, follow @cbssportsnfl on Twitter and subscribe to our RSS Feed .