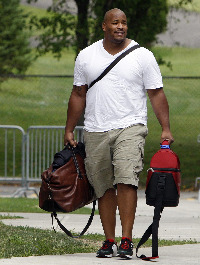 Kris Jenkins
, Rex Ryan and
Damien Woody
all engaged in a weight-loss contest for charity during the offseason.
And it turns out that Jenkins is the big winner (see his sveltness to the right). Or loser, if you prefer. The DT lost 33.6 pounds (
on a mostly all-cookie diet, no less
) and
was jubilant when he weighed in
Sunday.
"I won! I won!" Jenkins said with a huge smile while doing a celebratory dance.
"I feel like I'm in the best shape I've been in in a while," he said.
Ryan "lost" 57 pounds, but the majority of the weight was from lap-band surgery, so it didn't count in the contest. Woody shed 26.2 pounds, getting all the way down to 340. (Jenkins, by the way, clocked in at 359.)
"[Ryan] tried to put us under the bus saying, 'Aw-w-w, you guys didn't let [the lap-band surgery] count,"' Jenkins said. "He was the one when we started the competition who said, 'I'm not going to count this.' OK, well, take the 'L' like a man."
L as it may be, Woody put it best when he said that this was a "win-win" for everyone involved: he, Jenkins and Ryan are all a little healthier, the
Jets
should be a little better, and a charity is a little richer.
-- Will Brinson
For more NFL news, rumors and analysis, follow

@cbssportsnfl

on Twitter

and subscribe to our

RSS Feed

.