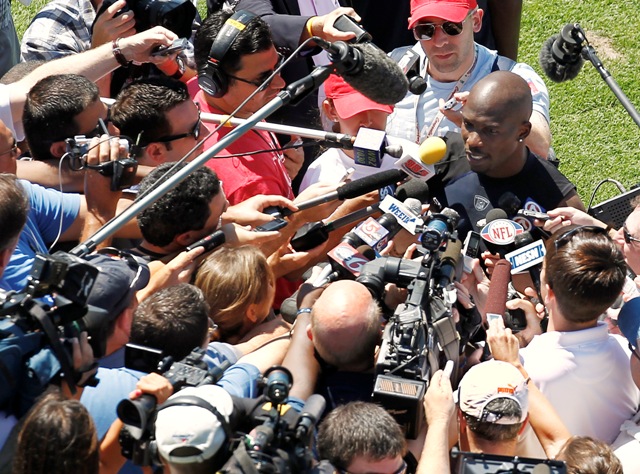 Posted by Josh Katzowitz
You might have heard something about the
Patriots
making some pretty interesting moves during free agency in the past few days. For one, they
traded two low draft picks
to the
Bengals
for WR
Chad Ochocinco
. For two, they acquired somewhat-moody, rarely in-shape
Albert Haynesworth
from the
Redskins
.
Luckily for you, we've got news on each new Patriots player and how they're handling their new surroundings.
1)
Chad Ochocinco met with the New England media today for the first time, and it's clear the Patriot-ifcation of the outspoken WR has already begun. He said he probably won't say much to the media going forward, and then afterward, he asked for a group hug (that latter point is very un-Belichickian, by the way).
"I will always be me," Ochocinco told reporters in quotes distributed by the team. "It has been a part of my game to always be me, but there is a certain way the Patriots do it and it's easy for me. I've always been a chameleon, so I am going to blend in and do it the Patriot way, which is win. ... There is no need for some of the stuff I did before. There's no need for it."
I guess that means he won't be sending opposing DBs little presents in the week before their games, and I guess that means he won't be celebrating touchdowns in quite the same way. And as WR
Wes Welker
would advise him, Ochocinco also probably shouldn't share any good Rex Ryan foot-fetish jokes he's heard.
Either way, Ochocinco feels recharged.
"It's hard to maintain a high level of productivity when things are always up and down," he said, "The thing about this place [is that] it's consistent. … There is only so much that I can control and the position that I was in. In Cincinnati I did the best I could to my ability, and I did it in sort of a noisy way and that says a lot for me -- to be able to talk it and still walk it. To be able to come here, regardless of who is in, they get it done here. I call it riding the wave; I am going to enjoy it."
He'll enjoy it while wearing his old No. 85.
"This was Mr. [Aaron] Hernandez's way of greeting me here," Ochocinco said. "He gave me the number and I didn't have to pay anything, I just shook his hand and I said, 'Thank you.' … I drive a Toyota Prius, so I was going to let him use my Prius on the weekends, and that's about the best I can do right now. I have some left over McDonald's coupons since I don't eat there anymore."
2)
The reports coming out of New England also say that, perhaps not surprisingly, Haynesworth didn't pass his conditioning test Saturday. Though Belichick didn't confirm or deny that, he did say Haynesworth isn't ready to play quite yet.
"There are things we still need to do with Albert for him to be able get on the practice field and when those things are done, he'll be out there," Belichick said.
Good to see that Haynesworth has learned from his past mistakes.
For more NFL news, rumors and analysis, follow @cbssportsnfl on Twitter and subscribe to our RSS Feed.