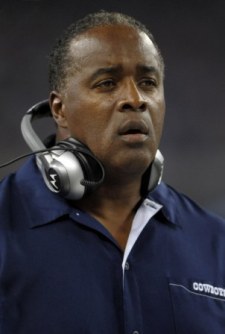 Posted by Josh Katzowitz
Ray Sherman has had an up and down 2011 so far.
The
Cowboys
WR coach interviewed for Dallas' open head coaching spot - which wasn't really open at all, because it was going to be Jason Garrett's gig all along – and apparently, he was impressive. And just because he was, for all intents and purposes, a Rooney Rule candidate, he probably was hoping he would have a chance to win Garrett's old gig as the Cowboys offensive coordinator.
Apparently, that's not going to happen. And oh yeah, he's not going to have a job with the Cowboys either.
That's according to
ESPN Dallas'
Calvin Watkins who writes Sherman is Garrett's first coaching casualty.
Although Sherman was well-respected by coaches and players, this sorta sounds like a case where Garrett wants to bring in his own coaches as opposed to working with the ones hired by Wade Phillips.
Plus, Sherman was known as the buffer between players like
Terrell Owens
and Garrett. So, when Owens wanted to bitch about Garrett's offense, he'd complain to Sherman, who then would try to calm down the volatile receiver. Watkins also writes, "Sherman also created 'Keepin' it Real' Thursdays where the wide receivers could vent about what was troubling them."
Maybe that bond with the players was seen by Garrett as a weakness or as non-authoritarian or something that would undermine his position as head coach.
But considering Sherman had strong relationships with current Cowboys WR
Dez Bryant
and
Miles Austin
, this move might not sit so well with some of Dallas' best offensive players.
Sherman, meanwhile, talked to Josina Anderson of
Fox 31 Sports
in Denver. Here's the statement he gave her.
"My contract with the Dallas Cowboys is expiring at the end of the season. I appreciate the opportunity that the Cowboys have given me. I was able to coach a great group of receivers who now have a tremendous foundation, giving them the ability to continue to excel for years to come in the NFL."
For more NFL news, rumors and analysis, follow @cbssportsnfl on Twitter and subscribe to our RSS Feed .