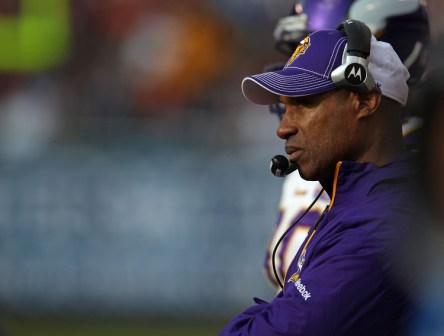 Posted by Josh Katzowitz
With Wade Phillips getting the pink slip last week and with much discussion about the job security of Minnesota's Brad Childress, it's become obvious that it's that time of the year when fans debate the merits of firing the coach of their favorite teams. That obviously equals bad times for coaches like Marvin Lewis, John Fox, Gary Kubiak, Norv Turner, Josh McDaniels and Mike Singletary.
Since Phillips is gone and Childress might as well be gone, let's dive into the intriguing possibilities of who will be available – some long-time assistants who hunger for their first shot at a head coaching job, some former head coaches who wouldn't mind getting back into the business and maybe a college coach or two who want to test himself at the pro level.
Many of the following likely will get interviews after the season when the current coaches who can't work themselves off the hot seat clean out their offices. Until then, let's speculate on who might be available.
10. Dick LeBeau:
I know, I know. He's probably not going anywhere, and his three-season stint as the
Bengals
coach wasn't so good (12-33). But LeBeau has been such an innovator on defense, I'd like to see the
Steelers
defensive coordinator get another shot at running a team. It's not going to happen, because he's 73 years old, but there would be a ton of smiling faces around the league if he got another chance.
9. Rob Ryan:
We need – I mean, we
NEED
– another Ryan brother as a head coach in the NFL. Aside from being the most entertaining coach out there today – publically, at least – Rex Ryan has done a wonderful job turning the
Jets
into Super Bowl contenders. Now, Rob Ryan, the
Browns
defensive coordinator, needs to get his chance. With the marked improvement in Cleveland, does Ryan deserve the shot? Probably not at this point. But how awesome would it be if somebody gave him a job?

8. Mike Zimmer:
He arguably performed his best coaching job of his career last year when, despite the death of his wife and of Bengals WR
Chris Henry
, the defensive coordinator led Cincinnati's defense to the No. 4 ranking in the NFL. For as long as the Bengals have tried to improve their defense, Zimmer finally was the one to make it happen. Cincinnati's defense ranks 15th this season, but his players respect him and his coaching style. At some point, you'd think a team will take a chance on him.
7. Jon Gruden/Bill Cowher:
Yes, they've both got lucrative analyst deals with ESPN and CBS, respectively, and both seem to do a pretty nice job (although Gruden spends a little too much time being a little too positive on his Monday Night Football gig). It's hard to tell if Cowher is serious about getting back into coaching, but it wouldn't be hard to believe Gruden wanting to jump at the chance (those are the whispers you hear, at least). He just seems hard-wired for the long hours, and it wouldn't be surprising at all if he were to return. For Cowher, it'd probably have to be the perfect job. And I'm not sure that kind of job will appear in the offseason.
6. Marty Mornhinweg:
The 5-27 mark he recorded while coaching the
Lions
is pretty difficult to swallow. But one of the biggest achievements this season made by Mornhinweg – the
Eagles
offensive coordinator – has been the transformation of QB
Michael Vick
from a playmaker with brilliant talents to a complete quarterback that's nearly unstoppable with his legs
and
his arm. The Eagles rank second in points scored and third in yards per game, and much of that is a credit to Mornhinweg.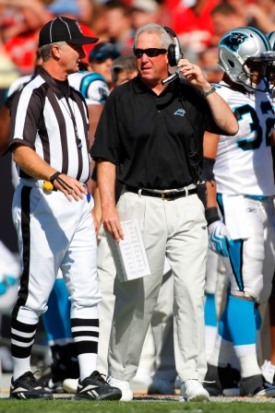 5. Cam Cameron:
It's a testament to Cameron that the
Ravens
, previously known as a strong defense that couldn't score points, are now known as a high-powered offense that has a more difficult time stopping opponents. Cameron has weapons (QB
Joe Flacco
, RB
Ray Rice
, a plethora of receivers), and he knows how to use them. It might not happen for a few more years, but Cameron deserves another chance (if a prospective owner can overlook the 1-15 season he had while running the
Dolphins
).
4. Perry Fewell:
He had a taste of head coaching last season after the
Bills
fired Dick Jauron and made Fewell the interim. He led Buffalo to a 3-4 record – looking back on it, it was almost miraculous – but he and the rest of the coaching staff were fired anyway. Now, he's the
Giants
defensive coordinator , and not surprisingly, they're the No. 1 defense in the NFL in yards allowed.

3. John Fox:
He doesn't have much longer in his current role, as the head coach in Carolina, and despite the team's putridicity (?) this season, he remains a well-respected figure in the league. Why, you ask? Well, he led the
Panthers
to Super Bowl XXXVIII, two seasons after a George Seifert-led Panthers squad went 1-15. Overall, he's 72-65 as the coach in Carolina, and you can be sure Fox will have a job somewhere in the NFL. And quite possibly as a head coach.
2. Jim Harbaugh:
If the Stanford head coach still wants an NFL job, he will have an excellent shot to get one. The brother of Ravens head coach John Harbaugh, Jim – a 14-year NFL QB who made the Pro Bowl in 1995 – has done wonders in Palo Alto. The previous two coaches before Harbaugh went a combined 16-40, and in the past two seasons, the Cardinal has gone a combined 17-6. He already interviewed for the Jets job that Rex Ryan eventually won two years ago, and it seems like it's only a matter of time before he beats out somebody else for a head coaching position.
1. Leslie Frazier:
How long will it take before Frazier – perhaps the most respected assistant coach in the league - finally lands the head coaching position he so obviously wants? Well, considering his office is just down the hallway from Childress', it would make sense for Minnesota to hire its current defensive coordinator when it fires Childress. For a defense that hadn't been good in more than a decade before Frazier took over, he's transformed the unit and made himself indispensible. No doubt about it, he should be a head coach.
For more NFL news, rumors and analysis, follow @cbssportsnfl on Twitter and subscribe to our RSS Feed .