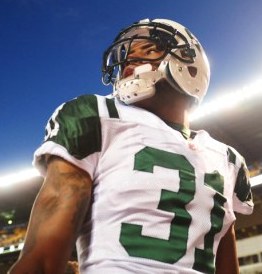 Posted by Josh Katzowitz
It's been quite a month for
Jets
CB
Antonio Cromartie
. After an up and down season – in fairness, he was probably more 'up' than 'down,' but some of his 'downs' were really low, Cromartie called
Patriots
QB
Tom Brady
an
a------
(hell, even Reggie Jackson suggested Cromartie pipe down after that comment).
Then, he blasted the
NFL and the NFLPA
about the labor dispute and the "no light at the end of the tunnel" progress they had made in negotiating a new CBA (hey, the man needs to get paid).
Then, Cromartie and
Seahawks
QB
Matt Hasselbeck
got into a
mini-Twitter war
in which Cromartie threatened to smash in Hasselbeck's face.
So yeah, he's been pretty classy.
And though it's questionable whether any of the previous controversies will play a role in the Jets ultimate decision about Cromartie, the NFL Network's Michael Lombardi, via
Pro Football Talk,
reported tonight that New York likely will let the upcoming free agent walk away.
That's because, Lombardi says, the Jets are more interested in retaining the services of WRs
Santonio Holmes
and
Braylon Edwards
rather than pay Cromartie a boatload of money.
Cromartie should be fine, though. He's probably not a top-five cornerback in the NFL, but he certainly could be a team's No. 1 cover guy. He fulfilled that role with New York when
Darrelle Revis
was out with injury, and for the most part, Cromartie performed admirably.
UPDATED:
The
New York Daily News
reports that no decision has been made regarding Cromartie and that he's still a priority for the Jets.
For more NFL news, rumors and analysis, follow @cbssportsnfl on Twitter and subscribe to our RSS Feed .