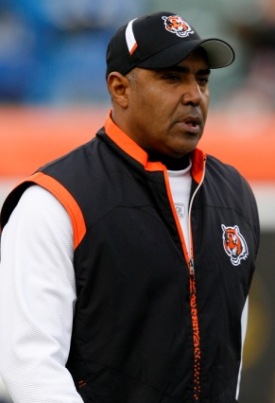 With
Bengals
coach Marvin Lewis entering the final year of his contract and with no new deal in place, there's been plenty of speculation locally that Lewis, at the end of this year, could say, "Well it's been great, but I'm outta here."
Considering the organization has the smallest scouting department in the league and that owner Mike Brown would rather give himself a $1 million general manager bonus instead of actually hiring a general manager, Lewis, the thought goes, could determine there's no way to sustain growth in Cincinnati and could instead walk away.
And it's possible that still could happen. But in an interview today with the
Cincinnati Enquirer
and
Bengals.com
, Lewis said he "would love to continue coaching here."
"Mike and I at some point hopefully come to an agreement from both sides of us,, and we all feel good about," Lewis said. "We have spoken about the contract a few times since then, but we don't talk about it daily. That's not me to worry about it or bring it up. I don't go about it that way."
Aside from the speculation that he would leave because he feels hamstrung by the efforts of the Brown family, there's also been talk that Lewis genuinely is tired of coaching. Not true, he said today.
"I savor the challenge of coaching. I don't think about the other things that way," Lewis said. "I don't want to look forward (to doing anything else) nor do I think I want to be on television. I don't think it is something that I would be interested in doing at all. I like to coach, that's the part of this job that's the fun part. That's why the season is the fun part because you get to coach more."
So, will he sign a new deal at some point or will he just be content to let his contract expire? For the Bengals' sake, the team absolutely needs to re-sign Lewis – who is a players' coach yet has the respect of the Cincinnati locker room while leading the Bengals to a couple of AFC North titles. I imagine the two sides, at some point soon, will get it done. Unless Lewis really does want to leave.
--Josh Katzowitz
For more NFL news, rumors and analysis, follow @cbssportsnfl on Twitter.