Posted by Andy Benoit

1.) Conspiracy in Philadelphia

Until Sunday, it hadn't dawned on me that Trent Edwards and Kevin Kolb are the same person. That's why they're never in the same place at the same time. Kevin "Trent Edwards" Kolb was a master of the safety outlet pass against the Redskins. Including what we saw in the first half against Green Bay in Week 1, Kolb is officially the most consistent dumpoff thrower in the game today (the consistency being, he dumps it off on every play).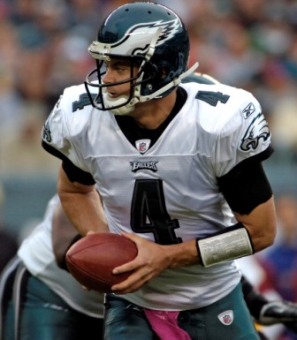 DeSean Jackson and Jeremy Maclin became nonfactors once Kolb replaced the injured Michael Vick. And somehow, tight end Brent Celek dropped out of the picture as well (until the final few minutes, anyway). Running back LeSean McCoy took 16 handoffs Sunday (64 yards rushing), which was just one more than the number of passes thrown his way. At least the emerging second-year pro was productive, turning those 15 passes into 12 receptions for 110 yards.

You wonder if Andy Reid and Marty Mornhinweg really trust their offensive line. Many believe Vick won the starting job because his legs allow him to elude the frequent pass-rushing pressure Philly's makeshift front five has surrendered. On Sunday, the coaches were awfully willing to call screen passes and keep Kolb in simple check-down scenarios. Perhaps they knew Jason Peters couldn't block Brian Orakpo without holding (which Peters got called for twice).

Futile as the offense was, Jason Avant actually had a shot at a go-ahead hailmary touchdown at the end of regulation. That play was made possible by a 15-yard double-hook-and-ladder play.
Quick Tangent

Inst' it surprising that the hook and ladder is not a more common play? You'd think someone from the Mike Martz school of thought would realize that it's a potentially lethal play that not only can trick opponents but also give defenders something to think about. You have to figure defensive backs and linebackers would pursue the ball a little less aggressively if they had reason to believe that a hook and ladder could be in the works.

Eventually, football will evolve to where the hook-and-ladder is mainstream. There are just too many possibilities for it. Some team that has a former college quarterback plaing receiver (think Brad Smith of the Jets, for example) will incorporate it. But, for whatever reason, we're not there yet.
2.) Back to Kolb and the Eagles

By now, every NBC executive has hit his or her knees and pleaded with God to heal Michael Vick's upper rib cartilege. If Vick has to sit out next week, we might officially have the most uninteresting matchup in the five-year history of NBC's Sunday Night Football: Kevin "Trent Edwards" Kolb's 2-2 Eagles visiting Alex "Too Bad for a Nickname" Smith's 0-4 Niners. Instead of looking forward to the night cap, football fans will spend all of Sunday trying not to think about going back to work tomorrow.

See, it's not just that Kolb appears to be an iffy quarterback (and I realize it is very, very early in his career, so I say "iffy quarterback" with the proper grain of salt), it's that he is boooorrrrrrrring. Kolb doesn't have a rocket arm. And he's not mobile. Moxie is something we attribute to guys whom we like but can't figure out why. I, like you, do not really know what moxie is. But I do know Kolb doesn't have it.

It seems the best case scenario is that Kolb becomes a great West Coast system quarterback. That's fine – Joe Montana obviously did well in a similar role. But it's miserable for fans to watch the early development of a West Coast quarterback after they've already gotten a taste of the electrifying Vick. That's like going back to just holding hands and occasionally kissing someone whom you've already….well, you get what I'm saying.

If Kolb starts against San Francisco, the NFL should call for a special flex schedule in which they move the Niners-Eagles to CSPAN and give us Redskins-Packers on SNF. I wouldn't mind seeing the Redskins again now that they've discovered they can run the ball.

Washington came into Week 4 having gained only eight first downs on the ground; against the Eagles, they rushed for 10 first downs. (And since we're on the topic of Skins running game, I'll say once more that Ryan Torain will wind up being this team's top rusher in the second half of the season.)

P.S. Eagles fans….perfect job welcoming Donovan McNabb back. Treated him to a well-deserved standing ovation before the game, then treated him like the enemy visitor he was after that.
3.) Are the Rams for real?

This question is usually a leading one. We tend to ask if a team is for real only after we've already decide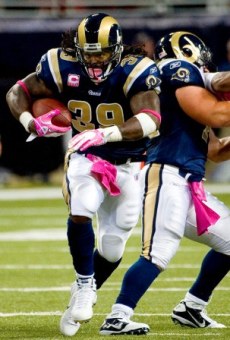 d that it is. Or, more accurately, only after we've decided to hope that it already is. (Example: the Chicago Bears before Sunday night. The "3-0 – that's right – 3-0! Can you believe it!?" Chicago Bears.)

In this case, the question is just a question. Are the Rams for real? If by "for real" you mean "a team capable of finishing .500" – which is where the win over the Seahawks left Steve Spagnuolo's team – then, yes, the Rams are for real. Don't underestimate the value of playing in the NFC West.

A bad division may be St. Louis' greatest strength, but it's not the only positive. Obviously, Steven Jackson is a star. Aiding him is that Sam Bradford shows flashes of brilliances as a precision passer. Yes, he also shows a vulnerability to rookie mistakes (did you see his interception to former Texas rival and fellow first-round rookie Earl Thomas in the end zone?). But mistakes are partly a symptom of Bradford's willingness to attack downfield. He's showing he can make the tough anticipation throw – and even with bodies around him.

More intriguing is the Ram defense. Its secondary overachieved against Seattle's overrated passing game. (And yes, Seattle's passing game IS overrated. Brandon Stokley, just days after signing, seemingly captured Mike Williams' role as the No. 1 receiver.)

The Rams front seven has been dominant two straight weeks. End James Hall has a sack in three straight games (four sacks total on the season). Middle linebacker James Laurinaitis has become much more of a downhill player. In fact, he now seems likely to emerge as one of those players who achieve greatness despite limited athleticism (ala Zach Thomas – or ala the anti-Barrett Ruud).

Spagnuolo does a great job of manufacturing big plays through A-gap blitz concepts. In short, St. Louis' system is better than its personnel. That can translate to wins as long as everyone buys in (the Patriots proved this in the early 2000s). The Rams will be up and down in 2010. But when you've won six games over the previous three years, that's progress. And, thanks to the NFC West, they'll have meaningful games in December.
4.) Motown Blues

The toughest thing for a downtrodden franchise to do is learn how to win. The Lions are finding this out. Last season, Detroit's offensive line was as porous as a colander. And its defensive line may have been the worst the NFL has seen in at least 15 years. Consequently, the offense sputtered and the defense ranked dead last in point and yards allowed. The Lions finished with a record of 2-14 (which, sadly, was an improvement over the previous year).

This season, the Lions are not awful. The offense has playmaking potential in the ground game, thanks to rookie Jahvid Best. The front five is able to protect Shaun Hill well enough for Calvin Johnson and Nate Burleson to actually be weapons. The defensive line is revamped, with powerful No. 2 overall pick Ndamukong Suh living up to the hype and venerable veteran Kyle Vanden Bosch igniting an assemblage of fellow newcomers.

And yet the Lions are still 0-4. Most maddening is the way they've gotten there. Detroit lost at Green Bay Sunday by the score of 28-26. In Week 2 the Eagles beat them 35-32. And you remember the Calvin Johnson non-touchdown catch in Week 1 against the Bears.

These are the type of losses that happen to a team that has grown accustomed to losing. The Lions are football's version of the fat person who works out but still gains noticeable weight after eating anything heavier than a salad. Or they're that poor person who finally finds a job but is at fault in a fender bender on their way to cashing that first paycheck. Bad things just happen to the Lions. To them, failure is familiar and, therefore, on some super subconscious psychological level, easy to achieve. And we'll assume karma is glad to chip in and help screw them over at all times, given that has evolved into the status quo.

In short, the mojo and psychology of a team can be very real. Learning how to win is not easy. Detroit is finding that out.
5.) Unglamorous glamour guys

Three teams featured a fullback as their primary ballcarrier in Week 4. It's hard to say whether this is a sign that the fullback position is not declining after all or if it's a sign that the fullback position has already officially died.

For the second straight week, Peyton Hillis rushed for over 100 yards for the Browns. This time, it came in a winning effort (a surprising upset over the Bengals).

Mike Tolbert had 16 carries for 100 yards in the Chargers' 41-10 blowout of the Cardinals. (By the way, say this about the Cardinals: they sure get their money's worth when they lose. Especially on the road. Remember this team in its 2008 Super Bowl year? That year the Cardinals lost to the Jets 56-35, the Eagles 48-20, the Vikings 35-14 and the Patriots 47-7.)

Lastly, the Packers got a hearty nine carries and 39 yards from John Kuhn, who is clearly a better option than Brandon Jackson (though Jackson had an acceptable 33 yards on nine carries against the Lions).

All three of these guys got their chance thanks to injuries to others. Hillis stepped up after rookie Montario Hardesty went down with an ACL. Tolbert shined when rookie Ryan Mathews hurt his right ankle in Week 2. Kuhn came in when Ryan Grant was lost for the season with an ankle injury.

More noteworthy is that all three are getting legitimate reps. The Browns and Chargers both have viable scatbacks they could turn to in Jerome Harrison and Darren Sproles. And the Packers could be forcing the issue with Jackson. But coaches are choosing to go with these bulldozers instead. (Even with Mathews healthy now, Tolbert appears to be the No. 1 back in San Diego).

Hillis, Tolbert and Kuhn are all downhill runners who play with good pad level and balance. But they're also nimble enough to make defenders miss. And, not coincidentally, all three can catch. Hillis is wonderful on screens. Tolbert is actually athletic enough to run routes out of the slot. Kuhn is effective in the flats.

There's something refreshing and pure about true fullbacks getting heavy touches. It's a case of good, fundamental football being rewarded.
6.) AFC East mugging

The AFC story in Week 4 was the outburst from LaDainian Tomlinson. It was his first 100-yard rushing performance in 26 games. He looks like a star No. 1 running back again. This begs the question, Have we ever seen a running back hit the 30-year-old Wall and later recapture his magic? The first answer that comes to mind is, No. The second answer is, Well…Thomas Jones. Except Jones – whom L.T. replaced in New York – was never a star before his veteran years. And he never really hit a wall.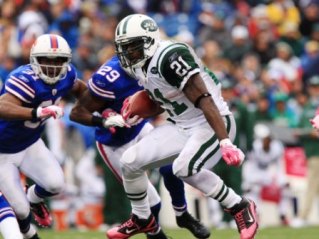 Ricky Williams is another answer. He shares the load with Ronnie Brown, just like Tomlinson shares the load with Shonn Greene. But it's debatable whether Williams is a star back. And, he never really hit a wall.

A lot of people thought a 28-year-old Emmitt Smith was slowing down after he gained just 1,074 yards in 1997. Then Smith put together two straight 1,300-plus-yard seasons after that. Still, he was not declared washed up at that point.

Curtis Martin barely topped 1,000 yards at age 29. Many thought he would tail off the next season, but instead he rushed for 1,308 yards at 30 and a career-best 1,697 yards at 31. Martin, however, remained with the Jets that entire time.

The current Jets star was dismissed by his longtime San Diego team. Who knows, maybe time will still prove that the Chargers were wise to get rid of the future Hall of Famer. But going off the evidence we have through these first four weeks, Tomlinson looks similar to his old (young) self. The lateral agility and acceleration are not 100 percent there, but they're at least 85 percent there. And that's enough.
Meanwhile, don't look now, but Mark Sanchez has eight touchdowns and zero interceptions on the season. And Dustin Keller is playing like an All-Pro. Plus, Rex Ryan's defense is as dominant as ever.

On the other side in this game, we're always hearing about the financial struggles of the Bills. One thing the team could do to alleviate costs is only bring its defense on road trips. That would cut travel costs by nearly 50 percent. The Bills offense doesn't show up for most of the games anyway. For example, in the first 22 minutes of this game, Buffalo had less than 50 net yards and less than five minutes in time of possession. You really think that's worth paying for extra hotel rooms, equipment managers, meals, etc.?
7.) Electrifying Bolt

Supposed you had to explain Shaun Phillips' performance against the Cardinals to all the narrow-minded fantasy nuts out there. How would you do it? Here's my approach: if the Chargers outside linebacker were a quarterback, he would have thrown for 450 yards. If he were a running back, he would have rushed for 160 with three scores. If he were a wide receiver, he would have had 10 catches and at least two taunting penalties.

Phillips was simply remarkable Sunday. With Shawne Merriman (or that Shawn Merriman imposter the team has kept around the past year and a half) and Larry English out, Phillips stepped up to the tune of four sacks, four quarterback hits, five tackles and an interception returned for a touchdown. He dominated with sheer speed (Cardinals right tackle Brandon Keith probably couldn't describe Phillips to a police sketch artist at this point) and craftiness. The only way Derek Anderson, who was benched this game, could have avoided an interception on the play in which Phillips dropped into an underneath zone coverage was if the notoriously inaccurate Anderson had made Phillips his intended receiver.

It's not just Phillips. The entire Charger defense has been stupendous through the first quarter of the season. (Remember, San Diego is 2-2 because its special teams units couldn't cover against the Chiefs and Seahawks.) Ron Rivera's unit has not allowed more than 14 points in any game this season. And only once has an opponent put together a 10-play drive against this team (Arizona's opening drive Sunday, which ended in an interception). Of course, the Chargers have not exactly faced the most dynamic offenses so far: Kansas City, Jacksonville, Seattle and Arizona. But hey, this it the NFL, where all success is quality success.
Other defenders

Phillips was not the only defensive player who stood out Sunday.

**Ravens cornerback Lardarius Webb was phenomenal against the Steelers, particularly in his isolated deep ball coverage against Mike Wallace. Webb, fresh off his December ACL injury, broke up three deep balls on an island.

**Texans free safety Troy Nolan got significant playing thanks to an injury to Eugene Wilson. The 2009 seventh-round pick responded with two critical interceptions, as well as five tackles.

**Rookie cornerback Alterraun Verner was the talk of Titans training camp. In his NFL starting debut against Denver, the fourth-round pick showed why. Verner broke up three passes and recorded 11 tackles. He has plenty of room to improve – some of those tackles came because the Broncos targeted his side of the field – but the burst and athleticism are clearly there.
8.) Bears fans….are you there?

To anyone who has censured me for being negative about the Bears' offense, you can send your apology notes to andy.benoit@cbsinteractive.com. It's not hard to figure out: a bad offensive line, a bunch of raw wide receivers and a quarterback who trusts his natural ability just a little too much is a recipe for disaster.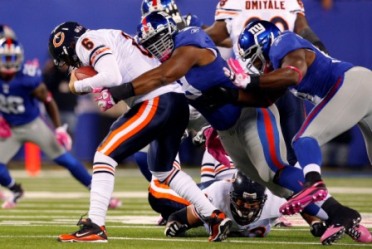 Coming into this game, the Bears had avoided disaster against the Lions, but it was clear that the ingredients for it were there. In terms of protecting Jay Cutler, the Bears had a disastrous start in the Dallas and Green Bay games, but they were able to overcome it. Sunday night at New York, they weren't. Things got so bad that Cutler was eventually sacking himself (an out of bounds run for the sixth sack, and another out of bounds surrender that nearly went down as the ninth sack).

It is very difficult to give up nine sacks in a half. We almost never see it because teams that can't pass protect eventually turn to their run game. But the Bears don't have a run game. That became very conspicuous once Todd Collins entered the contest and Mike Martz gave the old-fashioned approach a whirl. Matt Forte looks better than he did a year ago, but he's still not showing the juice to accelerate. Forte's yards per carry average in each of the four games thus far: 2.9, 2.9, 2.6 and 2.2.

The Bears have a premiere defense – amazingly, Julius Peppers somehow seems underpaid – but they simply don't have the necessary personnel to run Martz's system. They'll be a fun team to watch closely moving forward.
9.) Cardiac Cats are back?

The Jaguars are winning close games again. At least, that's what everyone will be saying this week. It's amazing: because Josh Scobee made a 59-yard field goal, we're not talking about Jack Del Rio's job security, television blackouts or a quarterback controversy. Instead, we may actually hear chatter about the 2-2 Jags being contenders in the AFC South. And we'll absolutely hear chatter about the 2-2 Colts supposedly being old and no longer being a dominant club. (This whole notion, by the way, is ridiculous.)

What people won't remember is how close the Jaguars came to settling for overtime in this game. With the game tied, the Jags got the ball at their own 23-yard-line with 42 seconds remaining and one timeout. When they ran a draw to Maurice Jones-Drew for eight yards, the Colts used a timeout in hopes of getting the ball back to Peyton Manning. It was a stark contrast: one team hiding its quarterback and the other desperately trying to showcase theirs. Garrard justified his coach's lack of trust in him by throwing an incompletion on the next play. But a six-yard strike to Tiquan Underwood yielded a first down, and a 22-yard strike to Underwood on the next play put Scobee in field goal range. After one more Garrard near-meltdown (Colts corner Jacob Lacey dropped an easy interception), Scobee came on to seal the deal.
10.) Quick Hits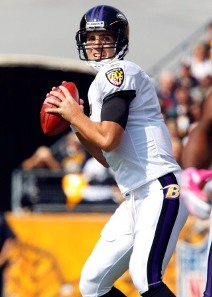 **It wasn't a great slate of games this Sunday, but we at least got great finishes. Atlanta-San Francisco, Indy-Jacksonville, Detroit-Green Bay, Denver-Tennessee, Cleveland-Cincy, New Orleans-Carolina, Baltimore-Pittsburgh and Philly-Washington all went down to the wire.
**It just dawned on me that we're near the end of this week's Stories Deserving Your Attention and there has been no real mention of the Steelers-Ravens game. That's too bad. It was, by far, the best all-around display of football on Sunday. The story of the game was how Cam Cameron continues to show more and more trust in Joe Flacco (24 completions on 37 pass attempts), and how that trust is being rewarded (the game-winning drive, for example). The Steelers did not play prevent defense on Baltimore's final touchdown drive. Rather, they just played against a collected, strong-armed young quarterback.
**I'd love to be Terrell Owens for just two minutes after the Browns game. I'd like to know how I (he) truly felt after going for 200 yards in a losing effort. (I have absolutely no idea how Owens felt, and I won't speculate. Just curious.)
**The Denver Broncos have a prolific offense, but their lack of a run game shows up in the red zone. The Broncos were 0/5 against the Colts and just 2/7 against the Titans inside the 20-yard line.
**The fumble on Nate Clements' interception late in the fourth quarter was strictly a fantastic play by Falcons receiver Roddy White. Clements can't be faulted for trying to score there. White has done this before. Recall that when these two teams met in San Francisco last year, White chased down Dre Bly and forced a fumble after an interception. (It was on that play when Bly, like an idiot, started celebrating during the runback.)
**The empty seats for the Texans-Raiders game could have put the WNBA to shame.
**Jimmy Clausen did some good things against the Saints (though I have no idea why I had to see 800 replays of that gimme 58-yard touchdown pass to Jonathan Stewart) but it's obvious that the rookie's decision-making is a little too slow for the pro game at this point. Last week Clausen dawdled in the pocket; this week, he wound up asking for the snap too late in the play clock (particularly on the game's final drive). It's all part of his learning curve.
**Why did the Panthers wear their alternate blue jerseys against the Saints? It was a road game, which minimized the marketing appeal of the third uni. And it was an indoor game, which meant that avoiding the heat-trapping black jerseys was not an issue.
**Speaking of heat…have you seen that the Colts now have two kids who hold a giant white board over Peyton Manning to create shade for the star quarterback when he sits on the bench? That must be a dream job for those kids. Still, every time I see Manning's personal shade creators, I can't help but think about the pathetic loser who used to constantly hold an umbrella for Michael Jackson.
For more NFL news, rumors and analysis, follow @cbssportsnfl on Twitter and subscribe to our RSS Feed .