CBSSports.com is counting down the top 10 stories in all of sports of 2010. Here are the top 10 stories from the NFL that just barely missed the cut.
10. The Breakout Backs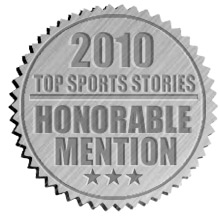 It was a swing year in fantasy football, as the over-valued running back position turned out a pair of new stars in the AFC: undrafted
Arian Foster
for the
Texans
and former
Broncos
seventh-round pick
Peyton Hillis
. Both players have well over 1,000 yards rushing and rank first and second in touchdown runs (entering Week 15, Foster has 13 and Hillis has 11).
Foster and Hillis share two things in common: a) both got their opportunity because their team's second-round rookie running back got hurt prior to the season (the Texans lost
Ben Tate
to an ankle injury and the
Browns
lost
Montario Hardesty
to a knee) and b) both have an ideal skill set for their team's system. Foster, a powerful yet fluid one-cut runner who thrives downhill, is tailored for Houston's zone-blocking scheme. Hillis, a thundering steamroller who plays strictly north and south, was made for a power scheme.
Another running back who was undrafted and has blossomed unexpectedly in 2010 is New England's
BenJarvus Green-Ellis
. The third-year pro is tied with Hillis for second in the league in rushing touchdowns and needs a little over 200 yards in the final three weeks to reach the millennial mark.
While we're at it, there's another
Patriots
running back who was undrafted and meets "breakout" status for 2010:
Danny Woodhead
(insert obligatory mention about his 5'7" size here). Woodhead, who was released in the preseason by the
Jets
, has done a masterful job filling the third down role of
Kevin Faulk
.
-- Andy Benoit

9. The Slowing Carousel
Labor negotiations have slowed the degree to which coaches have been canned in 2010. Yes, that's a terrifying thought, considering the number of gigs at risk this late in the season coupled with the coaches already fired so far this year. (John Fox and Marvin Lewis are the two most obvious "winners" when it comes to uncertain labor issues helping a coach keep a "good" job.)
In fact, the tides might have turned enough to warrant saying both gentlemen are in a
worse
position because of the labor strife -- they have to coach out abysmal underachievers and, sadly,
hope to find some (ahem) luck
at the top of the draft.
It won't matter for that pair of lame ducks, though, because their contracts are running out. On the other end of the spectrum are Wade Phillips, Brad Childress and Josh McDaniels; three coaches whose performance was so putrid that it warranted a midseason change.
Of course, neither of the first two were surprising. In fact, the only shocker involved with Wade and Chilly getting canned was the success that Jason Garrett and Leslie Frazier had afterwards.
Actually, check that -- it's also surprising that McDaniels would hire the same guy who
operated the video camera during SpyGate!
Which, perhaps, makes it less surprising that Pat Bowlen was less willing to sit around and wait for his newly-minted head coach to mature and suddenly found himself paying not just Mike Shanahan, McD, Eric Studesville but someone else next year. This is outrageously ironic given the lack of success that Mike Singletary (the quintessential interim coach) had in 2010, guiding the
49ers
to a sub-.500 record (it seems like a fair guess at this point) in the weakest of the weak divisions, the NFC West.
Singletary said as late as Week 15 that he didn't worry about a) early season performance or b) his job security, and, well, that may say all you need to understand about why he won't land a head coaching job again.
Of course, Lovie Smith is casually guiding his team to a playoff berth and himself towards a blatantly misguided extension from Jerry Angelo, so maybe this would be a good year to take a step back and evaluate whether or not it's worth really judging a particular coach until 2011 gets nearer.
Rest assured, that's exactly what a number of owners will do.
-- Will Brinson

8. Revis and the Jets
In this day and age of video games and fantasy football, it takes a special kind of greatness for a cornerback to become THE story in the NFL for an entire summer.
Darrelle Revis
has this special kind of greatness. As the first true shutdown corner football has seen since Deion Sanders, Revis has been by far the most important player on Rex Ryan's vaunted defense. Without him, the Jets don't make their run to the AFC Championship in January '10, and they don't enter September '10 as one of the league's leading Super Bowl contenders. So it's no wonder that Revis' contract holdout captured the headlines this past summer.
Of course, it didn't hurt that Revis was holding out for a New York market team that happened to be featured on the über-popular HBO reality series Hard Knocks. The Jets training camp became a top 10 story in and of itself simply because we've never seen such transparency and personality from an NFL club. And we've never seen such star power or controversial new talent. The Jets are developing
Mark Sanchez
, the game's first Mexican-American franchise quarterback, before our very eyes. They signed top Q-rating veterans and future Hall of Famers
LaDainian Tomlinson
and
Jason Taylor
. And, they unapologetically acquired gifted but questionable stars
Braylon Edwards
(in '09),
Santonio Holmes
and
Antonio Cromartie
.
All of this goes against the typical nature of the conservative NFL. But this, along with the aforementioned Super Bowl aspirations (which stemmed largely from the boastful Jets themselves, is why Jets regular season games landed in a featured television slot 10 times in 2010, including six in primetime.
-- Andy Benoit

7. Looming Lockout

The NFL is the most popular sport in this land. This much is obvious. It doesn't take a genius to come up with that conclusion, not when advertisers have to spend $20 million per 30-second spot in the Super Bowl (that might be a slight exaggeration) and not when the NFL ratings continue to climb every Thursday night, Sunday night and Monday night.
So, would the NFL owners and the NFL Players Association really be dumb enough to shut down the 2011 season, even partially? Wouldn't commissioner Roger Goodell and NFLPA executive director DeMaurice Smith realize that a lockout could potentially kill – or, at the very least, assault – the momentum of popularity? Wouldn't they realize that sending the 2011 season to whatever dimension the 1994 World Series exists now would be a terrible, terrible move?
Of course, they do. But the allure of money to be made and money to be spent keeps the two sides far apart. As the expiration of the CBA comes ever closer in March, the pressure will increase. Goodell said the other day that he thought a deal could be worked out by the end of the postseason, but I wouldn't be surprised if they go into the spring and summer without a new agreement in place.
It'd be short-sighted, and it'd be stupid. But it's also very possible.
Anybody up to watch a good game of soccer?
-- Josh Katzowitz

6. So Many Second Chances
No, we're not talking about Antonio Cromartie, thanks for asking.
And yeah, maybe that's inappropriate.
But what's the old line? "Shame on me for expecting you to hang out in a terrible situation the first time and shame on you for expecting me to believe that you would legitimately stop putting yourself in terrible situations after getting in trouble the fifth or sixth* time?"
Maybe that's paraphrasing things a bit, but there are only so many chances one individual is afforded, and it seems, all asterisk jokes aside, that
Ben Roethlisberger
-- in trouble twice -- has maximized his chances. (The motorcycle thing doesn't count in the scope of what we're asked to judge here.)
On the front, Roethlisberger is the classic case of why the personal conduct policy is absolutely necessary -- a young man, wealthy beyond his means, cutting loose above and beyond his scope of responsible behavior in a town that doesn't understand how to handle him. Allegedly.
There's plenty of reason for people to find disgust with him, but it's about second chances here, people.
Is the world supposed to be annoyed with someone who can't fully summon their talent because they're too busy doing whatever they do in Milledgeville, Georgia? Absolutely.
Should the general public become disgusted when whatever behavior a certain talent was involved in leads to legal allegations in the same town? Naturally.
But is it only fair if the same youthful talent -- who heretofore had only developed as a person ON the field -- somehow finds a different, perhaps more mature path and ends up getting judged differently?
Hell yes it is. Hate on second chances all you want, but the eerily parallel dichotomy between Roethlisberger and Vick at least warrant giving pause to the fact that sometimes second chances are only afforded when we want them to be.
-- Will Brinson

5. Coup De Fail
l
Face it, part of the reason you watch sports is to see the inevitable downfall. It's why Tigers Woods was so compelling, why you watched Larry Holmes dominate Muhammad Ali, why you followed Michael Jordan when he played minor league baseball. And you watch NFL football (partially) to see the same thing.
Which is why the decline of
Albert Haynesworth
this year was so noteworthy, why the
Vince Young
blowup continues to make news, why a backup WR in
Randy Moss
continues to attract attention.
The downfall of Haynesworth has been the biggest train-wreck of the season.
Redskins
coach Mike Shanahan deactivated him for four games before deciding to suspend him the rest of the season. Haynesworth has been out of shape, he's been insubordinate and now he's out of a job. Thankfully, he can fall back on those tens of millions of dollars.
Young's downfall was sudden, as quick as it took to walk out of a locker room full of teammates, but depending on Bud Adams' inclination, he unbelievably might return to the team (surely, coach Jeff Fisher wouldn't be around any longer if that's the case). Meanwhile, Moss believes he'll still get paid big bucks next year, despite a season in which he's played for three teams and has had his least productive year ever.
All of it has made for great viewing.
-- Josh Katzowitz

4. The McNabb Trade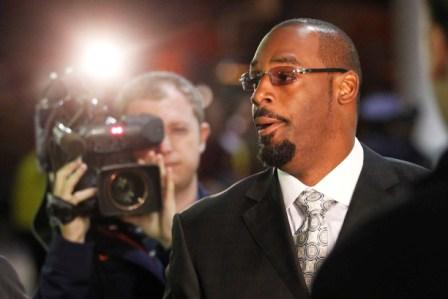 There are a million different angles a person can take in describing the significance of the Easter Day McNabb trade. For starters, the trade meant the dismissal of the decade-long face of one of the NFL's most preeminent franchises. Few athletes have ever been as polarizing in a town as McNabb was in The City of Brotherly Love. And no athlete has ever been so polarizing simply by going about his business. McNabb never exhibited a controversial personality, yet his career in Philly was littered with controversy. It required a world of class for McNabb to take it all in stride for 11 years. That classiness was appreciated and returned by the usually-ornery Philly faithful, who gave their former quarterback a standing ovation when he returned to town as a member of the hated Redskins in October.
That's another key facet of this story: McNabb wasn't just traded – he was traded to a division rival. Never before had a franchise quarterback been dealt within the division.
To be brutally honest, the trade has become a symbol of why the
Eagles
, counting this year, have eight more playoff appearances than the Redskins since 2000. The Eagles have always parted with veterans a year too soon rather than a year too late. We thought McNabb was an exception to this rule, but sure enough, he has just another testament to it (14 touchdowns, 15 interceptions, completion percentage of 60.0 through Week 14). The 34-year-old was tossed to the bench in mid-December, becoming the latest aging Pro Bowler to come to Washington only to fizzle out.
The Eagles were only comfortable dismissing McNabb because they had their signalcaller of the future already on the roster. Of course, little did they know that signalcaller would be not
Kevin Kolb
, but
Michael Vick
, the Comeback Player, MVP candidate and headline story of 2010.
-- Andy Benoit

3. The Old Croc Slinger
It was the story everyone loved to pretend to hate:
Brett Favre
, Brett Favre, Brett Favre, Brett Favre, Brett Favre. Did you get sick of him? Maybe on the surface. But deep down, you were never sick enough to ignore him. And that's why he stayed in the news.
Favre's 2010 essentially began and ended in pain. He suffered a gruesome ankle injury in the NFC Championship loss to the
Saints
and, 11 months later, had his consecutive starts streak end at 297 thanks to a bad shoulder. In between the ankle and shoulder was a thigh, elbow and foot injury. Each injury brought about an additional slew of reports, 99.9 percent of them speculative.
It's the very concept of speculation that has become the defining characteristic of Favre's public image. There was speculation about whether he'll retire or come back. (Once again, 2010 gave us plenty of those stories, too. Remember Favre's "this is it" texts to teammates during the summer? The workouts at Oak Grove high school? The Brad Childress visits to Mississippi? The more fruitful
Jared Allen
-Ryan Longwell-Steve Hutchinson surprise visit at the last minute?) There was speculation about his relationship with Brad Childress (it was poor, at best). And, for the first time since his substance abuse issues in the 90s, there was speculation about Favre's character and private life.
The Jenn Sterger ordeal never took on the life of Tiger Woods' scandal, but that was only because Favre, for the first time in his career, wasn't willing to publicly address a topic in his patented stream-of-conscious manner. In the end, Favre admitted to placing calls to Sterger but denied sending lewd photos. The NFL investigated but, with the year winding down, the story seems to be fading away. Oddly enough, it helped Favre that, by the time the Sterger story came out, people had grown tired of hearing his name in the news.
People may have been tired of Favre, but they weren't sick of him. It's doubtful that he'll be part of the top 10 NFL stories of 2011, but it's not inconceivable. The year ahead will still carry speculation about a possible comeback (don't count on Favre biting this time), speculation about what Favre will do next (a lot of people will say broadcasting, but Favre's never had that kind of persona) and, perhaps most intriguing of all, speculation about when Favre will return to Lambeau Field to make amends with the fans and accept his number being retired.
-- Andy Benoit

2. Injury Du Generation
This space perhaps should have been dedicated solely to
Steelers
LB
James Harrison
and James Harrison alone. He's racked up $125,000 in fines this year after illegal hits on Browns WR Mohammad Massaquoi,
Bills
QB
Ryan Fitzpatrick
and Saints QB
Drew Brees
. He's also been quoted as saying he's not trying to injure players, but instead, he's only trying to hurt them (or was it, he's trying not to hurt them, but to injure them instead?).
Either way, it seems like concussions in the NFL have risen (there's really no way to tell if this is true; only that the diagnosis of concussions might have risen), and in actuality, it seems like every player in the NFL this season has suffered at least one concussion. Even after the
Dunta Robinson
/DeSean Jackson collision forced the NFL to announce that it was going to enforce the penalties against illegal hits, the concussions have continued.
But that's not the scariest part of this whole scenario. The scariest part is what an examination of
Chris Henry
's brain found in June. Though he played in the league only five years before he died last season, his brain showed signs of significant brain damage caused by repeated blows to the head.
While it's great that people like
Chris Nowinski
are making a concerted effort to educate the public about the dangers of concussions and continued head injuries, nothing is likely to change. The players don't want rules-makers messing with the game, they don't want to change their tackling technique, they just want to hit people and hit people hard. Many fans agree. Which, of course, is easy to do when you're not the one who is getting smashed on the field every week.
This problem, I fear, will continue until the end of time.
-- Josh Katzowitz

1. First-Place Second Chance
There's a reasonable argument that Michael Vick's current situation is the most compelling redemptive story we've seen in sports.
Ever.
And yeah, I'm sorry that it requires the age-old tripe that is the one-line semi-paragraph to describe what Vick did, but, well, he tortured dogs and somehow returned to the good graces of America. Or at least the majority of America and/or those that buy their Nissans from Woodbury, New Jersey.
That's less than half a joke. Take a step back and look at what Michael Vick did, compare it to what any "sports villain" has done in the past 50 years (versus their redemptive story, natch) and, pretty please, find a comparable. Josh Hamilton is the closest thing there is and even he dealt with sins beyond the level of self-indulgence. That's not to say that we should applaud someone who manages to jerry-rig an engine to drive a broken car more than we should applaud someone who happens to repair the tires on a four-wheel flat.
It's just that if you're going to gauge a level of success by figuring out where someone ends relative to where they started and award bonus points for where they went in between (which, folks, unless you've stopped paying attention for the last several hundred years, is the "American Dream"), then it's very, very difficult to root against Michael Vick.
And also why he was nearly the most compelling story of 2010.
-- Will Brinson

For more NFL news, rumors and analysis, follow

@cbssportsnfl

on Twitter and subscribe to our
RSS Feed
.