Posted by Andy Benoit

Because the Super Bowl is outlandishly over-covered, offering readers 10 Super Bowl stories worth their attention seems redundant if not fruitless. With two weeks until, as your local furniture store calls it, The Big Game!!!, every possible Packers-Steelers storyline is about to be utterly exhausted. And then retold.

You can thank all the "casual fans" who suddenly get interested in the NFL this time of year for this. Somebody has to bring those people up to speed, which means somebody has to retell all the stories true football fans got sick of months ago. You best get used to it now.

Just so you can be on guard, here is an overview of the 10 Super Bowl storylines you'll get sick of hearing between now and February 6 They're ranked in order from overhyped to way overhyped, and they don't even include the non-game related economic stories (you know the ones about how expensive the advertising spots cost, how magnificent the host venue, Cowboys Stadium, is, how bad the CBA talks are going or how many bags of chips are consumed by Americans on Super Bowl Sunday).

10. Wide receivers

The Packers and Steelers receiving units almost mirror one another. Both have a sage veteran (Donald Driver, Hines Ward). Both have a dynamic young big-play weapon (Greg Jennings, Mike Wallace). And both have dangerous but not entirely tr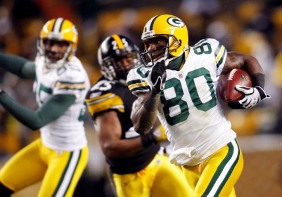 usted backups (James Jones and Jordy Nelson; Emmanuel Sanders and Antonio Brown). Here are the predictable cliff notes for the stories involving these guys:

Driver: tough childhood in Houston, first chance at a ring

Ward: borderline "dirty player" who is also proud of Korean heritage

Jennings: NOT a diva, but has still emerged as a No. 1

Wallace: averaging 93 yards per catch this season (or something like that)

Jones: talented but dropped balls; his quarterback trusts him

Nelson: talented but a few fumbles; his quarterback trusts him

Sanders: talented but untested; his quarterback trusts him

Brown: big catches late in games but still raw; his quarterback trusts him
9. Hometown Players

On every Super Bowl team, there are a few players who happen to be from the town in which the game is being played. Thus, you get the homecoming story. This story is only interesting to the dozens of their family and friends who will be in the stands watching on Sunday (because, you know, the player bought dozens of tickets for family and friends!), but that doesn't stop hard-hitting journalists from writing about it. Or from focusing on how the odds were really stacked against the kid from (insert name of Texas town), as no one ever thought he'd be playing on football's biggest stage.

So who will the hometown stars be this year? A quick search on PlayersFrom.com (a website that sorts all professional athletes by home state) reveals that the following Packer players were born in Texas: K Mason Crosby, TE Jermichael Finley, QB Matt Flynn, C Scott Wells, WR Donald Driver. The Steelers born in Texas are DE Ziggy Hood, P Daniel Sepulveda, OT Tony Hills, OT Jonathan Scott and NT Casey Hampton.
8. Overcoming adversity

Both teams will talk all week about how they have overcome a lot of adversity this season. Good for them. We can sort of believe the Packers when they trumpet adversity because they led the NFC in injuries (in terms of games missed by starters). But the Steelers? It will be tougher for them to play this card considering they're littered with stars on defense and have the richest winning tradition in the NFL. But they'll still find a way to play the adversity card (probably by making veiled references to Ben Roethlisberger's suspension).

7. Tomlin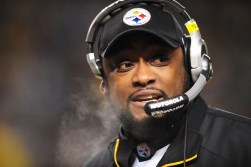 You might not get sick of this story because it's hard to get sick of this man, but you're going to be hearing it plenty of times: Mike Tomlin is now the only coach in NFL history to reach the Super Bowl twice before the age of 40. He's already the youngest head coach to hoist a Lombardi Trophy.

This probably won't be that obnoxious of a storyline. After all, it will probably include plenty about the Steeler modus operandi (which is fascinating), plus Tomlin is about as real as they come. He knows how to give a quote that is just good enough. Which is to say he knows how to say just enough to keep reporters happy but not quite enough to galvanize his opponent.

6. The defensive coordinators

Dick LeBeau is the master behind Pittsburgh's 3-4 scheme. Dom Capers is the master behind Green Bay's 3-4. Both are innovative and perhaps deserving of the majority of credit for their team's success. LeBeau's recent Hall of Fame induction ruined the hard-hitting THIS MAN SHOULD BE IN CANTON! angle that most writers had for his story, so expect most of the attention to shift towards Capers and whether he deserves a shot at being a head coach for a non-expansion franchise.

There will be plenty of crossover angles here, too, given that Capers coordinated Pittsburgh's D before LeBeau, and both men are pioneers of many 3-4 zone blitz packages.

A dark horse sub storyline here: Kevin Greene, the Packers' excellent linebackers coach, who was a long-time Steeler.

5. Hair

You just know some idiot is going to do an entertainment feature comparing Troy Polamalu to Clay Matthews.

4. James Starks

Every Super Bowl needs an unlikely breakout star. The Steelers will unofficially nominate sixth-round rookie wideout Antonio Brown for this role, but expect the media to flock to Green Bay's sixth-round rookie running back James Starks. The Eddie George-like upright runner from Buffalo has rushed for 263 yards since being inserted into the starting lineup for the postseason. Starks is clearly the team's most explosive runner, but he does not offer star traits. That doe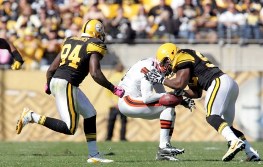 sn't mean the media can't tell you he's a burgeoning young star, though.

3. Illegal hits (James Harrison)

Non-football media outlets have been sitting on their stories about how dangerous the sport is for several months, waiting to release them Super Bowl week. Last year, TIME magazine got this ball rolling with its cover piece titled "The Problem with Football: How to Make It Safer". With Harrison, the poster child for illegal hits, going up against Aaron Rodgers, who suffered two concussions during the regular season, expect another slew of important but boring as hell articles about brain trauma.



2. Aaron Rodgers

Rodgers' meteoric rise this postseason has been even louder than Drew Brees' last season. Thank the Brett Favre drama for setting the backdrop for the first-round pick's career. From day one we've admired Rodgers' class and poise. Since finally taking the field three years ago, we've also added arm strength, accuracy and athleticism to his list of admirable traits. Factor in the female celebrities this guy has been linked to (Gossip Girl's Jessica Szohr, Lady Antebellum's Hillary Scott, ESPN's Erin Andrews) and, oh yeah, his insanely impressive performance in five consecutive "must win" games for the Packers (which includes Sunday's game at Chicago, where Rodgers was much better than his numbers suggest) and we have a first-class superstar on our hands.

1. Ben Roethlisberger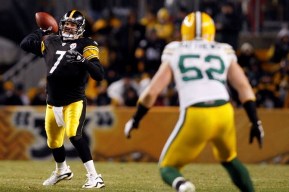 As great as a quarterback's coming out party is, it doesn't compare to another quarterback's redemption story. Why? Because a redemption story gives everyone a chance to rehash the drama. The only thing more interesting than Rodgers dating celebrities is Roethlisberger getting accused of mistreating college girls. Sorry, but sexual assault allegations are just too salacious for the media (and public) to ignore.

You know the background here: Nevada and Georgia, no charges filed, six game suspension reduced to four. The Super Bowl week storylines will center around whether Roethlisberger is a changed man and how jovial and humble he has become. The popular caveat will be something along the lines of "only time will tell if these changes stick". At some point, someone will point out that Big Ben recently got engaged to Pennsylvania native Ashley Harlan. And if that isn't proof that this one-time frat boy is settling down, what is?


For more NFL news, rumors and analysis, follow @cbssportsnfl on Twitter and subscribe to our RSS Feed.