Posted by Andy Benoit

Jacksonville
Jaguars
coach Jack Del Rio could be on the show Hoarders. Some people collect cats. Some collect magazines and newspapers. Some prefer garbage. Del Rio? He likes quarterbacks.
The Jaguars brought in yet another signal-caller Wednesday, this one just as washed up as all the others. Former first-round pick Patrick Ramsey, who has been a fringe backup for the past five years, was signed just days after ex-Saints backup Todd Bouman (last NFL start: 2005) was brought in. Here's the kicker: Ramsey and Bouman split repetitions in practice on Wednesday.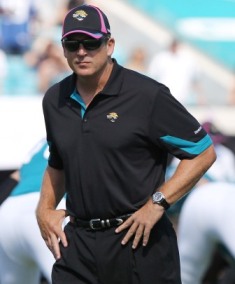 Maybe Del Rio doesn't have a quarterback hoarding problem. It's not like he's Jon Gruden. The Jaguars' frequent quarterback transactions (in addition to these two signings, they picked up ex-Bill
Trent Edwards
a few weeks ago) have been out of necessity.
Backup
Luke McCown
was lost for the season (ACL) in Week 1. Starter
David Garrard
suffered a concussion against the
Titans
on Monday. And Trent Edwards sprained his thumb after hitting it on a Titans helmet. The Jags nearly had to go to third quarterback
Zach Miller
, who, unfortunately, is actually a tight end.
Garrard is said to be improving, though before he can return to action, NFL rules mandate that he be medically cleared by an independent third party. If he is unable to go against the
Chiefs
on Sunday, it will be either Bouman or Ramsey under center.
Whoever it is, the Jags need to make sure he's prepared. Del Rio was not happy with the play-calling limitations that came with Edwards being on the field Monday night (you may recall, the Jags essentially milked the clock during their fruitless fourth quarter comeback effort). Of the run-heavy late fourth quarter drive, Del Rio said:
"The best explanation I can give you is the fact that we just did some of the plays that we could do with Trent and where we were prepared to handle that particular situation.
"I wasn't wild about the consecutive runs there ... I would have loved to have seen us be able to score, at all, but score quicker. We spent too much time, in my opinion. ... We were a little bit handcuffed with a quarterback that had been here two weeks and that's part of what you have to fight through as a football team, preparing for different scenarios. And we got caught a little bit there and a little bit short in terms of what Trent was able to do and what we were able to do. ... I don't find it acceptable."
For more NFL news, rumors and analysis, follow

@cbssportsnfl

on Twitter and subscribe to our
RSS Feed