Posted by Andy Benoit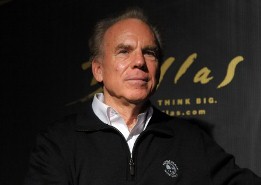 DALLAS – As I begin this entry it is 11:15 local Dallas time but it feels closer to 2:00 a.m. There are less than 10 people in the media center; six hours ago more than 2/3 of the 350 or so chairs in here were occupied. Everyone had a lot to transcribe and punch out after
Media Day
.
This isn't to say all of the media has gone to bed, though. Currently, hundreds of press members (and hundreds more friends of press members) are over at Dallas' House of Blues at the NFL media party. If you haven't been to a House of Blues, just know, it's gigantic (as party atmospheres go). Every room leads to a bigger room. And, thanks to shrewd lighting, they all have a subtle air of exclusivity. Lastly – and this is quite possibly from the "nobody cares but me" file – the food at the party was endless,
evidenced by this photo of what is easily the coolest chips & dip setup
I have ever seen.
Despite the raucous band, free food (i.e. free booze) and everyone's pent up desire to have enough fun to make up for the retched ice storm, the patrons at House of Blues were well behaved. They didn't have to be ... the NFL-issued Super Bowl schedule brochure listed the party time as 8-midnight, with a wink-wink note that shuttles from the media center to the House of Blues will be running until 2:30 a.m.
There wasn't much NFL representation at the party, though Jerry Jones was in the house (in a roped off section). Super Bowl Host Committee Chairman Roger Staubach was also there ... and not roped off.
Despite its reputation (and the first four paragraphs of this post), Super Bowl week has not been all about partying. Not even close. The buzz still predominantly pertains to the game, with plenty of side chatter about the CBA and
Ben Roethlisberger
(rehashed) drama.
Besides, it'd be foolish to party too hard. Buses for the
Packers
press conference left at 6:45 this morning.
For more NFL news, rumors and analysis, follow

@cbssportsnfl

on Twitter and subscribe to our
RSS Feed
.