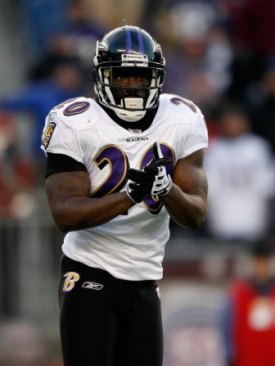 The Baltimore
Ravens
have had a strange week. Let's review:
-QB
Joe Flacco
seemed lukewarm to the idea of the Ravens signing
Marc Bulger
as a backup. Said Flacco to the Baltimore Sun: "Hopefully, we just all get along well. When you have a little bit of tension in the room, it doesn't lend to playing well. Yeah, he might bring a thing here or there that helps me out. We'll see. It's all about going out there, preparing during the week and having a good time doing that. Hopefully, we can do that."
-S
Ed Reed
– who has been outspoken about wanting a new contract though he's almost 32 and coming off major hip surgery – said he might start the season on the physically unable to perform list. Then, he said he didn't really say that. Then, he said, the Ravens are refusing to send him game film.
-CB
Cary Williams
was suspended for the first two games of the season for violating the NFL's personal conduct policy.
So, what in the hell is going on in Baltimore?
With Flacco, it seems pretty clear that he likes backups
Troy Smith
and
John Beck
and doesn't want to see one of them get cut because of Bulger. Of course, I sort of suspect – and I've talked to other people who suspect this as well – that Flacco doesn't want the competition. It's not like Smith or Beck would unseat him as the starter. A two-time Pro Bowler like Bulger could. That might play a role.
With Reed, it's hard to say. He's been one of the best safeties in the NFL for many years, and perhaps he senses his domination is nearing an end. Talking about the game film snafu, Reed told radio station WBAL, via the
Carroll County Times
: "Don't treat me like that after I gave my blood, sweat and tears for this guy, for this organization. I train my tail off. I'm putting my life on line. But I have to give you an excuse to study tape? When I do give you an excuse, and my excuse is I'm studying tape, that's not a good enough excuse. But Ed is wrong for asking for a new contract."
The Ravens responded by telling the Baltimore Sun that it all must be a misunderstanding.
Maybe the entire last week in Baltimore has been one misunderstanding. Maybe that's the real explanation.
--Josh Katzowitz
For more NFL news, rumors and analysis, follow @cbssportsnfl on Twitter and subscribe to our RSS Feed .