Posted by Andy Benoit


All season long we've been hearing about how teams may be reluctant to make a head coaching change given the uncertainty of the Collective Bargaining negotiations. Owners don't like the idea of a new staff coming aboard and possibly having to wait until late summer to start working with players.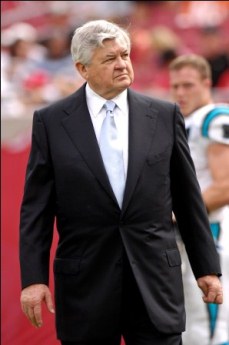 However, heading into Week 17, we've already seen four head coaches canned (Wade Phillips in Dallas, Brad Childress in Minnesota, Josh McDaniels in Denver and Mike Singletary in San Francisco).
There is guaranteed to be at least one other head coaching vacancy after the season, as John Fox's contract in Carolina expires next week. Marvin Lewis' deal in Cincinnati also runs out. Many believe that Gary Kubiak will be fired in Houston. And there are questions about the futures of Jeff Fisher in Tennessee, Tony Sparano in Miami, Eric Mangini in Cleveland and Tom Coughlin in New York. It's possible that 10 teams could be in the market for a new head coach after this season.
There are two ways to look at this as it pertains to the labor negotiations – and both are uplifting. One: the owners really don't believe that a lockout is on the horizon. Though neither the league nor players would admit it, we got a hint of this sentiment a few weeks ago when the owners extended the deadline for the NFLPA to file a collusion claim against them. The other way to look at it is that if there is a lockout and roughly a third of the league's owners are bringing in a new coaching staff in 2011, that could subtly influence the owners to get a deal done quicker. Two of the owners who could be searching for head coaches – Jerry Jones and Jerry Richardson – are major power brokers.
Of course, it's possible that we all misread the significance of a coaching change during a lockout to begin with. Perhaps owners are simply willing to take their lumps in 2011. But confusion with your head coaching situation is a significant lump to take. It's expensive, chaotic and, if everything is shut down anyway, unnecessary. Problem is, all it takes is one team to decide to endure it, and all the others will follow suit. After all, if one team does it, that team would have first run at all the available head coaching candidates.
Something else to keep in mind: if there is a lockout, it won't come until March. Unless we're talking about the
Raiders
, it's inconceivable that a team would not fill a head coaching vacancy before then. So teams can still implement their new staffs, those new staffs just might not be able to implement their new systems. Still, those limits would all be planned for ahead of time.
The bottom line is, labor peace or labor war, it's going to be a busy early offseason as usual for the NFL.
For more NFL news, rumors and analysis, follow

@cbssportsnfl

on Twitter and subscribe to our
RSS Feed
.